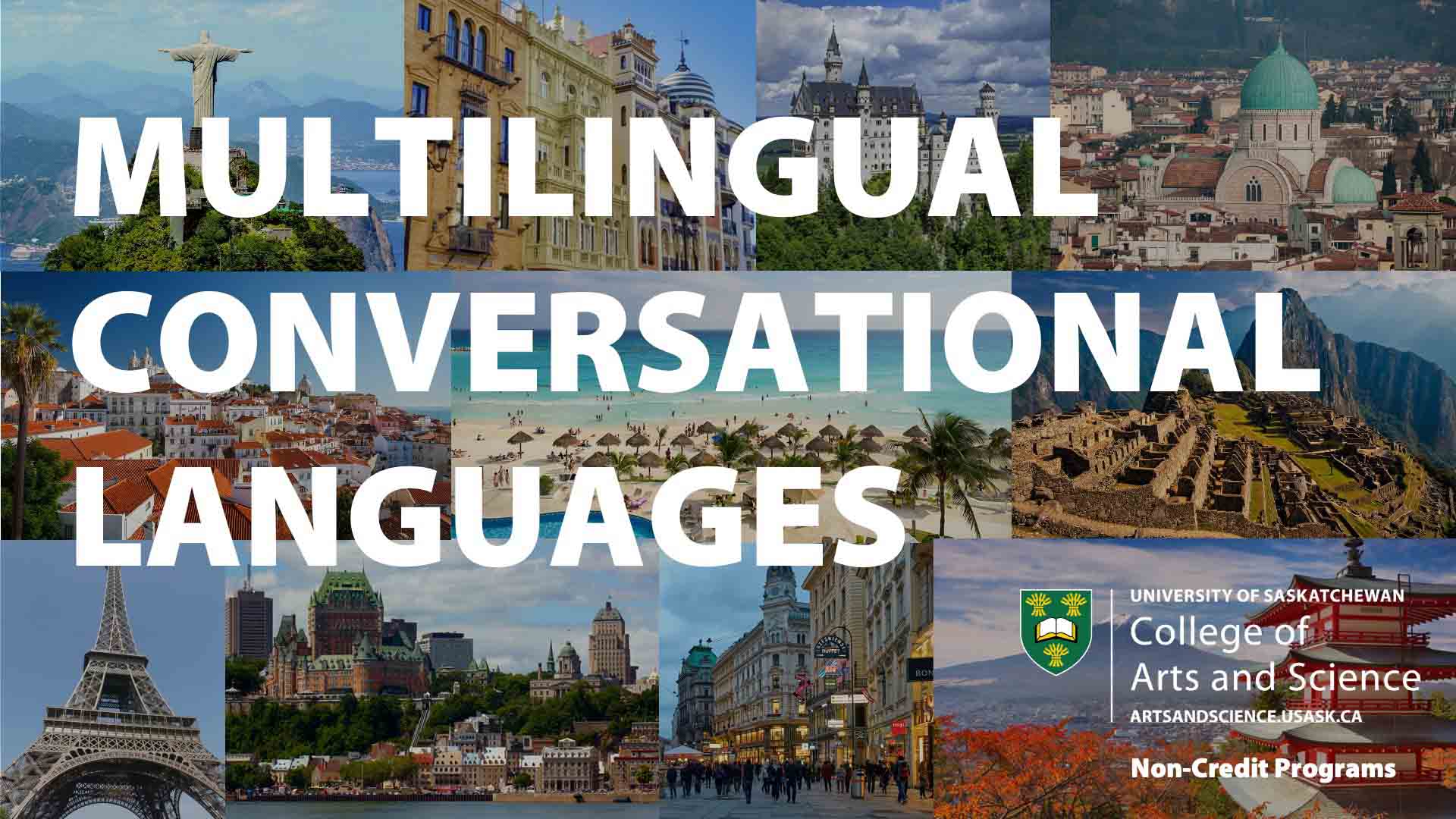 About Us
Learn a new language or increase your fluency by joining one of our non-degree conversational classes in French, Cree, Spanish, German, Italian, Portuguese. Our experienced instructors and small class sizes create a welcoming and supportive learning environment. 
Please note that we accept student registrations up to the second meeting of a class, we provide access to PDFs of textbooks, and we send out confirmation details (including zoom information) one day prior to the start of a class.
Adult classes are open to everyone 16 years or older. Affiliation to the University of Saskatchewan is not necessary nor required. We also host a French Explore Program annually.
Location and Parking
We are located in the Williams Building at 221 Cumberland Ave North. Washrooms are located on the second floor, and there is an elevator at the south end of the building.
Public parking in Lot 4651 directly behind and adjacent to the Williams Building is $2.00/hr Monday to Saturday, 7:30am to 10pm, and free on Sundays. Payment options are:
Coin: meters accept Canadian $.05, $.10, $.25, $1 and $2
PayByPhone (parking app)
Permit parking passes are available in the evening and on the weekend for the W Lot plug-in spots between the Williams Building and the graduate student residences. The cost for a night permit is $50.00 per term for a single day per week, and $75.00 per term for multiple nights. To purchase a permit, go in person to Parking Services at 72 Campus Drive. 
The plug-in spots are for parking pass holders only and you will be ticketed if you park there without one.
Stay Up To Date
To get notices of upcoming classes and registration opening, subscribe to our newsletter or follow us on Facebook.
What Students Say
"Thank you for all your positive input as to my abilities and the methods of better approaching my learning of the subject material, Maria! I am looking forward to taking Spanish 7 in a Spanish speaking country, and to your excellent teaching methods and techniques for learning this beautiful language."

"I really appreciate the format of the online French class I am taking. The instructor is fantastic and since I struggle with hearing loss I am able to hear the instructor so much better than I could with in-person classes."
"I just wanted to say thank you for adjusting to the online classes. We love classes with madame Helena. Helena is the first French teacher who really inspired me to study français!"
"I am thoroughly enjoying my German language class. It is very interactive, and François is patient and encouraging, which makes learning a second language a lot of fun!"
USask Professional Development
University of Saskatchewan employees may allocate Professional Development funds for multilingual course fees and textbooks. Information and guidelines are available in PAWS. If using a CFOAPAL account, it must be for the entire amount and can only be done as an over-the-phone registration. Please call 306-966-4355 or 306-966-5539 when using a CFOAPAL number. As well, all CFOAPAL number usage must be authorized via email.