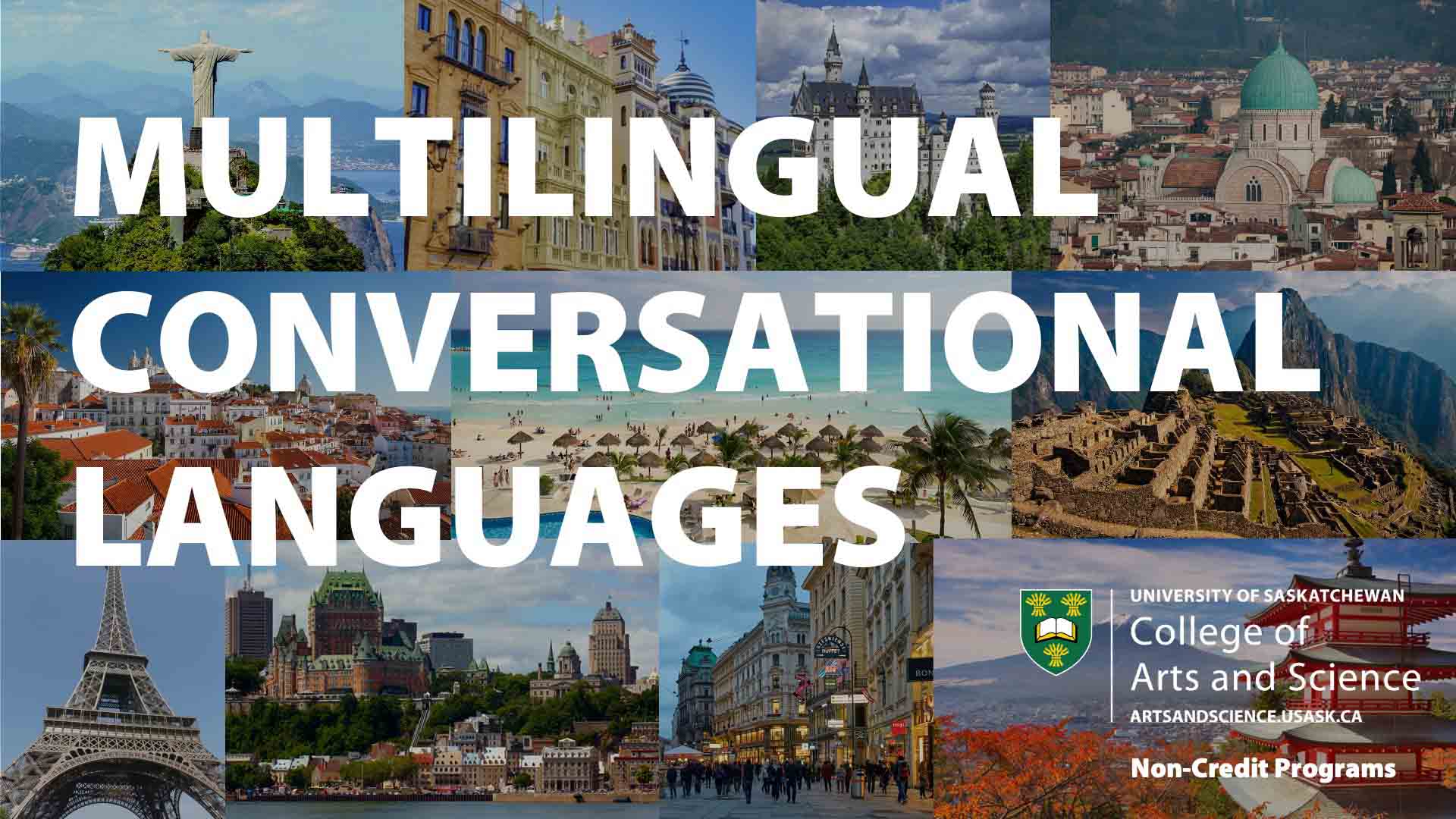 Our online classes can be taken from anywhere in the world! 
You do not need to be a University of Saskatchewan student to take our classes, and they are open to anyone aged 16+.
Learn a new language or increase your fluency by joining one of our non-degree conversational classes or our French Explore Program. Our experienced instructors and small class sizes create a welcoming and supportive learning environment. 
Mid Fall 2021 Classes
In order to continue to protect our community and because masking is a barrier to conversational language learning, our classes will all be offered online. Classes are delivered live/synchronously and you will receive the online meeting information the day before the start of class. Enrolment is limited to keep class sizes small, and we take registrations up to the second class if the class is not full.  
Register online or by calling 306-966-4355 or 306-966-5539. Not sure what level you should be in? If you have not taken classes with us before, contact us at 306-966-4355 or gisele.piche@usask.ca for a quick oral assessment. If you have taken classes with us, you can find your transcript here in My Reports.
Stay up-to-date and get notices of upcoming classes by subscribing to our mailing list.
Please note:
If you had registered for a class but are unable to attend, we will issue a refund minus a $75 administration fee prior to class start date. There are no refunds issued after the class start date.
We reserve the right to cancel classes when there is insufficient enrolment. In these cases, a full refund will be issued. 
We are unable to do transfers from one term to another term.
If a class is cancelled during the term, these hours will be rescheduled and made up. However, we are unable to offer make-up classes for students who have missed a class.
Classes are not recorded.
Looking for credit/degree classes? Visit the Department of Languages, Literature and Cultural Studies.
Why not learn a new language while you wait for the Study Abroad program to resume! All USask undergraduate and graduate students are encouraged to earn credit towards their degree by studying abroad at least once while attending university. Students who study abroad will never forget the amazing views, people and personal growth. 
"I really appreciate the format of the online French class I am taking.
The instructor is fantastic and since I struggle with hearing loss I am able to
hear the instructor so much better than I could with in-person classes."
-Fall 2020 student
"I just wanted to say thank you for adjusting to the online classes.
We love classes with madame Helena. Helena is the first French teacher
who really inspired me to study français!"
"I am thoroughly enjoying my German language class.
It is very interactive, and François is patient and encouraging,
which makes learning a second language a lot of fun!"
-Spring 2021 student
University of Saskatchewan employees may allocate Professional Development funds for multilingual course fees and textbooks. Information and guidelines are available in PAWS. If using a CFOAPAL account, it must be for the entire amount and can only be done as an over-the-phone registration. Please call 306-966-4355 or 306-966-5539 when using a CFOAPAL number. As well, all CFOAPAL number usage must be authorized via email.