International studies program marks 50 years at U of S
Posted on 2018-07-25 in Alumni, College Vision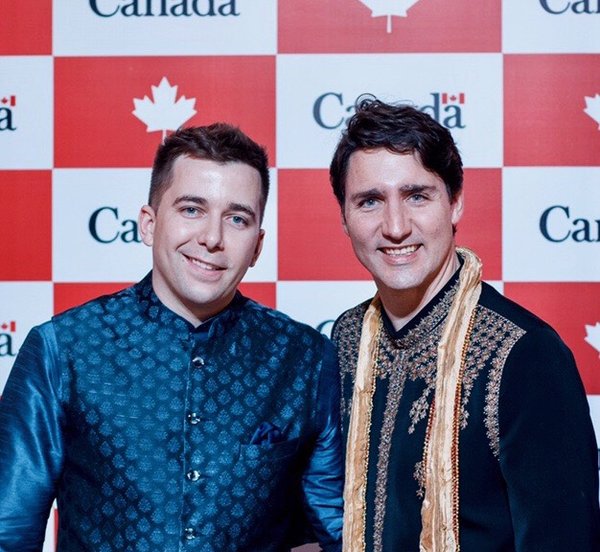 University of Saskatchewan alumnus Kyle Procyshyn (left) is pictured with Prime Minister Justin Trudeau at a reception at Canada House in New Delhi during a Canadian government mission to India in February 2018.
By Shannon Boklaschuk
Kyle Procyshyn has always been interested in learning about other cultures and countries.
It was a natural fit, then, for the current Regina resident—who was born in Saskatoon and raised on a grain and cattle farm north of the city—to major in international studies (IS) at the University of Saskatchewan.
"I've always been incredibly interested in the world around us, especially when viewing it through the lens of geo-strategic competition between the major powers," he said. "The IS program allowed me to combine my interest in history, economics, politics, language and geography into a single interdisciplinary degree."
Since receiving a Bachelor of Arts degree (honours) from the U of S in 2007, Procyshyn has spent much of the last decade overseas. He worked for a variety of organizations while living in Asia from 2008-2014, including a Chinese manufacturer, an Indonesian think tank and the federal departments now known as Global Affairs Canada and Immigration, Refugees and Citizenship Canada.
Procyshyn returned to Canada in 2014. Since then, he has worked as an economic advisor for the Government of Japan, providing strategic advice on economic developments, trade and investment-related opportunities in Alberta, Saskatchewan, Manitoba, the Northwest Territories and Nunavut, and is now employed by the Government of Saskatchewan. His current title is Manager of International Engagement—a role that helps to oversee Saskatchewan's trade and investment program in India.
"Although my role covers all sectors of interest to the province, much of my work focuses on issues related to the agriculture sector—market development, investment attraction and market access," he said.
"I have always wanted to be in a role focused on advancing Saskatchewan's interests abroad, especially in the rapidly growing Asia Pacific region. My current position allows me to do that by promoting Saskatchewan as a preferred global supplier of high-quality food, fuel and fertilizer."
Procyshyn is one of more than 440 alumni from the international studies program who have graduated from the U of S during the past five decades. International studies is marking its 50th anniversary this year, making it one of the university's longest-running interdisciplinary programs. The landmark anniversary will be celebrated during an evening gala at Saskatoon's Delta Bessborough Hotel on Sept. 21, 2018. Event updates can be found on the IS Facebook page.
IS students study many topics, such as war and peace, processes of international cooperation, development, international histories and the dynamics of cultures and co-existence. Students are challenged to better understand and engage with some of the world's most pressing issues, including the colonial legacy, terrorism and security, human rights, globalization, poverty alleviation and transnational feminisms.
The program's faculty have played a central role in the development of experiential learning and internationalization at the U of S, while its alumni are making wide-ranging contributions to international affairs in Canada and beyond.
For Procyshyn, the best part of his international studies education was participating in a four-month exchange to Guatemala.
"I highly recommend all university students, not just those in IS, enroll in a study abroad program," he said. "Exploring economies at differing levels of development at the outset of one's career allows for a much better understanding and appreciation of Canada's place in the international system."
It's a long way from his family's Saskatchewan farm to the markets of India, but Procyshyn's overseas experiences and his studies at the U of S have prepared him well for his career. He now has two pieces of advice for current international studies students and young alumni.
"When in doubt, buy the ticket. Take the ride," he said.
"Don't underestimate the value of experience one can gain by working, studying or living abroad."