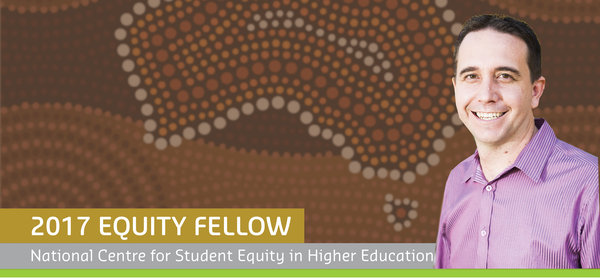 Associate professor James Smith, Charles Darwin University, Australia
Department of Psychology & Office of the Vice Provost Health Colloquium:
James Smith: Indigenous higher education policy in Australia

When: Friday, July 21 at 10:00 a.m.
Where: Arts 214
Everyone welcome.
What do we know about evaluation in Indigenous higher education contexts in Australia? Associate Professor James Smith, recently awarded a 2017 Equity Fellowship with the National Centre for Student Equity in Higher Education hosted by the Office of Pro Vice Chancellor – Indigenous Leadership at Charles Darwin University (CDU) in Australia, will speak about ways to strengthen evaluation in Indigenous higher education contexts in Australia.
"Enhancing Indigenous pathways and transitions into higher education is as key equity priority in Australia. To do this effectively we need robust evidence assessing the process, impact and outcomes of Indigenous higher education policies and programs," says Smith, who is also a co-leader of the Indigenous Leadership Research and Evaluation Network at CDU.
Smith is a fellow and former board director of the Australian Health Promotion Association Ltd. and an associate editor of the Health Promotion Journal of Australia and the International Journal of Men's Health; and consulting editor for the Australian and International Journal of Rural Education. He holds a PhD in public health and medicine from the University of Adelaide.
For more information: psychology.department@usask.ca