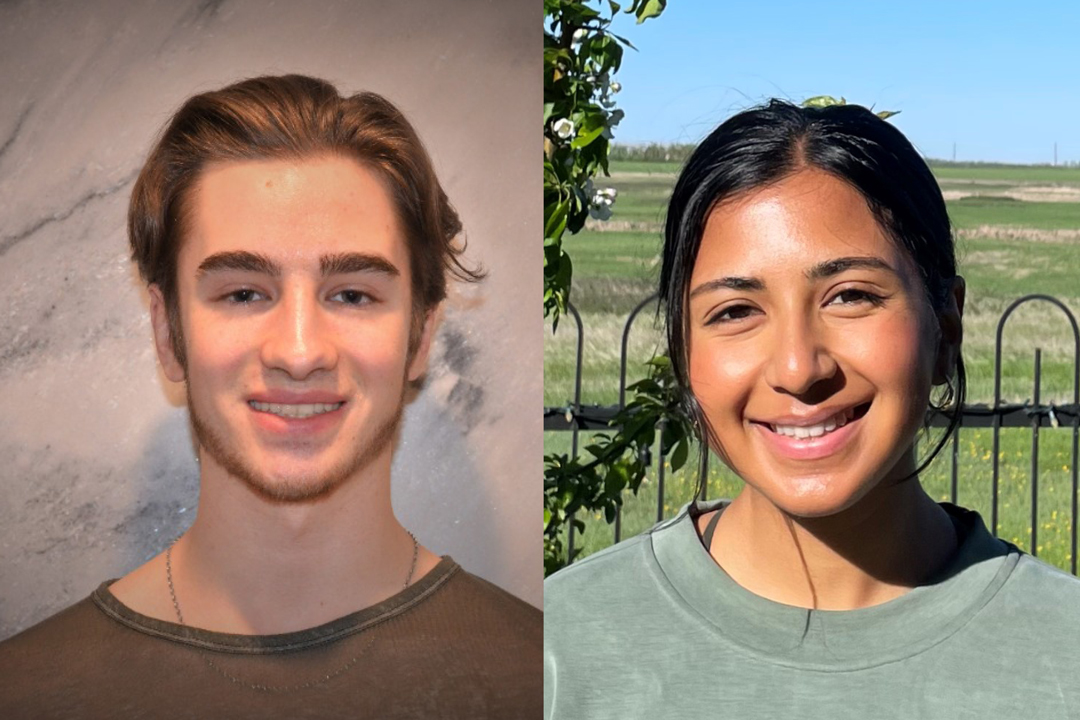 USask graduates look back on their time as political studies students
Quinn Rozwadowski and Wardah Mahmood will receive Bachelor of Arts (honours) degrees and certificates during Spring Convocation
By Shannon Boklaschuk
As they prepare to receive their Bachelor of Arts (honours) degrees this week, two award-winning University of Saskatchewan (USask) students are reflecting on their political studies classes and what they have learned as undergraduate students.
During USask's Spring Convocation, which runs from June 6 – 10, Quinn Rozwadowski and Wardah Mahmood will both receive Bachelor of Arts (honours) degrees in political studies. Rozwadowski will also receive a Certificate in Politics and Law and a Certificate in Global Studies, while Mahmood will receive a Certificate in Indigenous Governance and Politics. The certificate programs are offered through the Department of Political Studies in USask's College of Arts and Science.
"I am so proud to be graduating and to finally see the hard work pay off," said Mahmood, who was born in Johannesburg, South Africa, and raised in Regina, Sask. "Navigating online learning (during the COVID-19 pandemic) was definitely challenging, but I am so grateful for all the friends I've made and experiences I've had over the past four years."
Rozwadowski, who was born and raised in Saskatoon, said he expected to feel "melancholy" about his USask graduation, as he did upon graduating from high school. However, that hasn't been the case.
"Even more now than then, I will be leaving friends and family behind as I move on to the next stage of my education. Now, however, the strongest emotion I feel is eagerness," he said.
"I am excited to be attending the University of Toronto Faculty of Law next year and am much more certain in my chosen career path today than I was the day I completed high school. I feel like my peers and professors at USask have prepared me well for this next step, and I look forward to it."
Mahmood, meanwhile, is looking forward to attending USask's College of Medicine in the fall.
"My undergraduate education provided me with a unique perspective and skill set that I will apply to my studies in medical school," she said. "I am excited to continue my education at USask and pursue my passion for health-care reform in Canada."
Mahmood valued her time as a student in the Department of Political Studies, noting she made lifelong friends through her involvement in the Political Studies Students' Association (PSSA). She also served on the executive of USask's Debate Society (USDS), including as president for one year.
"Debate has always been a big part of my life and definitely influenced the decision to pursue political studies as my major," she said. "I debated competitively in high school and university and went on to work for and volunteer with the Saskatchewan Elocution and Debate Association (SEDA) for several years. With both SEDA and the USDS, I have been able to use my strengths to give back to my communities."
A high-achieving student, Mahmood was awarded the Gordon and Naomi Barnhart Scholarship in the Study of Canadian Governance and the Dorothy Jackson Nenniger Scholarship. She also incorporated the Certificate in Indigenous Governance and Politics into her undergraduate studies so she could enhance her education.
"As a non-Indigenous person, I believe we can all play a role in creating positive change within our own communities," she said. "The classes I took as part of the certificate solidified my interest in making a difference in my home province, specifically in Indigenous health care."
Rozwadowski also appreciated what he learned in his certificate programs. He chose his classes carefully and was able to complete most of the course requirements for his certificate programs while simultaneously completing his political studies degree requirements. That made earning an extra academic credential an easy process.
"I believe I completed the politics and law certificate without taking a single course that did not contribute directly to my degree, and the global studies certificate by only taking three international studies classes as electives—which I found incredibly interesting, in their own respect," he said.
Rozwadowki's dedication to his undergraduate studies has paid off. This year, at Spring Convocation, the high-achieving student will be awarded The Honourable Donald Alexander McNiven Prize in Political Studies. The prize is given to the student with the strongest academic record as determined by the cumulative percentage average in all political studies courses taken.
Rozwadowski was also the recipient of other awards and honours during his time as an undergraduate student, including the George McNevin Award for Public Service, the Robert Lawton Elliott Book Prize, the R.H.D. (Bob) Phillips Scholarship and the R. MacGregor Dawson Prize in Political Studies.
As well, Rozwadowski's volunteer activities culminated in a 2021 National Philanthropy Day Outstanding Youth Philanthropist recognition as co-director of Campbox YXE, which he accepted on behalf of the dozen undergraduate students involved in the project. The non-profit organization was founded during the summer of 2020 to combat the effects of the COVID-19 pandemic on the educational opportunities available for elementary school children.
Like Mahmood, as a political studies student Rozwadowski was also involved with the PSSA and the USask Debate Society. Both students were also included on the Dean's Honour List, which acknowledges individuals whose academic grades rank in the top five per cent of those studying with a full course load in the College of Arts and Science.
Mahmood said the political studies community on campus "is very close knit and supportive, and everyone truly cares for one another."
"The faculty take the time to get to know each and every one of us and are invested in our success, both academically and personally," she said. "I was able to apply my knowledge through relevant opportunities offered by the department, such as taking part in an internship with USask's Office of Government Relations which gave me valuable experience in a setting outside of the classroom. I also worked as a teaching assistant this past term, which gave me some insight into a different side of academia."
Now that their political studies degrees and certificates are complete, Rozwadowski and Mahmood are planning the next steps in their education. Mahmood is looking forward to beginning her journey to become a physician.
"I have always been interested in the intersection between health care and policy and am excited for the opportunity to learn more. I come from a family of health-care providers and believe my background in political studies has prepared me well for a future in the public service," she said.
Rozwadowski, meanwhile, will move to Toronto to attend law school. He dreams of becoming a Member of Parliament or a Supreme Court Justice and participating in policy-making or constitutional decisions. In the shorter term, he wants to address freshwater security, which he sees as a threat to global health and security and to Canada's commitment to reconciliation with Indigenous communities.
"I hope studying law will provide me with an avenue to have such an impact," he said.
---
Related Articles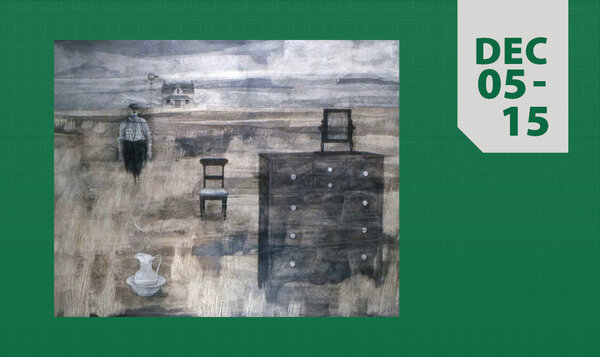 A collaborative exhibition by USask students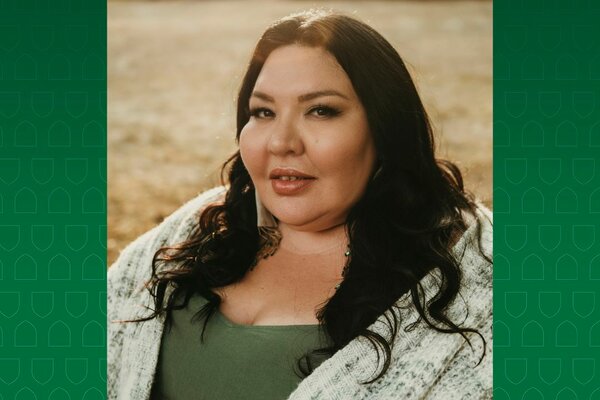 Award-winning poet and photographer Tenille Campbell (BA'07, MFA'12) has been selected as the next Indigenous Storyteller-in-Residence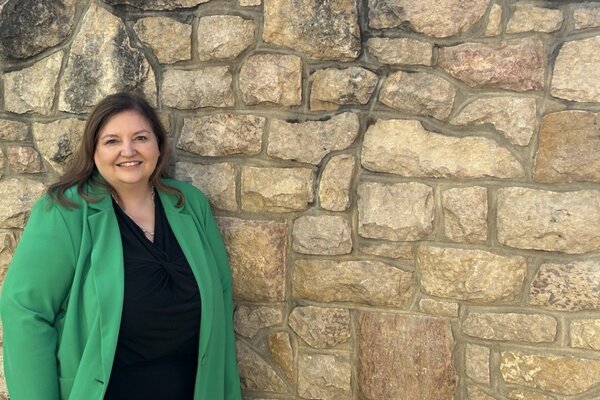 Marnie Wright (BA'92) is the new associate vice-president of people and chief human resource officer