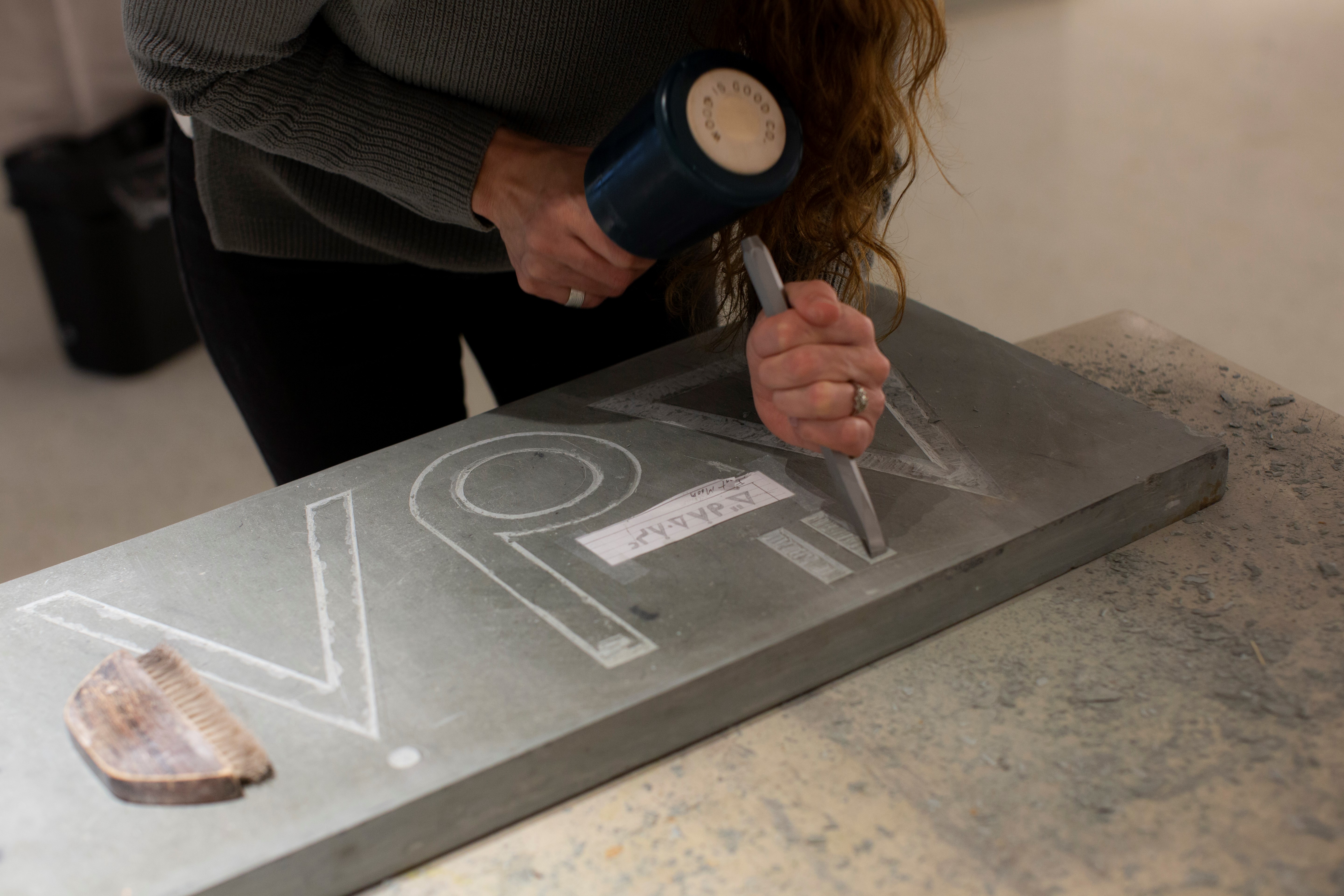 Collaborative USask art project celebrating Indigenous knowledge reaches final step
On Sept. 21, 2021, at 11 am, the last of 13 carved slate steps will be installed during a public event at the Gordon Snelgrove Gallery
By Shannon Boklaschuk
For Cree artist and University of Saskatchewan (USask) graduate Vanessa Hyggen (BA'17), the most rewarding aspect of the collaborative art project anohc kipasikônaw/we rise/niipawi is the connections that were made.
Throughout the project, relationships were built and strengthened with Elders, colleagues, students, artists, and community members. These collaborations and connections continued for many months, even as the global COVID-19 pandemic closed USask buildings.
"We started this project with a blanket exercise in January of 2020 and are finishing it in September 2021—that's a long time, and a lot of hard work," said Hyggen, executive assistant to the vice-dean Indigenous in USask's College of Arts and Science.
"We have been very intentional throughout this process, in the creation and installation of the work, and the reshaping of space—with the foyer of the Gordon Snelgrove Gallery being the current home for the work. When the discussions first began for the project, none of us thought that it was going to be such a long process. But it's really been with us throughout our entire experience of this pandemic; it's kept us connected in that way."
The project, anohc kipasikônaw/we rise/niipawi, was conceived in the College of Arts and Science as a way to celebrate Indigenous knowledge systems. To highlight the 13 moons of the lunar cycle, it was planned for 13 carved stone steps to be installed on the USask campus over a period of months.
On Sept. 21, 2021, at 11 am, the last of the steps will be installed during a public event at the Gordon Snelgrove Gallery. The installation of the 13th stone coincides with nôcihitowipîsim, or "Rutting Moon." College of Arts and Science Dean Dr. Peta Bonham-Smith (PhD) and USask Provost and VP Academic Dr. Airini (PhD) will offer messages at the event.
Elders Evelyn Linklater and Florence Highway, of Pelican Narrows, Sask., provided guidance throughout the project, which publicly launched during Indigenous Achievement Week in February 2020. Saskatchewan stone carver Lyndon Tootoosis, who was artist-in-residence with the USask Art Galleries and Collection in 2020, played a key role in launching the project with Hyggen and Saskatoon artist, writer and USask staff member Dr. Sandy Bonny (PhD).
"We launched the process of carving and re-storying the stones during Indigenous Achievement Week at the gallery, alongside a portrait project centering the role of Indigenous students and allies in shaping university learning spaces," said Bonny, team lead for Indigenous Student Achievement Pathways (ISAP) and STEM access initiatives in the College of Arts and Science.
"ISAP students participated, with leadership from our ISAP peer mentors and artist-in-residence Lyndon Tootoosis—and we had many, and diverse, people come by to learn about the project and contribute to carving the stones over the course of that week."
The steps, reclaimed from a staircase in the Thorvaldson Building on campus, were hand-carved with Cree syllabics representing the traditional names of the 13 moons. When the COVID-19 pandemic closed USask buildings, Prof. jake moore relocated the stone steps so Bonny could complete final elements of the carving off-site, with the assistance of Hyggen, moore, family members and others.
For moore, engaging in a deeper understanding of pre-colonial measures of time that are connected to the natural world—rather than looking at the world as measured through Greenwich Mean Time, as used in business and industry—was "a potent idea." This concept, forwarded by Tootoosis, became central to anohc kipasikônaw/we rise/niipaw.
"The names of the moons on these stones reflect events that occur here in the south-central areas of Treaty Six," said moore, the director of the USask Art Galleries and Collection and a faculty member in the Department of Art and Art History in the College of Arts and Science.
"For example, ᓂᐢᑭᐲᓯᒼ, niskipîsim, or 'Goose Moon,' was full on February 28th this year. I could hear the geese returning home and even see them flying over the Bowl. Elders Florence Highway and Evelyn Linklater come from Pelican Narrows and they don't have geese that far north yet at that time, so in that place it is not the Goose Moon. The moons are named after a notable change in conditions in each specific place and help to define their difference."
In August 2020, a group including moore, Hyggen, Bonny and others gathered in a safe outdoor space to complete the transformation of the slate treads over a weekend. This involved washing dust out of the carvings, drying them, sanding off glue residue from their previous life as stair treads and applying oil to the slate.
Bonny called this last step "a beautiful transformation," noting the gray/white surface of freshly carved slate comes from the reflection of light from small, loose particles. Once oiled, however, the edges take on the same hue and patina as the worn and smoothed surfaces and the carving becomes reconfigured as part of the rock, rather than as a note scratched on its surface.
"This is the same effect you see in weathered petroglyphs, where natural weathering patinas have removed evidence of loose materials so that images and messages seem to sink into or rise organically out of the stone," she said.
As a geologist, Bonny said it's been fun to share information about Earth's geologic evolution, slate formation, and slate's material properties. As an artist and writer living in Saskatchewan—where human stories have long been told through arranged stones, petroglyphs and pictographs that are more than 10,000 years old—she believes "bringing stone forward as a living and temporal medium in this collaborative project, rather than as a static medium for monument, is an organic move toward Reconciliation of shared Treaty spaces."
"Bringing Indigenous languages, and the names of the moons that guide seasonal activities and storytelling traditions onto campus—through the medium of stone already shaped and reshaped by the movements of students—is very meaningful," said Bonny.
"Students and staff who joined us in carving have a physical connection to the project, but also experienced a tangible connection to some very ancient traditions that honour the spirituality and importance of stone to diverse human cultures through time. I hope that this project conveys a dedicated and embodied commitment to inclusion of Indigenous knowledge within our campus practices, and I hope that it also raises awareness of Indigenous languages and the role of syllabics in historic language preservation and contemporary language revitalization."
While the material comprising the steps is ancient, the stones were eroded over a period of about 100 years at USask while serving as stair treads in the Thorvaldson Building. That they have now been "recuperated into language and reaffirmed in their relationship to knowledge keepers, this twines together multiple ways of thinking and does what art does best—it operates both outside of language and yet also somehow between so many," moore said.
"In this way, people that encounter the stones now are invited to make new meaning of them," she added.
When asked why the USask Art Galleries and Collection wanted to get involved with the collaborative project, moore noted that the galleries celebrate Manacihitowin (let us respect each other), have a stated commitment to multiple cultures building a future together in reciprocity, and also "understand the germinal role that creative practices play in creating the conditions that will help generate change."
"As a director of university art galleries, I have long been interested in discursive programming around artistic production, as it brings with it the possibility of developing multiple arenas of knowledge," she said. "I am especially committed to how this kind of spatial practice makes evident the connection between people and practices, ways of thinking, and allows for the acknowledgement of positionality and distinct world views."
With the upcoming installation of the final step, Hyggen said it feels great to see the project reach this milestone. She emphasized that anohc kipasikônaw/we rise/niipawi has shown the necessity and importance of connecting with one another.
"Each month, we've come together to plan each step release. When we weren't able to gather under one roof, we'd meet with our Elders outside and we would smudge and then record their message," she said. "I feel very fortunate to be a part of this group, and that Evelyn Linklater and Florence Highway have been our gentle constants."
---
Related Articles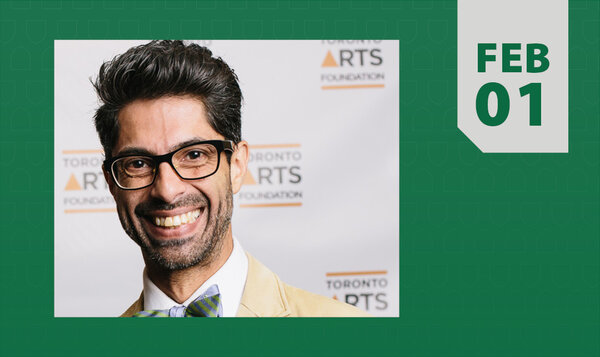 A talk in the Fine Arts Research Lecture Series (FARLS) in Music by Hussein Janmohamed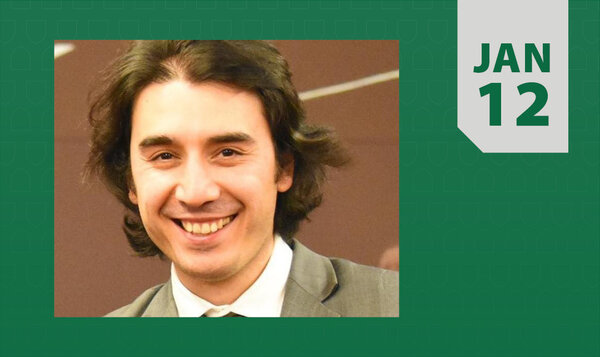 A talk in the Fine Arts Research Lecture Series (FARLS) in Music by Shah Sadikov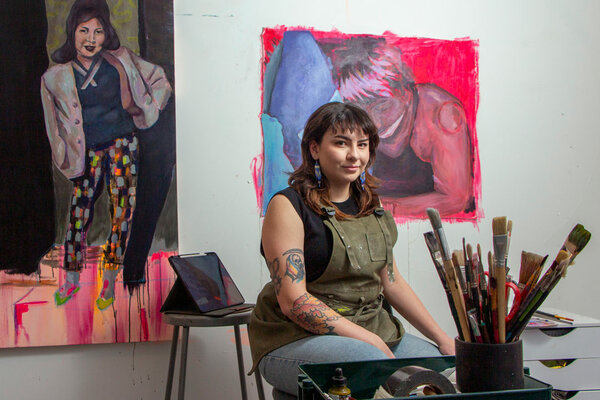 MFA student won a 2023 Outstanding Student Achievement in Contemporary Sculpture Award from the International Sculpture Center