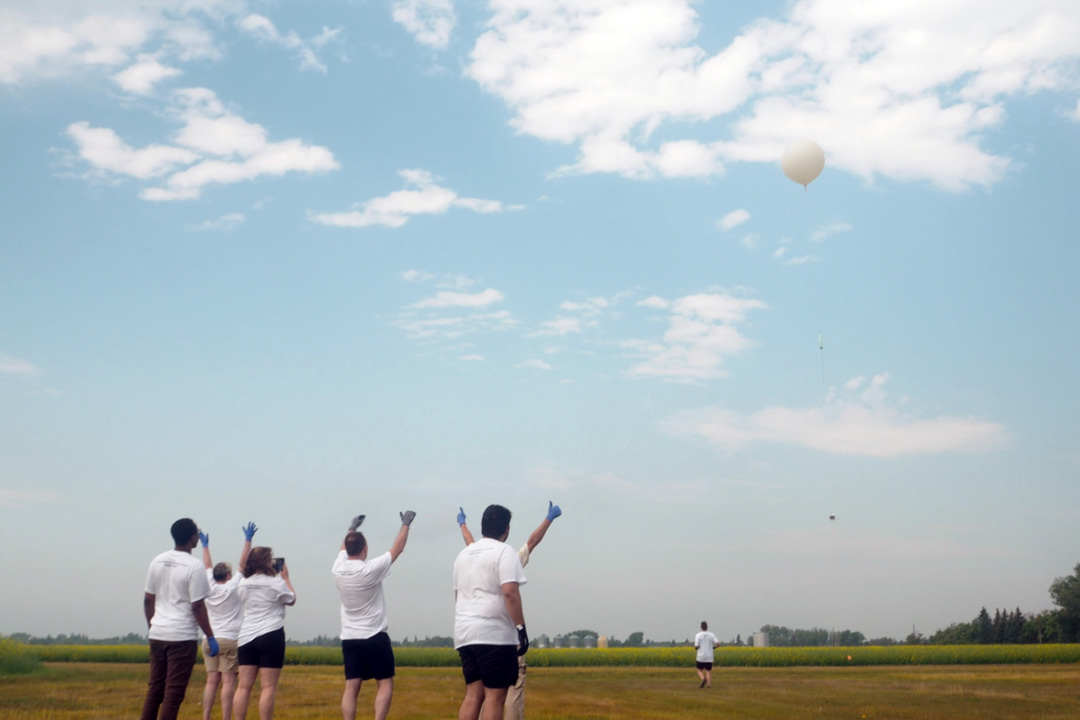 Final launch a success in student space training program at USask
Students came from across Canada and Norway to learn skills to work in space research and industries
By Chris Putnam
With the launch of two balloons to the edge of space last week, an international group of students marked the end of a unique seven-year space mission training program led by the University of Saskatchewan (USask).
Twelve graduate students from universities in Canada and Norway were this year's participants in the International Space Mission (ISM) Training Program funded through the Natural Sciences and Engineering Research Council of Canada (NSERC) CREATE program.
During a three-week field school at USask, the students designed payloads for two scientific missions and launched them on stratospheric balloons to an altitude of 30 km. The launches happened on July 25 at the Cudworth airstrip northeast of Saskatoon.
"It's pretty exciting, and today was especially exciting because it was really windy. You never know if the balloon is going to hit the ground before it goes or if the payload's going to drag through the field near the launch site. But the students did really, really well to get that controlled and up and on its way," said Dr. Kathryn McWilliams (PhD), professor in USask's Department of Physics and Engineering Physics and head of the ISM program.
The students, who have been taking part remotely in ISM training since January, conceived and constructed the entire mission during the first two weeks of the July field school at USask's College of Arts and Science.
"They define, design, build and launch everything. They have complete control over it—which can be at the same time really fun, but also really scary, because they have to figure it all out," said Dr. L. Sangalli (PhD), an assistant professor at the Royal Military College of Canada who teaches the field course.
"Every year is different, but their goal is to launch a balloon and to create instruments or find some sensors and find some interesting atmospheric physics that they want to study, and then put all of that together and launch a payload. And that means there are technical challenges. There's interpersonal challenges with a team that doesn't know each other very well. So they all have to work together to accomplish this goal."
Teamwork and communication skills are emphasized as much as technical skills in the ISM program. Students are given months of professional skills training leading up to the field school.
"Because I was working with students from different backgrounds—with engineers, with software developers—that gave me a lot of experience, because I am from a traditional physics background. I can say I learned a lot from this three-week experience," said Bizuayehu Addisie, a University of Calgary Master of Science student.
USask partnered with several Canadian and Norwegian universities on the ISM program, which began seven years ago and accepted a new group of trainees each year. The program's goal is to train highly qualified personnel to participate in Canada and Norway's growing space economies.
This year's students came from USask, the University of Alberta, the University of Calgary, the University of Tromsø and the Royal Military College.
"It opens a lot of doors," said Silje Moe Stangstuen, a space physics master's student at the University of Tromsø who traveled from Norway to participate. "I've learned a lot and it's been so much fun to deal with real numbers instead of just physics—things far away. So that's been very interesting."
This year, for the first time at the annual field school, the students successfully launched two balloons and two scientific payloads. One balloon carried sensors to measure conditions in the upper atmosphere. The other balloon tested communications equipment that could be used in scenarios such as providing cellular service to a disaster area.
The balloons eventually popped in the upper atmosphere and the students tracked them to about 70 km northeast of the launch site. They recovered one payload but were unable to reach the other.
This summer marks the end of the ISM program, which was originally planned for six years but had its funding extended by NSERC for 2023.
The program's impact has been significant, said McWilliams.
"The students learned a lot. We learned a lot as the instructors and coordinators. We have had a lot of students come through who've started companies in the space sector. We have many graduates who are working in the space field and so it's ignited in them a passion for space."
The ISM CREATE program is funded by NSERC and USask and is offered in collaboration with many university and industry partners. More information can be found at spacemissiontraining.ca.
---
Related Articles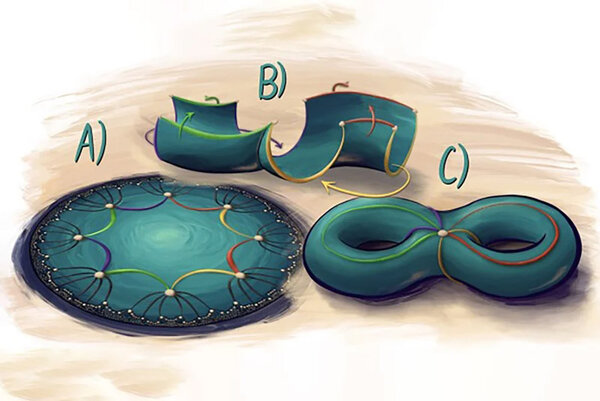 At USask, a mathematician and a musician collaborated to turn a quantum research paper into a jazz performance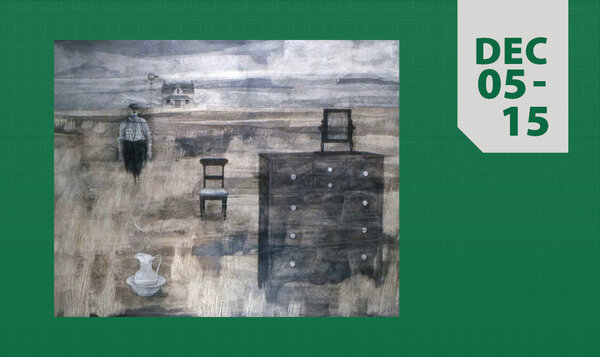 A collaborative exhibition by USask students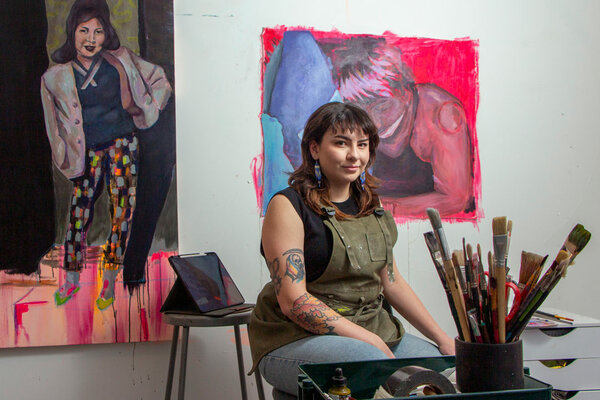 MFA student won a 2023 Outstanding Student Achievement in Contemporary Sculpture Award from the International Sculpture Center