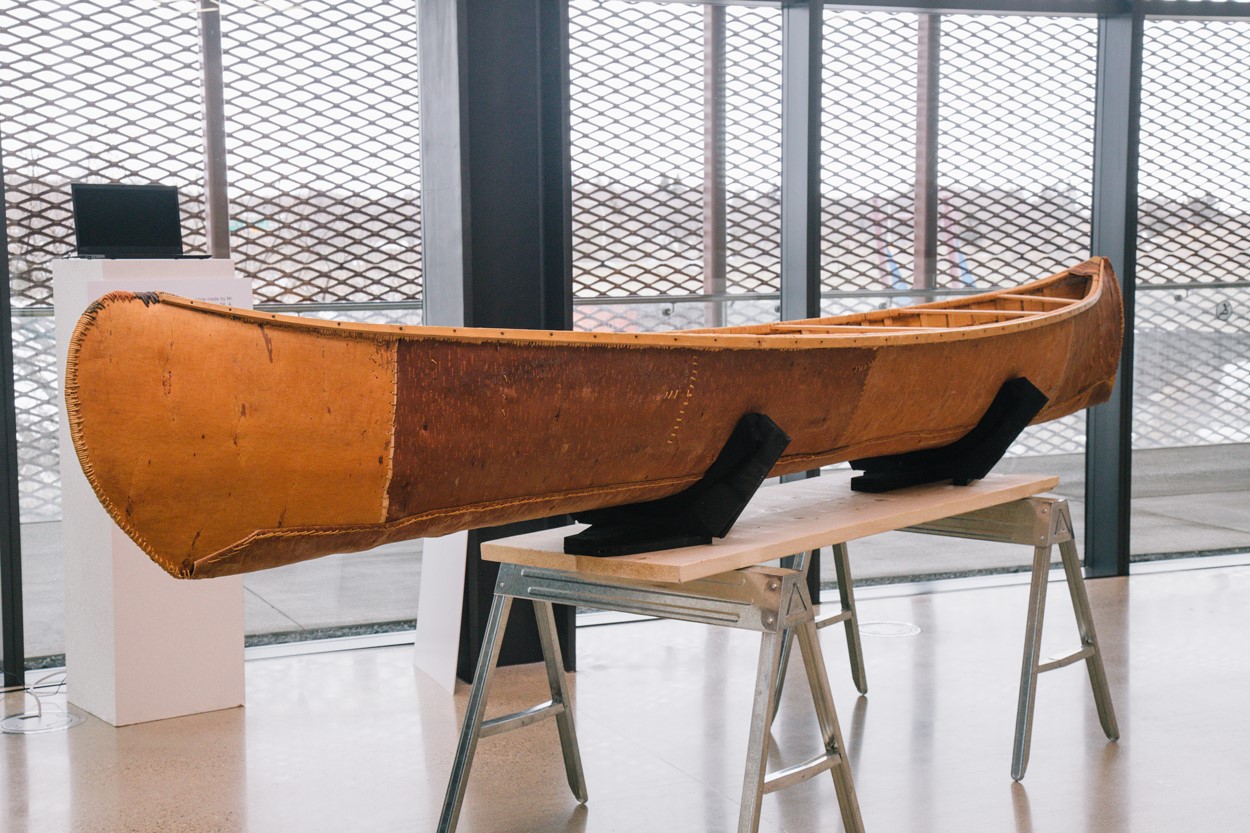 Digital replica of birch bark canoe on view at Remai Modern through USask partnership
The original canoe was built decades ago by Lac La Ronge Indian Band members Isaiah and Annie Roberts
By Shannon Boklaschuk
An augmented reality version of a traditional birch bark canoe produced through an interdisciplinary research initiative at the University of Saskatchewan (USask) will be showcased as part of a new art exhibition at Saskatoon's Remai Modern.
The original canoe was built in the 1970s on the banks of Otter Lake, Sask., by Isaiah and Annie Roberts, fluent Cree speakers and members of the Lac La Ronge Indian Band. Isaiah Roberts was known as a master canoe builder in his community, and his creative process was documented in a film titled My Last Canoe that was produced in Cree and English by USask and the Federation of Sovereign Indigenous Nations (FSIN). Annie Roberts was also integral in creating canoes with her husband, embellishing the vessels with her trademark dyed tree roots.
For years following the filming of the video, the canoe was stored in the Archaeology Building on the USask campus before faculty members initiated its return to the Lac La Ronge community in 2020. Prior to a repatriation ceremony that was held in Grandmother's Bay, Sask., 3D documentation of the canoe was undertaken by USask's Shared Spaces team. As a result, visitors to Remai Modern will now be able to view a 3D model of the canoe via an app that was also created by Shared Spaces. A QR code in the exhibition space will enable visitors to see an augmented reality version of the canoe on their cellphones through the app.
Dr. Rose Roberts (PhD), a granddaughter of Isaiah and Annie Roberts who grew up in Stanley Mission, Sask., is pleased viewers will be able to see the augmented reality version of her grandfather's canoe.
"It's a really good feeling because it is such a gift, and he was so good at it," said Rose Roberts (BSN'96, MSc'01, PhD'06), a three-time USask graduate who currently works as an educational development specialist with the Indigenous Voices team at the Gwenna Moss Centre for Teaching and Learning.
Roberts is also grateful "that someone, way back in the '70s, appreciated the knowledge" her grandparents had and consequently "went to the effort of filming the whole thing from start to finish." The Cree version of My Last Canoe will be played at the museum as part of the exhibition—something Roberts applauds.
"Showing the Cree version is adding another layer of protection for the Indigenous knowledge that is spoken by my grandparents in the film," she said.
Dr. Terence Clark (PhD), a faculty member in the Department of Archaeology and Anthropology in USask's College of Arts and Science, played a key role in the repatriation of the canoe. He is also a member of Shared Spaces, a three-year project of the USask Art Galleries and Collection. With support from the Canada Council for the Arts, the project is exploring how augmented reality can create opportunities for connection through art, both by making art accessible anywhere through approaches such as digital 3D sculptures and by providing additional content that is often personal in nature.
Clark, who previously served as a curator at the Canadian Museum of History in Gatineau, Québec, said digital repatriation enables museums and researchers to keep "accurate archive-quality models" of artifacts for further study and to also be able to "rightfully return them to the community that they belong to." Clark wanted to see if the Shared Spaces team could undertake the digitization process in relation to the birch bark canoe—and the experiment turned out well.
"Since we had this digital project, I thought it was fantastic to try to use the resources that we had," he said. "It was sort of a test, honestly—everything that we'd scanned so far had not been that big or complicated—and I wasn't sure it was going to work out. But our scanners—our students—were fantastic. They did such a great job; they spent a lot of time on it to really sort of troubleshoot it."
In March 2020, Shared Spaces presented the original canoe and the full-scale digital version during the Canadian Crafts Federation's Ten Digit Technology Conference at Remai Modern. Clark said the work on the canoe also coincided with the Department of Archaeology and Anthropology's focus on reconciliation and repatriation, as highlighted through the department's 50th anniversary lecture series. "It all kind of just fit in," he said. "This is something the university should be doing. This is something we have the skills to do."
Prof. jake moore, director of the USask Art Galleries and Collection, said Shared Spaces is just one of the art-centred research projects stewarded by the galleries. She noted that Shared Spaces is interdisciplinary in nature—bringing together highly skilled people from the departments of computer science, art and art history, and archaeology and anthropology in the College of Arts and Science—in an effort "to work in response to community in the creation of technology that supports the redistribution of access to art and one another." She envisions the creation and sharing of artworks as key to community health and wellbeing, and believes art has an important role to play in reconciliation and Indigenization.
"Understanding the role art plays in research, as one of the social determinants of health that also aids in the development of critical thinking and social structure through non-verbal means and shared experience, will be a key tactic in decolonizing the academy," said moore, who is also a faculty member in the Department of Art and Art History.
Visitors to Remai Modern can view the canoe in 3D through the Shared Spaces app when the exhibition, titled Canoe, opens at the museum on Jan. 29. The app can be downloaded for free from the App Store or Google Play. Remai Modern describes the aim of the exhibition—which is curated by Michelle Jacques—as exploring how artwork "documenting the historical structure and usage of Indigenous vessels has played a role in carrying cultural knowledge forward." About 50 pieces of art from the private collection of Grit and Scott McCreath will be on view as part of Canoe.
The exhibition is the latest collaboration between USask and Remai Modern; in 2017, the two organizations signed a historic partnership agreement that expresses the aspirations of two of the province's most significant cultural institutions to collaborate in areas of complementary strength and mission. It is believed to be the first agreement in Canada between a university and a city-owned art museum.
On Jan. 27 at 7 pm, the public is invited to join Lyndon J. Linklater, Remai Modern's Indigenous relations advisor, Pinock Smith, an Anishinaabe canoe maker from the Kitigan Zibi Anishinabeg Nation near Maniwaki, Québec, and fellow canoe maker and artist Klewetua Rodney Sayers for a Fireside Online discussion. Roberts will also join Linklater for a future Fireside chat.
Another activity set to take place in connection with Canoe is a free workshop for the MNP Remai Modern Art Collective offered by the USask Art Galleries and Collection as part of the Shared Spaces collaboration with the museum. In the workshop, which will take place in March and April, youth aged 14 – 21 will have an opportunity to build 3D models using the creation software Blender and will learn how to place them in augmented reality space using the USask Shared Spaces Web Uploader.
Canoe runs until May 8, 2022. More information is available online on Remai Modern's website.
---
Related Articles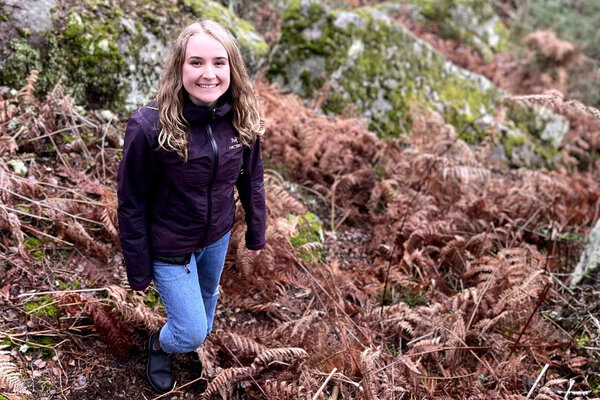 USask biology student Rachel Andres is making plans to continue her love of plant science research at the University of Oxford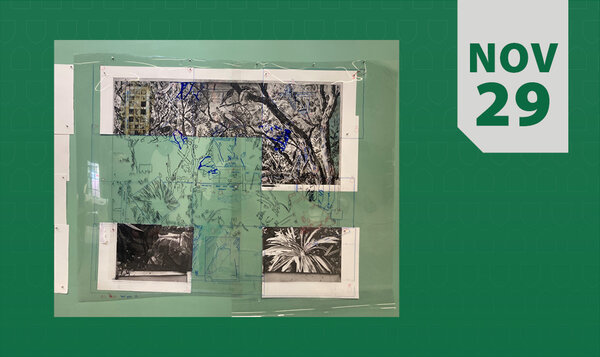 A talk by visiting artist Jillian Ross, master printer and founder of Jillian Ross Print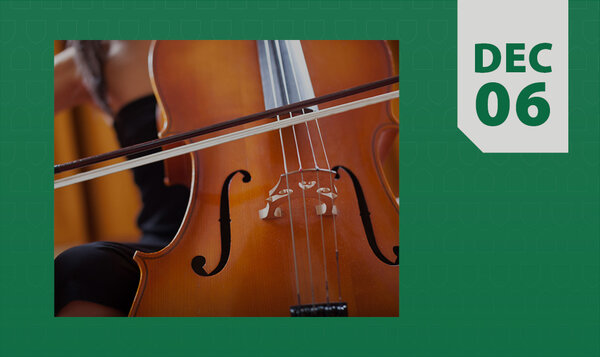 Enjoy beautiful chamber music works performed by students in the USask Chamber Ensemble