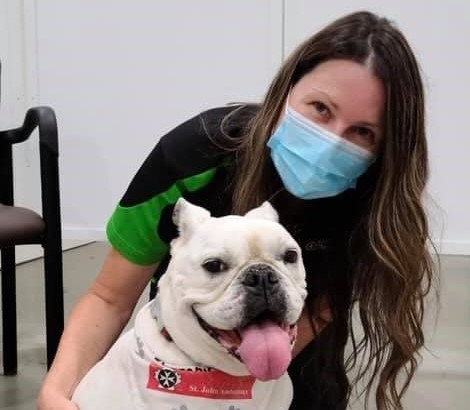 Therapy dogs set to assist with vaccination clinics on USask campus
Starting on Sept. 7, 2021, every member of the USask community—all students, faculty and staff—will be required to show proof of at least one dose of a World Health Organization (WHO)-approved COVID-19 vaccine before coming onto campus
By Shannon Boklaschuk
Is a fear of needles making you feel nervous about getting your COVID-19 vaccination?
The PAWS Your Stress therapy dogs are ready to help ease your anxiety.
This week, the PAWS Your Stress therapy dog program is partnering with the University of Saskatchewan (USask) and the Saskatchewan Health Authority (SHA) to bring therapy dogs to outdoor vaccination clinics on USask's main campus. The pop-up clinics will take place in the Bowl, at the centre of campus, from 10 am – 4 pm on Sept. 2 and Sept. 3. The therapy dogs will be at the clinics from 10 am to noon on Sept. 2 and from 1:30 pm – 4 pm on Sept. 3.
"The dogs are there to support anyone receiving their vaccination. It can range from helping distract someone terrified to take a shot and helping them get through it, to making it a more pleasant experience for someone who may be a little anxious about the process," said Ben Carey, a program coordinator with PAWS Your Stress and a Saskatoon evaluator for St. John Ambulance.
"These dogs and their handlers bring a sense of peacefulness and can even remind people of how happy they have been with their animals at home or in their past. The dogs have no judgment and are happy to sit with you—as long as you need—until you're ready," he said.
PAWS Your Stress, which began in 2014, is a partnership between the office of Dr. Colleen Dell (PhD), a sociology professor in USask's College of Arts and Science and the university's Centennial Enhancement Chair in One Health and Wellness, as well as Peer Health and the St. John Ambulance therapy dog program. The PAWS Your Stress program has provided comfort to members of the USask community throughout the COVID-19 pandemic, and recently partnered with the SHA and St. John Ambulance to offer a furry helping hand at walk-in vaccinations held in Saskatoon in August.
"The experience at the vaccine clinics has been wonderful so far," said Carey. "The SHA has been amazing to work with, and our dogs and handlers are very excited to be back volunteering. The SHA has outlined very clear safety precautions for our staff and volunteers as well, which helps everyone feel more comfortable. Along with working with the SHA for the safety of our handlers, we have been working with veterinarians to ensure the safety and well-being of our therapy dogs."
The therapy dogs have attended three SHA vaccination clinics so far: two at Prairieland Park, and a pop-up clinic at the Meewasin skating rink site. Carey said it has been great partnering with the SHA, and the client feedback "has been incredible."
"The health-care staff always lets us know how much they appreciate the dogs being there. They consistently check with patients if they would like to visit with a therapy dog while receiving their vaccine and have been extremely accommodating," he said.
"On the patient side of things, there has been a similarly great response. We have received numerous messages on social media and in person that the dogs were the thing that convinced a great number of people to get their first dose. We have had everyone from Grade 7 schoolchildren to adults tell us how much the dog being there meant to them."
Starting on Sept. 7, 2021, every member of the USask community—all students, faculty and staff—will be required to show proof of at least one dose of a World Health Organization (WHO)-approved COVID-19 vaccine before coming onto campus. Proof of a second dose will be required by no later than Oct. 18, 2021.
As the fall term gets underway at USask, PAWS Your Stress will continue to work with St. John Ambulance to attend as many vaccination clinics as possible—including clinics on campus. People can find out more about the therapy dogs and their locations on the therapy dogs website or on Instagram or Facebook.
"The dogs and their handlers, through St. John Ambulance, have been doing an amazing job easing fears and reducing vaccine anxiety. Talking with nurses and SHA organizers, we have learned there is a large population of children and adults that have a phobia of needles or strong avoidance to them," said Carey.
"The dogs provide a feeling of comfort and support that help to reduce the anxiety surrounding receiving a needle. We have been told by several community members that they were only able to receive the shot because there was a therapy dog present."
COVID-19 vaccinations will also be offered on an ongoing basis at USask's Student Wellness Centre. Please call 306-966-5768 to book an appointment.
---
Related Articles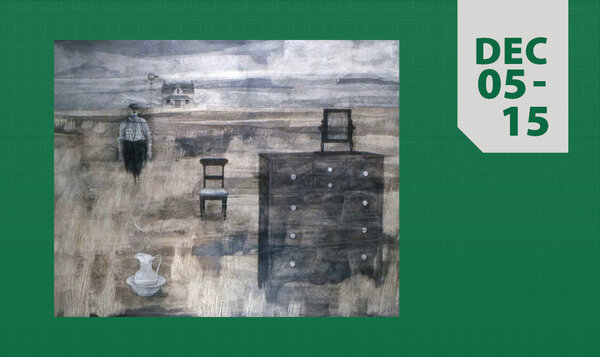 A collaborative exhibition by USask students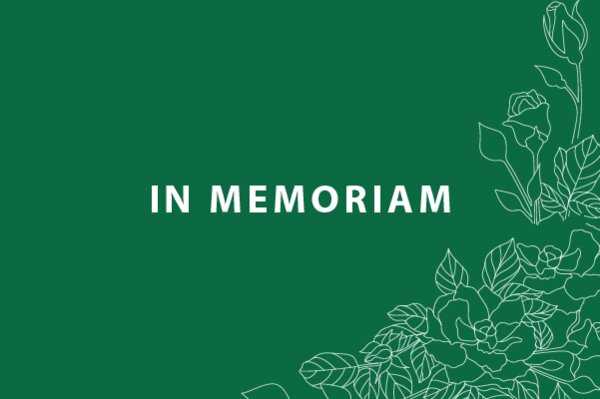 Courtney was a professor in the Department of Political Studies and a Senior Policy Fellow at JSGS for 58 years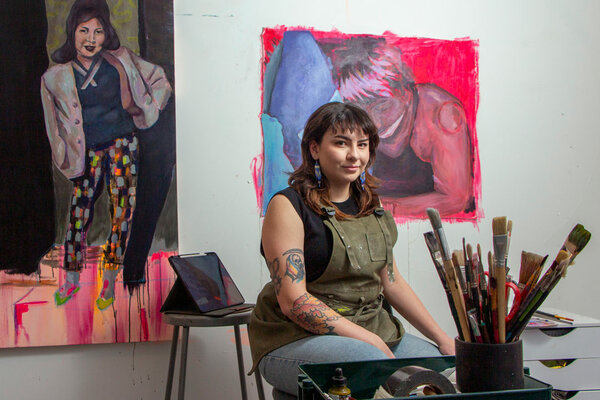 MFA student won a 2023 Outstanding Student Achievement in Contemporary Sculpture Award from the International Sculpture Center