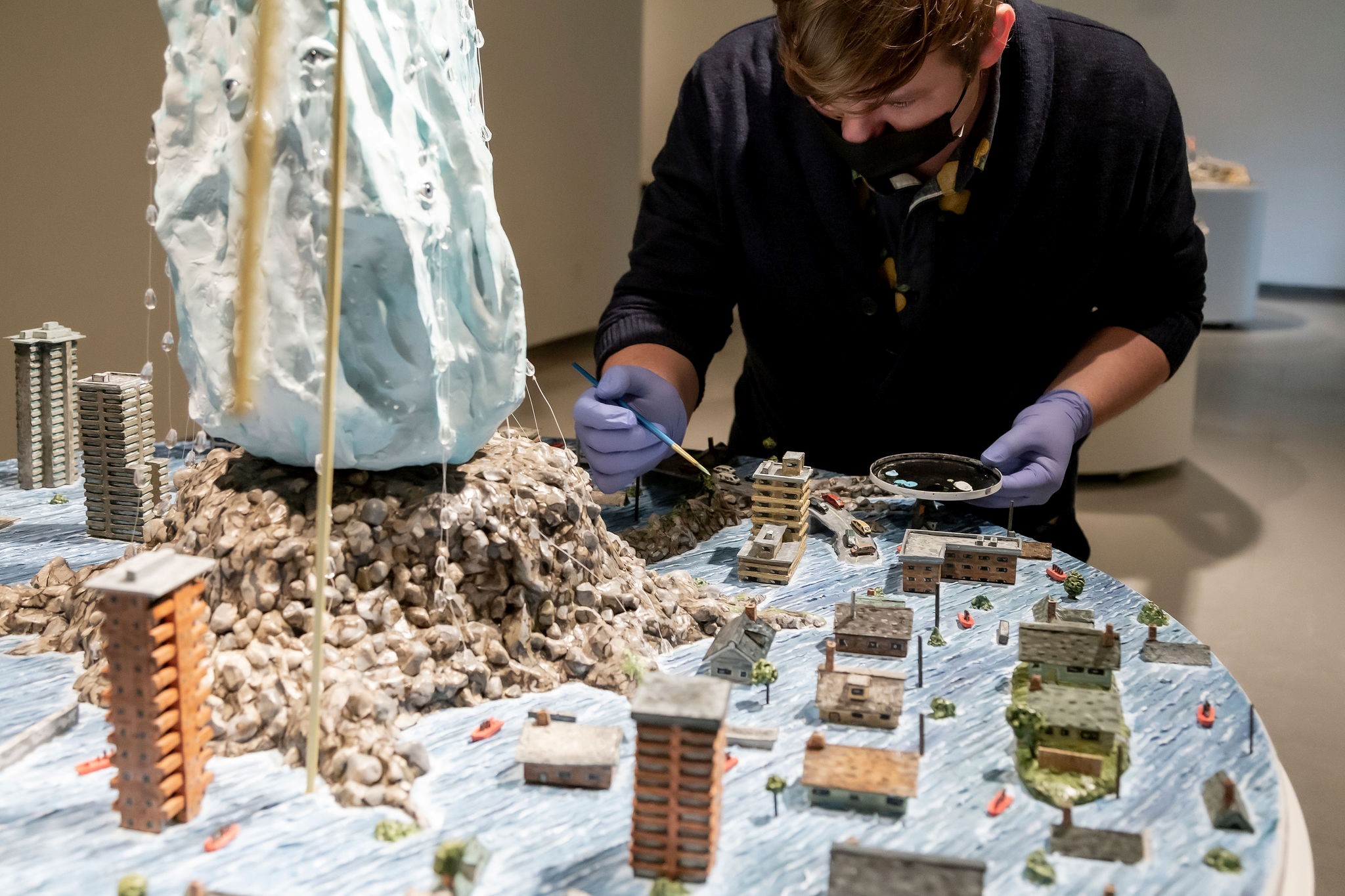 Miniature worlds, big problems: Jude Griebel's artworks address consumerism and environmental degradation
Jude Griebel: Illuminated Collapse will be on display at the Kenderdine Art Gallery until Aug. 21, 2021
By Shannon Boklaschuk
During a conversation about the ongoing COVID-19 pandemic, Canadian artist Jude Griebel notes the do-it-yourself activities that have become more popular as people isolate and shelter in place—from baking homemade bread to crafting.
This DIY ethic resonates with Griebel, who has received international acclaim for artworks featuring miniature elements that he meticulously carves and shapes by hand.
"They are all handcrafted details that have been carved from wood and then painted," he says. "It's laborious, but also interesting in the way that I'm crafting things like 200 miniature vehicles—things that are usually mass produced—yet I'm doing it by hand."
On May 3, Griebel began serving as the artist-in-residence at the Kenderdine Art Gallery (KAG) on the University of Saskatchewan (USask) campus, where he has been creating new work and installing an exhibition curated by College of Arts and Science alumna Leah Taylor (BFA'04). Griebel's residency wrapped up on May 27 and the show, Jude Griebel: Illuminated Collapse, officially opened on May 28.
It's a homecoming of sorts for Griebel, a figurative sculptor who grew up in Saskatoon near the USask campus. His father worked as a surgeon at Royal University Hospital, and his family lived across the street from the hospital.
"I left in 1998. I haven't been back many times, so it's interesting being back in the city—especially working at the university. I spent a lot of time there when I was young," he says.
"It's a bit of a homecoming show, in a way, as I've actually never exhibited here."
After leaving Saskatoon, Griebel earned a Bachelor of Fine Arts degree at Emily Carr University of Art and Design in Vancouver and a Master of Fine Arts degree in sculpture and ceramics at Concordia University in Montreal.
Since then, he has completed numerous residencies in Canada and abroad and, until March 2021, served as the artist-in-residence at Pioneer Works in Brooklyn. He currently splits his time between New York and Alberta, where has he created a whimsical and macabre museum with his brother. The Museum of Fear and Wonder—situated in renovated army barracks outside of the small community of Bergen, Alberta—aims to use the dying tradition of the rural museum to highlight the psychological and narrative qualities of objects.
Viewers may draw parallels between the objects in the museum and Jude Griebel's artwork. First glances may elicit an unsettling feeling, as Griebel operates within an End-of-Times narrative, but there is a deep and complicated beauty to his pieces. Griebel uses his sculptures and dioramas to comment on the interconnectivity of human beings to the natural world around them, and the impact that ever-growing consumerism and industrial development has on the environment. Symbolism around consumption and planetary collapse can be seen in his 2020 work Procession, for example, depicting a factory-farm scene in which intricately carved wooden animals line up to await their inevitable deaths.
"Overconsumption, environmental ruin: we avoid those topics because they're just not easy things to think about, but they're subjects that occupy Jude Griebel's mind plenty," notes a CBC Arts article about Illuminated Collapse.
Certainly, as the world continues to grapple with the devastating impacts of COVID-19, Griebel's End-of-Times metaphors seem more salient than ever. People continue to face suffering, illness, grief and death, while the mass production of disposable masks, gloves and single-use medical equipment takes an environmental toll. The health crisis has also altered the way the public can interact with art exhibitions and artists; for example, Griebel currently has a show installed at the Art Gallery of Alberta—titled Jude Griebel: Barn Skull, curated by USask alumna Lindsey V. Sharman (BA'07)—that is not open for in-person public viewing due to COVID-19 restrictions.
Similarly, USask's art galleries—the KAG, the Gordon Snelgrove Gallery and the College Art Galleries (CAG)—also remain closed to the public due to health and safety precautions.
"It's a different experience participating in a COVID residency. I do quite a number of residencies—often in conjunction with exhibitions—so when I travel somewhere to install a show, I'll often spend some extra weeks maybe giving some talks, working and getting to know the arts community. With COVID, it has been a completely different experience, with much of the activity being online," says Griebel.
"The university has been quite quiet and empty, so I have been focusing on the exhibition that I'm installing. There really are a lot of detailed sculptural components, the works being like giant models that require assembly. I have had more time to put into the exhibition design and the planning."
Illuminated Collapse features eight sculptures, showcasing a series of work that took three years to complete. It was created during a residency offered through the International Studio and Curatorial Program in New York.
"My work over the past number of years has explored the merging of the body with the landscape, to speak to ways we consume and impact the world around us. Through the work I hope to provide new access points to consider human behaviours in relation to overconsumption and land use," Griebel says.
"I approach these themes through the lens of my own autobiographical experience, art history and pop culture—combining these elements in surrealistic tableaux that have anatomical elements."
As Griebel struggles with the notion of planetary collapse, he also recognizes a certain irony in that. His artwork, while critiquing consumerism, also consumes resources itself, as it's packaged and shipped to well-lit, temperature-controlled gallery spaces in various cities.
"I find myself in a bind with the work," he says. "While I am crafting the sculptures by hand, I'm very aware that I'm an active consumer in this world. There's a lot of struggle in the work."
While Griebel's artwork tackles this type of difficult subject matter around environmental degradation—which, he admits, "not a lot of people want to confront"—there is also a playful humour in his creations. He uses this playfulness as a way to draw people in, finding inspiration in the aesthetic of natural history and science museum exhibits. As a child of the '80s, he also references pop culture from that era, such as Jim Henson productions, as well as the handmade props, costumes and effects from a time before CGI took hold as a mainstay in movies and animation.
"I like the idea of using the miniature in these pieces, because I've visited a lot of novelty miniature worlds and science museums, observing the dioramas," Griebel says. "I feel like when you see these crafted, miniature worlds, people automatically project their minds and their imaginations into them and sort of wander around a bit, before confronting the ideas within them. The hope is that that connection happens before they start asking questions and pondering the ideas I'm putting forward."
Illuminated Collapse will remain on display at the Kenderdine Art Gallery until Aug. 21, 2021. Watch for more information regarding exhibition tours this summer through KAG/CAG social media posts and e-newsletter updates.
---
Related Articles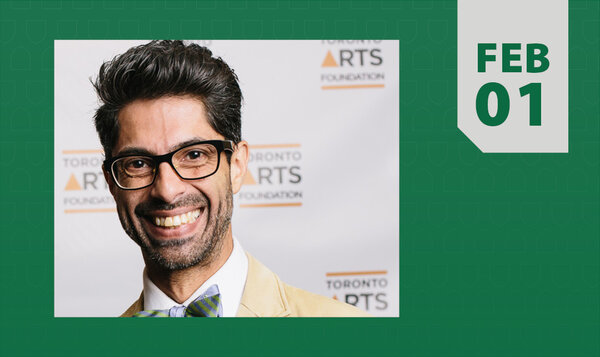 A talk in the Fine Arts Research Lecture Series (FARLS) in Music by Hussein Janmohamed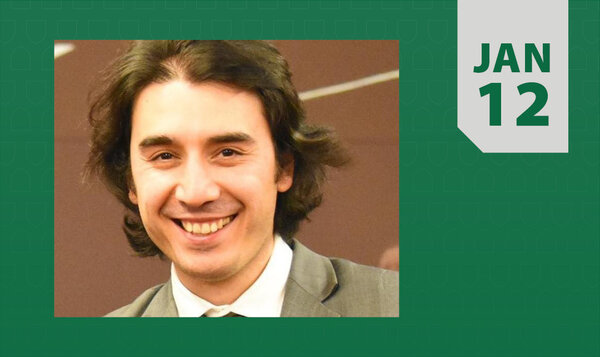 A talk in the Fine Arts Research Lecture Series (FARLS) in Music by Shah Sadikov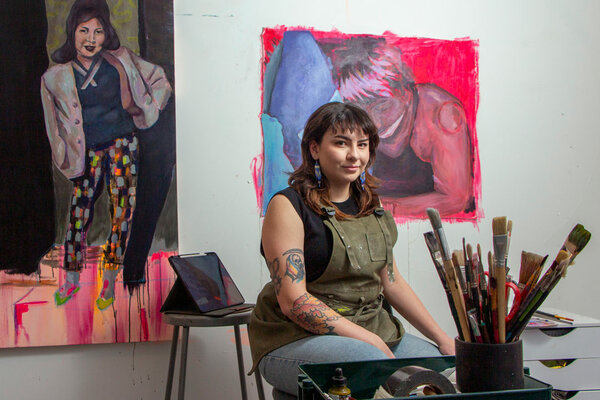 MFA student won a 2023 Outstanding Student Achievement in Contemporary Sculpture Award from the International Sculpture Center