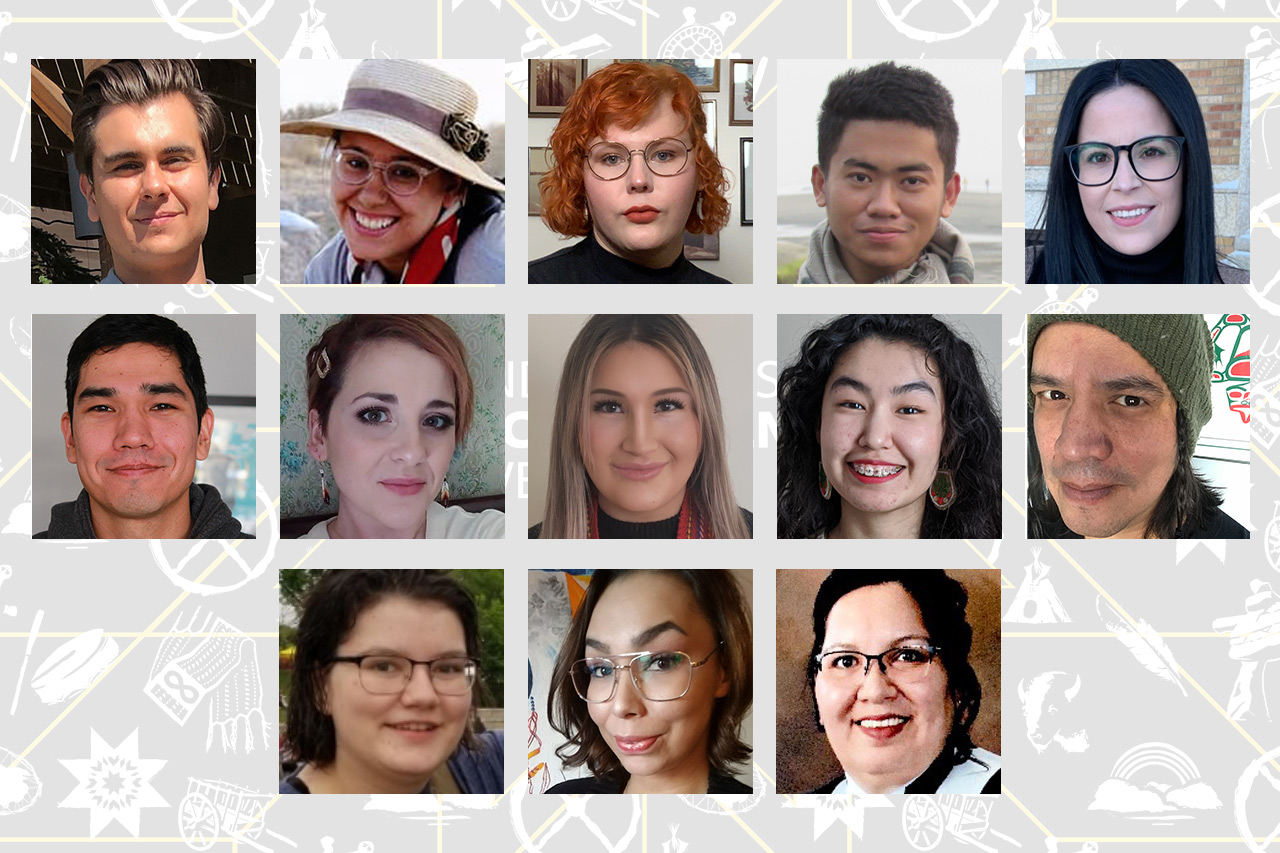 College of Arts and Science students receive Indigenous Achievement Awards
Nineteen students were recognized for achievements in academics, leadership, research, resiliency and community engagement
Nineteen students in the College of Arts and Science were honoured with Indigenous Achievement Awards as part of Indigenous Achievement Week 2021 at the University of Saskatchewan (USask).
Each year, USask recognizes outstanding Indigenous students for their achievements in academics, leadership, research, resiliency or community engagement.
The following College of Arts and Science undergraduate and graduate students were among those presented with Indigenous Achievement Awards at an online awards ceremony on Feb. 4, 2021.
Hannah Bird
Community Award
Hannah is in her second year of a four-year Bachelor of Arts in sociology and the Indigenous Justice and Criminology Program. Instructors have noted her intelligent and insightful writing, and that she works exceptionally well with others—listening fully and respectfully while remaining engaged. In her first year she participated in community service learning and chose the Friendship Inn, where she received excellent reviews. She also excelled in the academic components, showing the ability to connect community and research work to the academic literature.
Travis Black
Academic Excellence Award
Travis Black is a final-year student in the interdisciplinary mathematical physics honours program. Travis maintains a superior GPA higher than 91 per cent across his major courses. He has a long list of achievements including an Interdisciplinary Award in 2019, an NSERC Undergraduate Summer Research Award in summer 2019 and a research award through the quanTA research centre in summer 2020. Travis volunteers at Gabriel Dumont Institute and is well-respected by his peers.
Article: USask mathematical physics student contributes to space MRI
Micaela Kerigan Champagne
Leadership Award
Through her work at Science Outreach, Micaela Kerigan Champagne is striving to deliver Indigenous science perspectives to students in Saskatoon. She is working to reclaim her culture and language as an Indigenous woman and to positively influence her students by leading by example and honouring the generations that came before her. Her hope for her archaeology career is to repatriate as many of her Indigenous ancestral items and remains as possible. Micaela also excels academically and is engaged within her community.
Article: USask archaeology student intends to repatriate ancestral items, remains as a step toward reconciliation
Aurora Chartier
Community Award
Aurora Chartier is a third-year history major being recognized for her community engagement. Aurora is a two-spirited Métis woman from Buffalo Narrows, Sask. A dedicated volunteer and activist on and off campus, she works tirelessly with harm reduction and sexual wellness groups in Peer Health on campus. She played a key role in organizing and facilitating naloxone training with the Saskatchewan Health Authority on campus. Aurora has volunteered with Safe Haven of the Ness Creek Music Festival and is an active member of the Saskatoon queer community, to name just a few of her volunteer roles and accomplishments.
Kat Chief Calf
Research Award
Kathleena (Kat) Chief Calf is a Bachelor of Fine Arts honours student in her final year. She is being recognized for her work as a summer assistant at the University Art Galleries and her studio work. Kat's research was part of a larger project addressing systemic inequity in the university collections, investigating and rewriting documentation for the galleries' considerable collection of Allen Sapp works. In her studio work, Kat subtly incorporates personal life experience, history and culture. She explores a range of media in her work with a poetic delicacy, attention to detail and elegant design.
Bishudwy Dewan
International Award
Bishudwy Dewan is currently pursuing a Master of Arts in Indigenous Studies. He is the first member of his family and one of the few in his community to have pursued higher education in North America. His MA research will focus on Indigenous migration, including the diasporic experience of Indigenous peoples who migrated to Canada from Bangladesh in a multicultural society, and on how immigrated Indigenous peoples in Canada experience and engage with other Indigenous Canadians.
Jennifer Falconer
Resiliency Award
Jennifer Falconer is on track to graduate despite having to overcome significant personal challenges. Not only is she a mother and student, she is also a constituency manager with her local member of Parliament. Resilience is epitomized not necessarily by the degree of adversity you face, but how you rise to meet it, and for this reason Jennifer epitomizes resilience. As she explained, "I wake up every day excited for a new challenge."
Article: Political studies student balances motherhood and community work with her studies to stay on track to graduate this year
Sydney Fremont
Academic Excellence Award
Sydney Fremont is of Cree, Saulteaux and Métis descent, and belongs to the Cowessess First Nation where he grew up and graduated from high school. After five years of working in the labour force, he enrolled at the University of Regina. After a hiatus due to illness, he transferred to the University of Saskatchewan where he continues to pursue his passion for decolonization.
Kathleen Joelle Funk
Academic Excellence Award
Kathleen Funk is a second-year student who is extremely responsible and motivated. She is very proud of her Métis heritage and has expressed her cultural self quite creatively, with great strength and perseverance. Kathleen is a mother of very young children; she works hard in all she does both raising her children and tackling the great responsibilities of excelling academically in all her coursework. Kathleen is extremely resourceful and dedicated to helping others.
Kate Gillis
Academic Excellence Award
Kate Gillis is a first year Master of Arts student in Indigenous studies. Her research focuses on the often-overlooked role of women in the establishment of the Métis Nation. Kate is passionate and proud of her Indigenous heritage, and maintains close ties to her community. Apart from her studies, she continues to work part-time with the Rupertsland Institute, an affiliate of the Métis Nation of Alberta.
Article: Graduate student examining historical contributions of Métis women to be honoured during Indigenous Achievement Week
Meztli Henriquez
Resiliency Award
Despite facing some very difficult personal issues in the academic year 2019/20, Meztli Henriquez has kept working at her studies, completing all of her courses. In winter 2020 (a challenging term for all), she completed an outstanding final paper in one of her classes (LING 402). Her current instructor says a paper Meztli wrote "is not only worthy of publication, but a powerful contribution to the discussion about the connection between language and well-being in the context of Canadian Indigenous communities."
Devin Kyle
Resiliency Award
Devin Kyle is a third-year anthropology student who has demonstrated a capacity for academic success. Devin is a mature student who has been navigating parenting during the pandemic in addition to his studies. Devin is a pleasant and thoughtful student who enjoys initiating discussions with his questions and comments. Devin writes, "By acquiring an education, I hope to also be a role model for not only my children, but also others'." Devin's values and authentic connections to his culture are an important grounding for his academic and personal success.
Article: Inspired by travels, a mature student answers the call from anthropology and aspires to be a role model for all
Alex Litster-Paramor
Research Award
Alex Litster-Paramor is Cree-Métis and grew up in Winnipeg, Man. Alex is an excellent and talented student who is completing both a history and social work degree and consistently achieves excellent grades. In her writing and research, she aims to draw on sources written by Indigenous peoples and have their voices included in analyzing and understanding how colonial legacy informs policy and institutions. Alex was one of two undergraduate researchers chosen to work on USask's COVID-19 Community Archive. In this role, Alex has shown remarkable energy, tenacity and innovation.
Morgan Jessica Brett Longjohn
Resiliency Award
Morgan Longjohn is a Plains Cree single mother who has overcome significant challenges, including trauma, addiction and homelessness. After getting clean, and with support from the Sturgeon Lake First Nation, Morgan has excelled academically and professionally. Through her writing, public speaking and community work, she has already reached thousands of First Nations people struggling with addiction, incarceration and poverty. Morgan is currently in her third year of studies, pursuing a political studies degree. She hopes to use her degree to increase her impact on improving the lives of others.
Article: Political studies student overcame challenges to get here and is now pursuing a degree with the intent to help others
Carson Mackonka
Academic Excellence Award
Carson Mackonka is a fourth-year Bachelor of Arts regional and urban planning honours student. Carson grew up in Flin Flon, Man. His life experience includes an understanding of northern resource-based economies and Indigenous presence on the land. His strengths include his maturity, clear thinking, analytical mind and his ability to work under pressure. His nominator says Carson is one of the strongest academic students he's taught in his 12 years at USask, with a course grade placing him in the top five per cent of all students he has taught over a 12-year period.
Tara Nelson
Resiliency Award
Tara Nelson has been working on her degree since 1999 and, despite setbacks early on, has completed a Bachelor of Arts in sociology, an Ethics, Justice and Law Certificate, and appears to be on track to complete a Bachelor of Arts in philosophy as well. In addition, she has made a significant contribution to the philosophy undergraduate community. She has frequently attended the departmental colloquium, as well as numerous departmental social events, and has participated in events sponsored by the Undergraduate Philosophy Club.
Article: Indigenous Achievement Award recipient set to become a USask graduate—again
Heather Poirier
Academic Excellence Award
Heather Poirier is set to graduate next spring and has also completed the Department of Political Studies' Global Studies Certificate in the fall of 2020. The department recently recognized Heather's academic performance with the Dorothy Nenniger Scholarship. Heather's academic talents extend to her leadership skills; her attitude has been of significant value during this period of online classes as she has been at the forefront of motivating her peers. Heather is very engaged in her community and hopes to build on her academic achievements and pursue graduate studies.
Jennifer Ward
Academic Excellence Award
Jennifer Ward is planning to graduate in 2021 with a Bachelor of Arts honours. Her instructors are unanimous that she is an excellent student, as evidenced by her consistently high grades. For her honours project, Jenn is planning to conduct research on the tense/aspect system of nēhiyaw, building on a small research project from one of her linguistics classes taken in fall 2020. She is currently working a literature review on tense/aspect in Algonquian languages and has begun preparing her REB application. Jenn is also working as an undergraduate research assistant on a SSHRC project.
Kieran Micheal Paul Young
Community Award
Kieran Young is a fourth-year Indigenous studies student who is committed to raising awareness about Indigenous culture. For example, his volunteer activities with Holy Rosary High School's Dreamcatcher Group began nearly a decade ago and he remains dedicated and active in sharing knowledge, expertise, and supporting others through the program. He has also volunteered with Canadian Roots Exchange under the rural youth leadership community engagement program, where he challenged misconceptions about Indigenous cultures, and he has volunteered as a coach at the Indigenous summer games.
---
Related Articles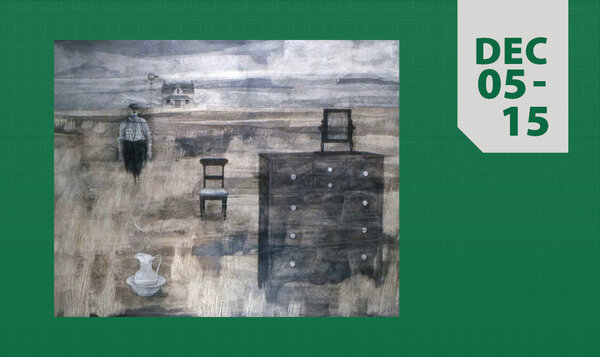 A collaborative exhibition by USask students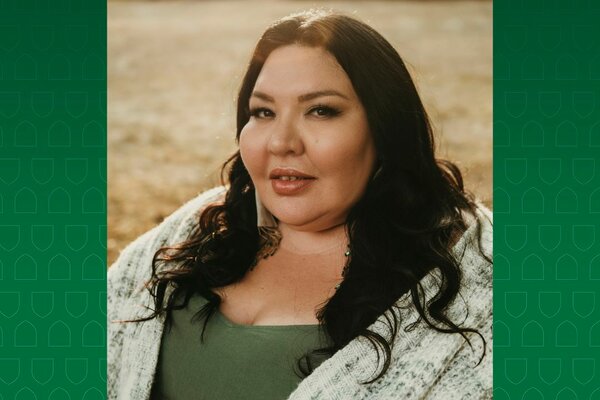 Award-winning poet and photographer Tenille Campbell (BA'07, MFA'12) has been selected as the next Indigenous Storyteller-in-Residence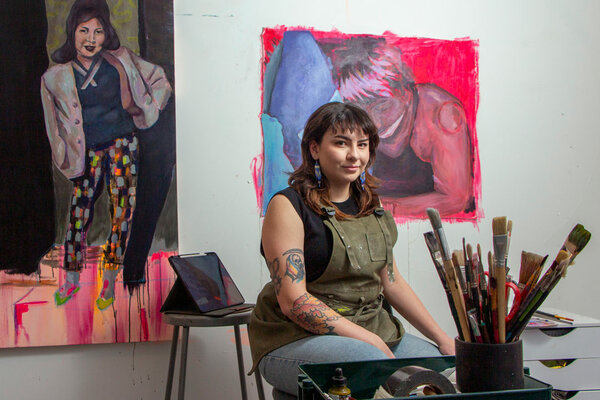 MFA student won a 2023 Outstanding Student Achievement in Contemporary Sculpture Award from the International Sculpture Center