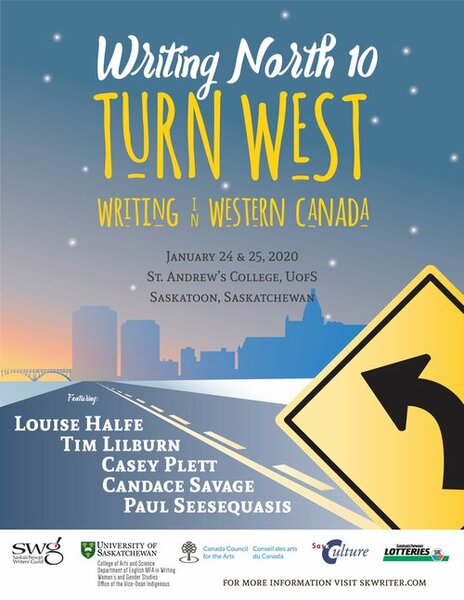 Writing North 10: Turn West
When: Friday January 24 from 4pm-9pm and Saturday January 25 from 9:30am-4pm
Where: St. Andrew's College, 1121 College Drive, University of Saskatchewan, Saskatoon
Cost: FREE - No registration required
Presenters: Louise Halfe, Tim Lilburn, Casey Plett, Candace Savage and Paul Seesequasis

Writing North is a free two-day writers' festival for Saskatoon's community of writers and anyone interested in writers and books. This year's festival features five Canadian writers from diverse genres and backgrounds to talk about writing in Western Canada.
This event is co-organized by the University of Saskatchewan's Department of English/MFA program and the Saskatchewan Writers' Guild. Funding is gratefully acknowledged from Canada Council for the Arts, SaskCulture and Saskatchewan Lotteries and the University of Saskatchewan's Dept of English, Women's & Gender Studies and Office of the Vice-Dean Indigenous.
For a schedule of the festival's presentations, visit the Writing North page.