Writing North is an annual two-day writers' festival for the community — at the University of Saskatchewan, in Saskatoon, and beyond across central and northern Saskatchewan — of aspiring writers and anyone interested in writers and books. It features panel discussions, a keynote reading, and seminars on writing forms such as fiction, poetry, spoken-word, playwriting, and non-fiction prose.

This project is a collaboration between the university's MFA in Writing, Department of English, and College of Arts and Science, together with the Saskatchewan Writers' Guild. All these partners see Writing North as the perfect opportunity for building bridges between the campus and the wider community.
Writing North 2018 will be January 25 - 26 at the University of Saskatchewan. See details, below.

Cabin Fever: Breaking Down Walls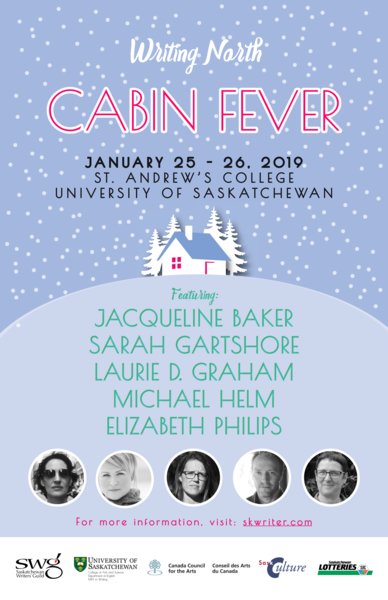 January 25-26, 2019
St. Andrew's College
121 College Drive
University of Saskatchewan
EVENT IS FREE. ALL ARE WELCOME.
This year's festival features five Canadian writers from diverse genres and backgrounds. Writing North will kick off with a panel session on Friday afternoon on the theme of Cabin Fever: Breaking Down Walls, a catered reception and author readings. On Saturday, our featured authors will present free seminars on the craft of writing in different genres.
This event is co-produced by the University of Saskatchewan's Department of English/MFA program and the Saskatchewan Writers' Guild. Funding is gratefully acknowledged from Canada Council for the Arts, SaskCulture and Saskatchewan Lotteries and the University of Saskatchewan.
The SWG will operate a book table at which the presenting authors will sell their books.
Friday, January 25, 2019

4:00 p.m.  

Greetings

4:30 p.m. 

Panel with Baker, Gartshore, Graham, Helm, and Philips on the theme of Cabin Fever: Breaking Down Walls

5:45 p.m. 

Catered reception

7:00 p.m.

Author readings

Saturday, January 26, 2019


Seminars

9:30 a.m. - 10:20 a.m.
Elizabeth Philips – The Art of Revision

10:30 a.m. - 11:20 a.m.

Sarah Gartshore - Playwriting

11:30 a.m. – 1:00 p.m.

Lunch on your own

1:10 p.m. – 2:00 p.m.

Laurie D. Graham – Poetry

2:10 p.m. – 3:00 p.m.

Michael Helm - Fiction

3:10 p.m. – 4:00 p.m.

Jacqueline Baker – Fiction