College's alumni magazine honoured with three CASE awards
Posted on 2019-11-12 in Alumni, College Vision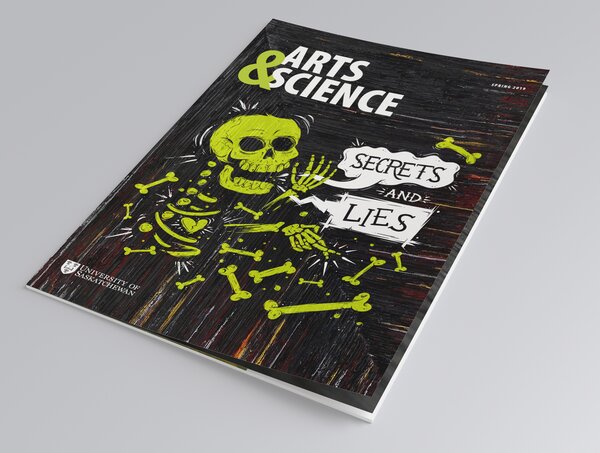 The spring 2019 issue of Arts&Science received three awards in the 2020 Best of CASE VIII competition.
The College of Arts and Science's alumni magazine has been recognized with three awards from the Council for Advancement and Support of Education (CASE).
The magazine, Arts&Science, is produced annually by the college's communications office for alumni, donors and other stakeholders. It is available in print and on the college website.
The spring 2019 issue of Arts&Science received three awards in the 2020 Best of CASE VIII competition. This includes a Gold Award in the Alumni, Student, Donor and Community Engagement: Alumni Publications category and a Silver Award in the Fundraising, Special Event & Other Communications: Low Budget Publications category.
The magazine was co-edited by College of Arts and Science communications officers and University of Saskatchewan (USask) alumni Shannon Boklaschuk (BA'00, MPA'14) and Christopher Putnam (BA'07). Putnam's article Truth and Doubt, about Saskatoon police officer and USask alumnus John Langan (BA'13), received a Bronze Award in the Feature Writing category.
The spring 2019 edition of the magazine was designed by former college publications officer Erin Fisher, with the cover artwork created by USask creative services specialist and alumnus Brian Kachur (BA'03). Articles were written by Boklaschuk and Putnam, as well as by Dr. Brooks DeCillia (BA'95), Tom Eremondi (BA'82), Ashleigh Mattern (BA'11), Joanne Paulson (BA'82) and William Robertson (BA'77, MA'81).
Boklaschuk will collect the awards at the 2020 CASE VIII Conference, which will be held from Jan. 29-31, 2020, in Seattle, Washington. In addition to the three awards it has already won, Arts&Science magazine is currently under consideration for the Grand Gold in the Alumni Publications category. The Virginia Carter Smith Grand Crystal award, recognizing the most outstanding entry of the year, will be selected from the Grand Gold winners.
CASE District VIII supports members located in Alaska, Idaho, Montana, Oregon, Washington, Alberta, British Columbia, Manitoba, Northwest Territories, Nunavut, Saskatchewan and Yukon.