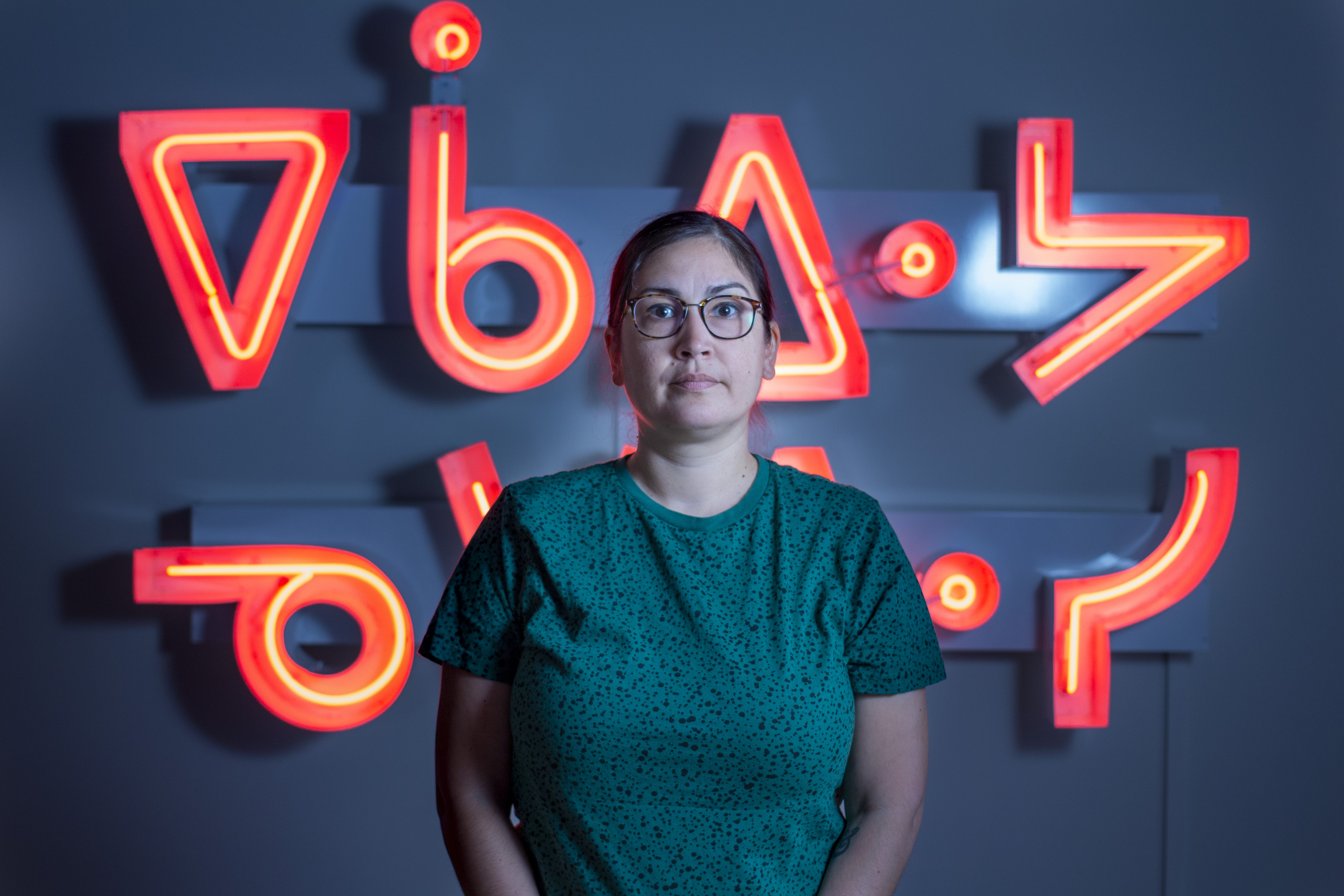 'A celebration of Indigenous girlhood': USask art gallery showcases work of alumna Joi T. Arcand
The exhibition, titled she used to want to be a ballerina, runs at the College Art Gallery 2 until Aug. 17
By Shannon Boklaschuk
Cree syllabics, neon signs, music by Buffy Sainte-Marie, images of dance and art 'zines: these elements all come together in a much-anticipated exhibition from acclaimed artist and University of Saskatchewan (USask) alumna Joi T. Arcand.
Arcand (BFA'06), who studied studio art in the College of Arts and Science's Department of Art and Art History, grew up on Muskeg Lake Cree Nation in central Saskatchewan, located on Treaty 6 Territory. Currently residing in Ottawa, she has received national attention for her diverse work that celebrates Indigenous cultures and challenges the way language is privileged.
In 2018, Arcand served as artist-in-residence at Wanuskewin Heritage Park in Saskatoon. It was a big year for her, as she was also a finalist for the prestigious Sobey Art Award—considered to be Canada's preeminent contemporary art prize.
"I was really excited to be shortlisted for the Sobey Art Award," she said in an interview. "It was just nice to be recognized by colleagues and peers, and it was really exciting to show at the National Gallery and have my family come and just have a great time."
Now Arcand is experiencing a homecoming of sorts; she's back in Saskatoon and on the USask campus for her new show at the College Art Gallery 2. The exhibition, titled she used to want to be a ballerina, sees her working with various media, including neon sculpture, photographic light boxes and 'zines.
USask alumna Leah Taylor (BFA'04), who curated the show, notes in a curatorial statement that Arcand "creates transformative conversations around Indigenous language revitalization by inserting nēhiyawēwin (Plains Cree) language and imagery into public spaces."
In an interview, Taylor described Arcand "as an incredible artist from Saskatchewan" who is doing "amazing work" that is being celebrated on a national scale.
"I've known Joi and her practice for at least 10 years now, and I've been wanting to work with her and show her—and the timing was right for 2019," said Taylor.
"She was very occupied with her residency at Wanuskewin last year, so 2019 seemed like the perfect timing to be able to bring her over to our galleries and work with her more specifically on a dedicated solo exhibition."
Taylor expects viewers "are going to be really excited" about Arcand's show. Taylor describes Arcand's work as having a "certain optimism and conviviality" to it, even while addressing important and difficult subject matter.
"She is inserting Cree into the university through ways that are visual and exciting and, I think, accessible for any gallery viewer," said Taylor.
Inspiration for Arcand's USask show was drawn from Buffy Sainte-Marie's 1971 album and song She Used to Wanna Be a Ballerina. On the song, Sainte-Marie, a Cree music icon and activist from Saskatchewan's Piapot First Nation, sings: She used to want to be a ballerina/She used to want to be a paper swan/She used to dance pretend for the prince of England/with her deer-skin boots and her ballet makeup on.
For the exhibition, Arcand, who grew up listening to Buffy Sainte-Marie, reinterprets and translates the song and the song title into Cree. Arcand also reflects on her own short-lived time as a powwow dancer, as well as her long-lost dream of becoming a ballerina. In the gallery, a light-triggered music box—emblazoned with the word "Buffy" and featuring a twirling ballerina—plays Sainte-Marie's upbeat rock tune next to images of Arcand striking ballet poses while wearing her childhood powwow dress.
"I'm attempting to do the ballet positions one, two and three," Arcand said. "So that's my sort of attempt at being a ballerina."
When asked about the theme of her show, Arcand replied, with a chuckle, that "it's about me."
"I wanted this exhibition to be sort of a visual homage to these two forms of dance, and sort of a celebration of Indigenous girlhood," said Arcand, noting the idea for the exhibition first came to her about 15 years ago when she was studying at USask.
It's fitting, then, that Arcand's show should open on campus.
"I was really excited to show here at the university, because I've spent a lot of time here. I just thought it was a really great kind of homecoming," she added.
Many local viewers will be familiar with Arcand's early work in photography and digital collage images, which were informed by her interest in graphic and typographic arts. Her practice has imagined what an Indigenized public space could be, by rendering streetscapes and communities with typographic inclusions of Plains Cree language. Her work has evolved to place site-specific neon signage in Cree syllabics throughout the interiors and exteriors of buildings.
"I started working with Cree syllabics back when I was working at the Saskatchewan Indigenous Cultural Centre from 2007," Arcand said.
"That's where I began, as also a graphic designer, really working with the shapes and forms and learning about the oral history of the writing system. I just thought it was really important to shift the narrative back to its origins, because it's often misattributed to missionaries. So a big part of why I use it is just to sort of reclaim it as an Indigenous writing system—and merging that with my graphic design background."
Arcand is also known for co-founding the Red Shift Gallery, a contemporary Indigenous art gallery in Saskatoon, with USask alumna Felicia Gay (BA'04, MA'11) in 2006. As well, Arcand co-founded kimiwan—an Indigenous art 'zine—with her cousin and fellow USask alumna Mika Lafond (BEd'06, MFA'14). The eight issues produced by Arcand and the other members of the kimiwan collective are on display as part of she used to want to be a ballerina.
Arcand said she enjoyed her time studying art at USask, noting it "really opened up my world to the possibility of being a practicing artist—something that I never thought was possible growing up." She is now living her dream as a successful artist who has exhibited across Canada, the United States and Europe.
When asked about her advice for art students and emerging artists, Arcand said: "Know your history of those artists that have come before you, who have paved the way for Indigenous visual arts, and just keep going."
"I struggled for a really long time," she said. "Just stay true to what you want to do; try not to be pressured into being a certain way."
Arcand's exhibition at the College Art Gallery 2 opens on May 24 with an artist talk and tour at 7 pm, followed by the opening reception at 7:30 pm. The show runs until Aug. 17.
---
Related Articles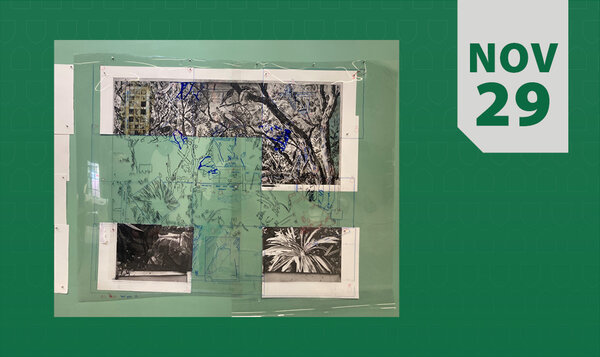 A talk by visiting artist Jillian Ross, master printer and founder of Jillian Ross Print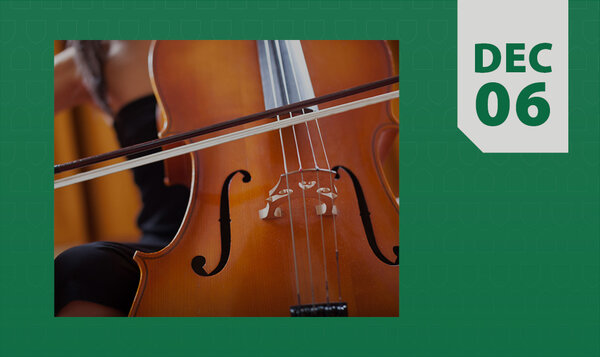 Enjoy beautiful chamber music works performed by students in the USask Chamber Ensemble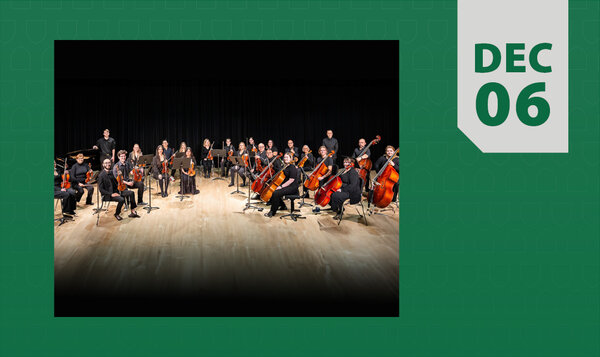 A concert of classic works