Joi T. Arcand: she used to want to be a ballerina
Posted in Arts & Culture, Alumni
May 24, 2019 to Aug 17, 2019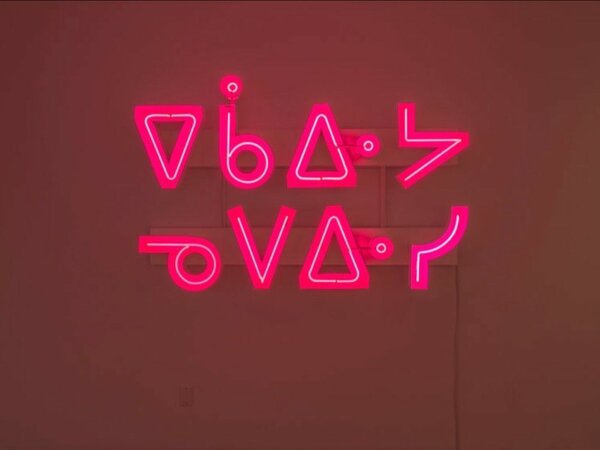 Joi T. Arcand, ᐁᑳᐏᔭ ᓀᐯᐏᓯ (ēkawiya nēwēpisi), 2017, neon channel sign, 120cm x 182cm x 25cm. Collection of Seneca College. Photo: SBC Gallery, Montreal.
Curated by Leah Taylor
May 24–Aug. 17
College Art Gallery 2
Peter MacKinnon Building, 107 Administration Pl.

Artist talk/tour
Friday, May 24
7 pm

Opening reception
Friday, May 24
7:30 pm
Joi T. Arcand is an artist from Muskeg Lake Cree Nation in central Saskatchewan (Treaty 6 Territory), currently based in Ottawa. Her early work in photography and digital collage images was informed by her interest in graphic and typographic arts. Arcand's practice imagined what an Indigenized public space could be, by rendering streetscapes and communities with typographic inclusions of nehiyawēwin, or Plains Cree language. Her work has evolved to place site-specific neon signage in Cree syllabics throughout the interiors and exteriors of buildings.