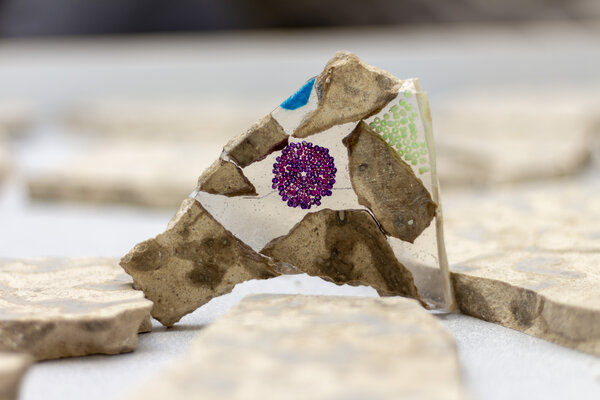 The finished Beads and Stone artwork will be unveiled during an event on April 18. Pictured here is a piece of the work created during Indigenous Achievement Week. (Photo by Chris Putnam)
All are welcome to attend the official unveiling of mîkisak ikwa asiniyak ǀ Beads and Stone ǀ Lii rasaad aykwa lii rosh (written in Cree, English and Michif). The piece was created by artists and USask alumni Ruth Cuthand (BFA'83, MFA'92) and Vanessa Hyggen (BA'17) during Indigenous Achievement Week 2019, in collaboration with the University of Saskatchewan campus community.
Date: April 18, 2019
Time: 1:30 pm
Location: Top of the ramp, Arts Building
Refreshments to follow
The creation of Beads and Stone began with the breaking of a slab of Tyndall stone, a symbol of USask. This represented decolonization and the creation of space within the institution for Indigenous traditions, languages and systems of knowledge.
Throughout Indigenous Achievement Week, from Feb. 4 - 8, 2019, Cuthand and Hyggen invited students, staff and faculty to bead with them and to contribute their work and voices in celebration of new spaces for learning and leading. Beadwork, stone and resin were joined in a collaborative art piece that represents a new foundation on which to build the university the world needs.
Filmmaker Marcel Petit captured the project kick-off and the week's events, while poet Zoey Roy created a poem to be included with a soundscape as part of the film. The video will be shown during the unveiling.
This project is presented by the Office of the Vice-Dean Indigenous, Indigenous Student Achievement Pathways (ISAP), the University of Saskatchewan Art Galleries Indigenous Artist-in-Residence Program and the College of Arts and Science.