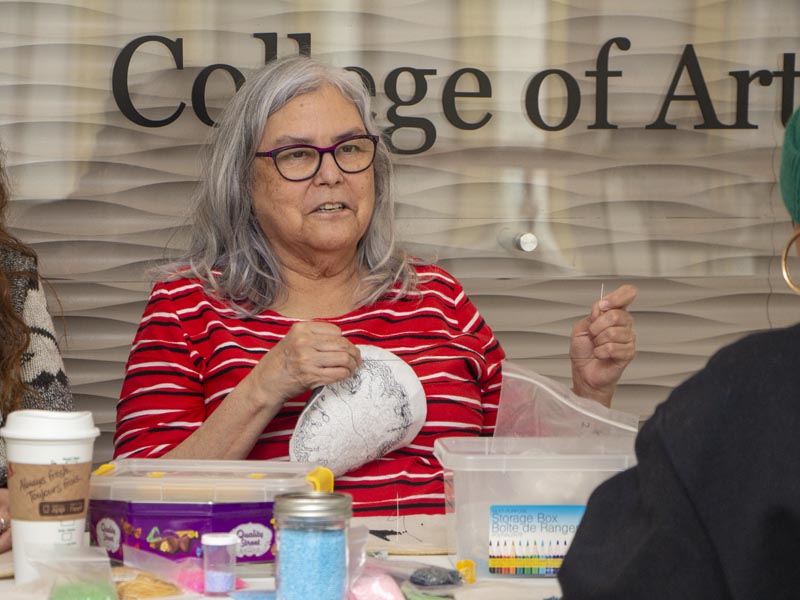 'It's like a little beading oasis': Ruth Cuthand brings her skills to the Arts Building
Free drop-in beading workshops will continue on the USask campus until April 17
By Shannon Boklaschuk
Since last summer, University of Saskatchewan (USask) students, faculty and staff have been learning to bead with artist Ruth Cuthand.
In June 2018, Cuthand began a residency at the Gordon Oakes Red Bear Student Centre on Wednesday afternoons as part of a new University of Saskatchewan Art Galleries program. Now, due to increased interest in learning to bead on campus, the acclaimed Plains Cree artist has also started offering instruction in the Arts Building.
Cuthand said interest grew during Indigenous Achievement Week 2019, which was held at USask from Feb. 4 – 8. During that time, as part of an interactive art project called Beads and Stone, Cuthand and Woodlands Cree artist Vanessa Hyggen beaded with participants on the second floor of the Arts Building. The drop-in group activity became "really popular" during Indigenous Achievement Week, attracting people with varying levels of beadwork experience, said Cuthand.
"There was a really good response," she said. "We had lots of beaders coming—first-time beaders—and they just made a string of beads."
That recent success led to an expansion of the program, with Cuthand now offering beading workshops at the top of the Arts ramp from noon until 3 pm on Tuesdays. Passersby can sit down for as long as they wish, work on a beading project, receive instruction and feedback from Cuthand, relax and chat with each other.
"It's like a little beading oasis," Cuthand said with a laugh.
The Arts Building is a familiar place for Saskatoon-based Cuthand, a USask alumna who earned her Bachelor of Fine Arts degree in 1983 and her Master of Fine Arts degree in 1992.
Cuthand—whose work is currently the focus of a new exhibition at Remai Modern—has built up a large body of work in a wide variety of media, including drawing, painting, photography, sculpture and video. In 2013, she was awarded a Saskatchewan Lieutenant Governor's Arts Award. In 2016, she was recognized as one of the College of Arts and Science's Alumni of Influence.
Cuthand has been a mentor to many young artists over the years. She taught art and art history at First Nations University of Canada for more than two decades, demonstrating traditional beading alongside contemporary art media. She has been an advisor and board member at TRIBE Inc., Canada's first Indigenous artist-run organization, and has collaborated with curators at AKA artist-run and the Red Shift Gallery.
Cuthand said she "jumped at" the opportunity to serve as artist-in-residence at USask when she was asked by Jeremy Morgan, interim managing director of the University of Saskatchewan Art Galleries. She said she enjoys the "energy" of being on campus and working with students, noting some return to bead with her week after week.
"I love teaching people, and I really like being with young people," said Cuthand.
Sheila Naytowhow, a third-year psychology student in the College of Arts and Science, has beaded with Cuthand several times. She said she wanted to learn so that she can start making her own earrings and ribbon skirt "and hopefully start dancing."
"This is why I want to be here," said Naytowhow, adding that beading helps take her mind off some of the stresses associated with being in university, such as writing papers.
"I really love it. It's peaceful," she said.
Word about Cuthand's workshops has spread beyond campus, too. For example, Holly Klym and her daughter, Destiny, recently came to USask from Hanley, Sask., after seeing a website post about the weekly beading sessions. They brought two friends along who also wanted to learn.
Holly Klym said she never learned to bead from her family members, but over the last several years she has been connecting with her roots and with the Cree language.
"I just want to learn more," Klym said. "Also, I wanted to explore the university. I hadn't been here before, but I've always been interested."
For those who haven't had an opportunity yet to bead with Cuthand, there's still time before her USask residency concludes. She will continue her workshops until April 16 at the top of the Arts ramp (from noon – 3 pm) and until April 17 at Gordon Oakes Red Bear Student Centre (from 1 – 4 pm).
Morgan lauded Cuthand's "generosity and openness in sharing her knowledge and skills as a senior visual artist." He said he is "incredibly excited and encouraged" by the positive responses to USask's new Indigenous artist-in-residence program.
"Ruth's workshops are one example, with others ready to emerge," said Morgan. "We have taken our time in developing the overall program itself; it will be ready to go before the end of term. We are very grateful for the initial support we have received and the enthusiasm that many senior leaders have shown towards the concept and possibilities for their colleges and schools to get involved."
---
Related Articles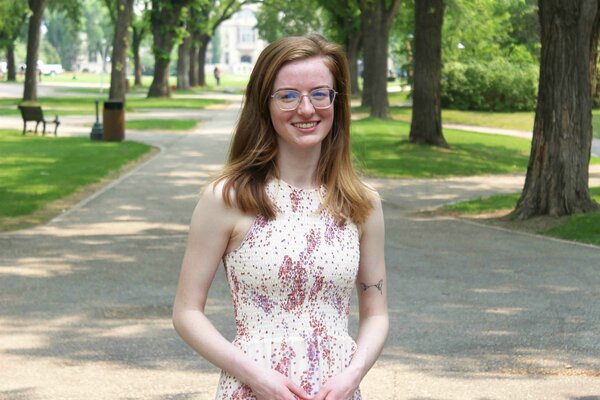 College of Arts and Science student Norah Ridley will be graduating with her Bachelor of Science degree in Computer Science (Honours) on June 6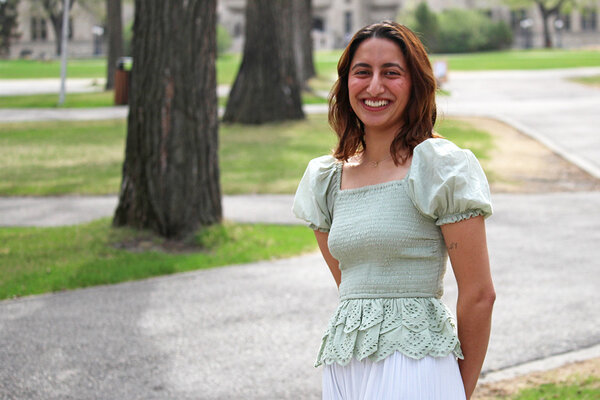 Student Shayma Shah will graduate on June 6 with two degrees, one in modern languages and the other in linguistics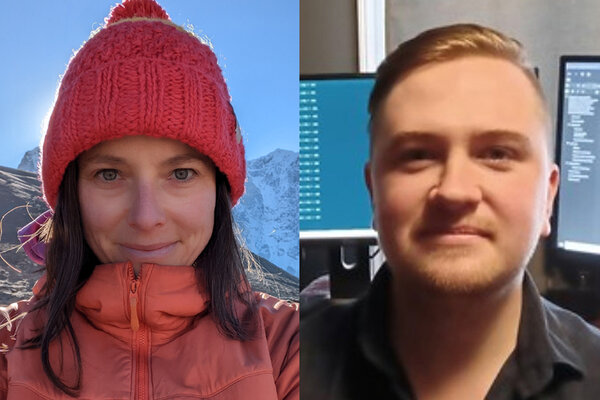 Caroline Aubry-Wake and Josh Neudorf are winners of Canada's most prestigious award for graduate studies