Art exhibition: Shedding
Posted in Arts & Culture
Mar 14, 2019 to Apr 13, 2019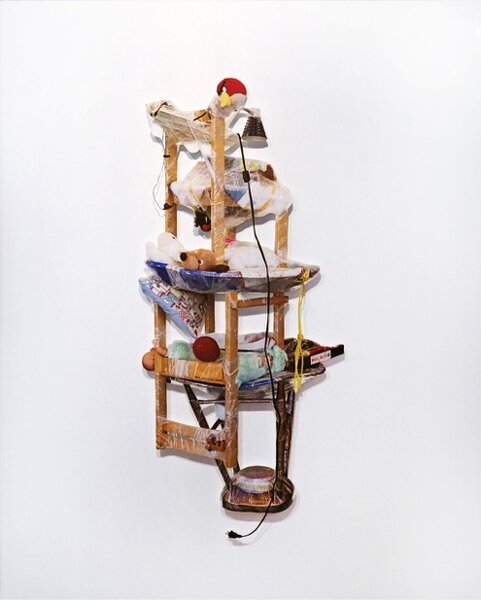 Susan Shantz, caul ii, 2018 (Image credit: Jason Castro)
Dates: March 14-April 13, 2019
Location: AKA artist-run, 424 20th St. West, Saskatoon
Featured artists: Susan Shantz, Lezli Rubin-Kunda, Honor Kever
Shedding is a hybrid curatorial/collaborative process-based exhibition that explores the intersection of art and everyday actions. It includes the work of three women artists who interrogate the domestic in light of their parallel productions as artists and investigates how women artists integrate their careers with the stuff of everyday life.
The blurred boundary between art and life can result in imaginative responses that cross-pollinate art and domestic life. For artists with children, especially those that are leaving the "nest," this might include the accumulated stuff of parenting—materials transformed through live action in rituals of shedding years of layered accretions. Existing photo murals by Univesity of Saskatchewan (USask) alumna Honor Kever (The Brooding Rooms, 1986-88) provide a context for USask faculty member Susan Shantz and multi-disciplinary artist Lezli-Rubin-Kunda to work collaboratively in the gallery with materials from earlier stages of life in ritualized processes of transformation. A reflective text is provided by art writer and USask faculty member Joan Borsa.
Included in this exhibition will be work created by women at the Mother's Centre, Station 20 West, where Shantz has facilitated arts-based workshops over the past year. A closing tea party/craft market will take place at AKA on Friday, April 12, in support of the Mother's Centre.
SUSAN SHANTZ
Susan Shantz' artwork consists of mixed-media works, often sculptural in form and employing installation strategies, that explore embodied ways of knowing. She is interested in ritual and gesture, and the ways in which art arises from these and becomes a cultural performance. Her materials and processes derive from a range of conceptual concerns. She lives in Saskatoon, where she teaches sculpture and multi-media studio practices at the University of Saskatchewan. She has an MFA in sculpture/interdisciplinary art (York), an MA (with distinction) in religion and culture (Wilfrid Laurier) and a BA in English literature (Goshen College, Indiana).
LEZLI RUBIN-KUNDA
Lezli Rubin-Kunda is a multidisciplinary artist who works in site-specific performance, installation, video, drawing and photography to explore her relationship with her environment. Through her own body, and using common, available, natural or human-made materials, she carries out simple actions that connect her intimately with her locale and with the physical as well as the cultural, social and metaphoric context of the site. Recent works involve site drawing and book intervention. She has performed and exhibited in the United States, Canada, Israel and Europe. She lives in Israel and teaches in the Architecture and Urban Planning department at the Technion, Haifa. She has an MFA from the School of the Museum of Fine Arts, Boston, and a BA in interdisciplinary studies from the University of Toronto.
HONOR KEVER
Honor Kever is a Canadian artist who works in painting and photography. Her 1986-88 photomurals, The Brooding Rooms (several of which are displayed in Shedding), travelled across Canada and showed in artist-run centres in Quebec, Winnipeg, Regina, Saskatoon and Calgary and were included in the four-woman exhibition Making Space, curated by Joan Borsa, for Mercer Union (Toronto) and Presentation House (Vancouver). Shantz saw these works in Toronto in the late 1980s and proposed to revisit them in this collaborative exhibition context. Honor Kever lives in Saskatoon and has a BFA from the University of Saskatchewan (1977). From 1978-1984 she was the exhibition coordinator at the Shoestring Gallery (now AKA) shortly after it opened in 1971.