Panel Discussion: Grand Theft Terra Firma
Posted in Indigenous
Jan 30, 2019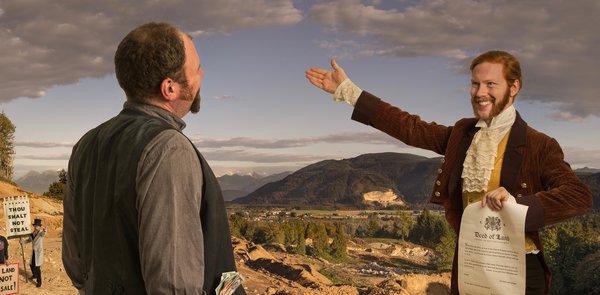 The Great Land Sale, Sandra Shields and David Campion, 2016 (detail).
Date: Jan. 30, 2019
Time: 1:30 - 3:30 pm
Location: Prairie Room, Diefenbaker Building, 101 Diefenbaker Pl.
The Grand Theft Terra Firma exhibit at the Diefenbaker Canada Centre uses the language of video gaming to reframe the settlement of Canada as a complex heist, and invites visitors to evaluate their own complicated relationship with colonial practices.
Hear from exhibit artists, David Campion and Sandra Schields, and the Stó:lō cultural advisor and Elders as they discuss activist art and Indigenous collaboration.
Dr. Keith Carlson (PhD), from the College of Arts and Science's Department of History, will moderate the discussion.