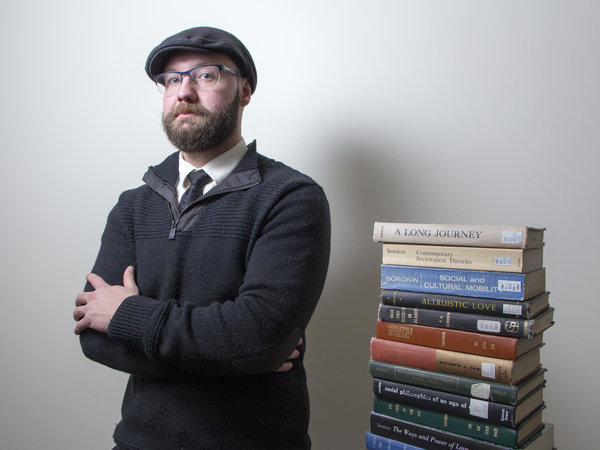 USask graduate student Samuel Schultz poses for a photo with a pile of books written by Russian-born American sociologist Pitirim A. Sorokin. (Photo by Chris Putnam)
By Shannon Boklaschuk
Although he never worked at the University of Saskatchewan (USask), world-renowned sociologist Pitirim A. Sorokin has deep ties to USask and to the College of Arts and Science.
In fact, the college's Department of Sociology is currently organizing the 50th annual Sorokin Lecture, which will be held on the USask campus in honour of the famed scholar. The 2019 Sorokin Lecture is scheduled for Feb. 7 at 7 pm at the Shannon Library in St. Thomas More College.
"Pitirim Sorokin has been described as 'one of the most colourful, erudite and controversial figures in American sociology,' " said Dr. Carolyn Brooks (PhD), head of the Department of Sociology in USask's College of Arts and Science.
"The Sorokin Lecture was established as part of the University of Saskatchewan lecture series in 1968. That year, Elena Sorokin, Pitirim Sorokin's widow, donated part of his personal library—including letters, notebooks, photographs, books, manuscripts, book reviews and all other translations of his works—to our university. In exchange for this generous gift, the university agreed to hold an annual lecture in honour of Professor Sorokin. Since then, prominent sociologists and other distinguished scholars have delivered the Sorokin Lecture."
This year, the Sorokin Lecture will be given by Dr. Rima Wilkes (PhD), a sociology professor from the University of British Columbia who was named president of the Canadian Association of Sociology in 2017. Wilkes' upcoming talk is entitled "A Professor Goes Internet Dating—and Learns About Entitlement and Sexual Market Value."
"This year we honour Sorokin's vision of public sociology and his emphasis on involving both the academic and those outside the academic community regarding matters of moral and political concern," said Brooks.
"Dr. Rima Wilkes is a renowned and celebrated academic who, in the tradition of Sorokin, engages the general public on crucial issues of her time, including discussions of culture, racism and resistance amongst Indigenous peoples, and now speaks as well to Sorokin's emphasis on love."
Sorokin was born to a peasant family in northern Russia in 1889, later moving to the United States in 1923 following his banishment by the Bolsheviks. During 50 years of active intellectual life, he published more than 30 major books, served as the 55th president of the American Sociological Association and chaired Harvard University's first Department of Sociology. Considered to be one of the leading thinkers of the 20th century, Sorokin's ideas attracted attention from prominent political and academic figures, including Albert Einstein and John F. Kennedy.
When Sorokin died, the Pitirim A. Sorokin Collection came to USask—a university he had never visited. USask's Sorokin Collection contains Sorokin's entire library of more than 1,500 books and numerous other materials, including his own books, translations of these in 50 languages and books and articles by other eminent scholars, such as British historian Arnold Toynbee, with Sorokin's comments in the margins. Among the materials is a unique archive of the Harvard Research Center in Creative Altruism, which was founded by Sorokin.
So how did the Sorokin Collection—and, subsequently, the annual Sorokin Lecture—come to USask?
"It has to do with the fact that one of Sorokin's students started the sociology department here," said USask sociology graduate student Samuel Schultz, whose master's degree thesis is partly focused on Sorokin.
"Basically when Sorokin was looking to auction off his various books, manuscripts and stuff like that, someone here was like, 'Well, we should get on those.' "
Much of Sorokin's collection was donated to USask, although some of the collection remains at Harvard, said Schultz. He believes Sorokin would have liked Saskatchewan, since Sorokin is a descendant of the Komi people in Siberia and would have been accustomed to a similar climate.
When asked why Sorokin is an important figure, Schultz said simply: "Because of imagination."
"Because of, basically, the ability to stimulate the imagination with his works," Schultz said. "He wasn't saying, 'uncritically accept my own theories'; he said, 'critically challenge my theories and go your own way'—and you can see that with his students, his children, everything."
The annual Sorokin Lecture is free to attend and is open to the public. The lecture is jointly funded in part by the Role Models Speakers Fund of the College of Arts and Science. During the 50th anniversary lecture, Wilkes will tell the story of the two years she spent online dating and the interactions she had with people she met on sites such as Match.com, Tinder and Bumble. She will then reflect on her story in the autoethnographic tradition and enter into a dialogue about the story with a series of composite theoretical lenses.
"In Sorokin's tradition toward understanding love, Dr. Wilkes will speak to the complexities of online dating, modern relationships and her own search for love," said Brooks.
"Sorokin believed unselfish love was life-giving," Brooks added. "Altruistic people live longer and love is indispensable for happiness and a powerful agent against crime, suicide, hate and fear. He wrote: 'Hate begets hate, violence engenders violence, hypocrisy is answered by hypocrisy, war generates war and love creates love.' "