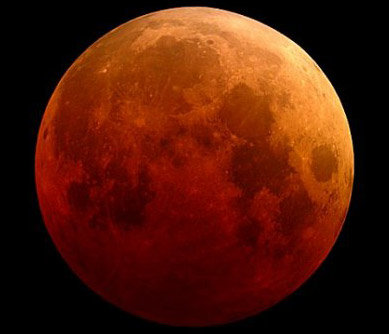 Total lunar eclipse
The Department of Physics and Engineering Physics presents:
Social media's incorrect astronomy assertions: Why critical thinking and facts are important in the 21st century
with Michael Earl
Wednesday, April 4
7:30 pm
Arts Building Room 241
Everyone welcome; no registration required
The new climate of "Fake News" and "Alternative Facts", coupled with the lack of critical thinking, is a troubling trend in the 21st century because it threatens to weaken the rational and scientific foundations of society, carefully constructed over the past several hundred years. Today, even the basic facts of astronomy, the cornerstone of many scientific achievements, have been targeted and labeled "fake" or "incorrect" because these facts don't seem to fit comfortably within a specific belief, such as the "Flat Earth Theory". Some have offered what they call "astronomy facts" with little to no evidence to support their assertions. Nevertheless, these assertions are instantly broadcast to much of the developed world and can be read by anyone, including children. A number of these assertions can be proven incorrect by simply observing the night sky. This talk will discuss the most incorrect astronomy assertions found online and will offer reasons why fact should be considered much more important than assertion in the 21st century.
The talk will last approximately one hour. After the talk, all are welcome to attend a public star party at the university's observatory that will feature the wonders of the night sky, including planets, star clusters, galaxies and satellites.
Info: drmike@castor2.ca