Music theatre ensemble highlights rarely performed opera
Posted on 2018-02-28 in Arts & Culture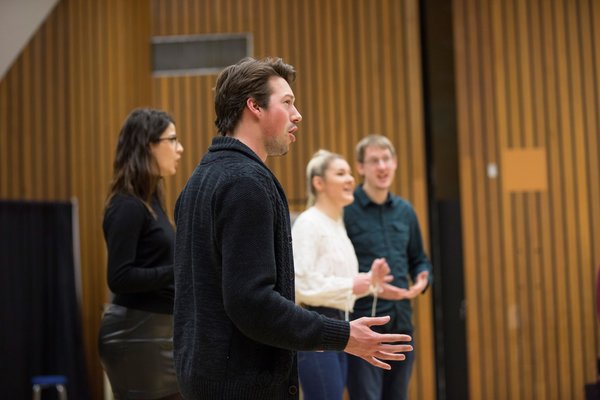 Undergraduate students rehearse for the University of Saskatchewan Music Theatre Ensemble production Loves & Laughs.
By Shannon Boklaschuk
Music from a rarely performed opera by Domenico Cimarosa, one of Mozart's contemporaries, will be a special focus of the University of Saskatchewan Music Theatre Ensemble's upcoming shows on March 10 and March 11.
Director Garry Gable, an associate professor in the College of Arts & Science's Department of Music, found Cimarosa's Giannina e Bernardone while scouring through IMSLP, an archive site that houses thousands of pieces of music.
The opera was new to Gable—and also to the colleagues with whom he conferred. In fact, the last publication of the score that Gable could find dates back to 1870.
As a result, audience members coming to the music theatre ensemble's March production—Loves & Laughs—aren't likely to have heard the Cimarosa work before, he said.
"I'd be very surprised. I haven't been able to find evidence of even a performance in North America, let alone in Europe, since the late 19th century."
Gable describes the upcoming music theatre production—which also features opera excerpts from Mozart, Rossini, Paisiello and Haydn—as "an entertainment first, as it was intended to be in its original form."
"Opera was never intended to be some pseudo-intellectualization of life and thereafter. It was really intended as an entertainment, because they had no TV and radio and whatever else—and especially not the internet," he said.
While the show features arias and scenes from comic Italian opera of the late 18th and early 19th centuries, it also touches on some serious themes. The production is called Loves & Laughs because that title speaks to the nature of comic opera, said Gable.
"It is about comedy, ultimately. There are scenarios that could easily have been turned into dramatic elements, strictly, but are instead used comically to highlight, as all theatre does, the faux pas that we make in our lives."
Since the students' skills and experience levels vary, a scene-based show is a good fit for the undergraduate production, Gable said.
"By using scenes, we're able to put them on stage for a smaller amount of time with less obligation to the overall product and still have success."
For Gable, one of the highlights of the event is the opportunity for vocal students to work with international operatic bass Paolo Pecchioli, who will be on the U of S campus from March 1 to March 11. Pecchioli's visit, which was made possible due to a grant from the Interdisciplinary Centre for Culture and Creativity (ICCC), will provide students with language, comic opera and voice training.
"I think having Paolo here is really going to raise the bar for all them, to have to pull their game up and to be on—as we say in the business—to bring it to that next-level performance. So we're very excited about that," Gable said.
Kathleen Lohrenz Gable serves as the music director for the production, which will be held in Quance Theatre in the Education Building at 7:30 pm on March 10 and March 11. Tickets are available at the door and cost $20 (general) and $10 (students).