College of Arts & Science students visit Japan through the Kakehashi Project
Posted on 2018-02-15 in Students & Campus Life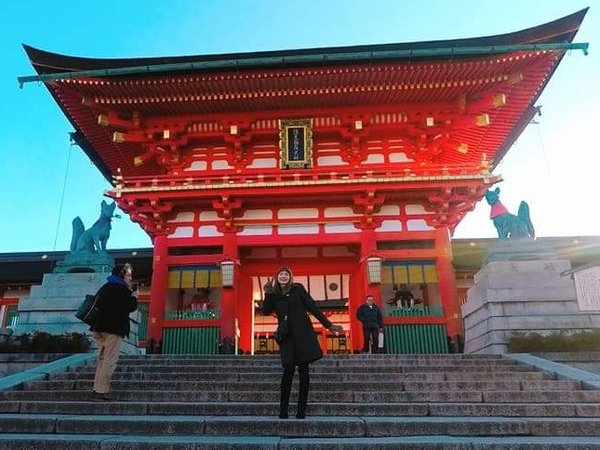 A highlight of the trip to Japan for psychology student Rochelle Doell was visiting the Fushini Inari Shrine in Kyoto.
By Shannon Boklaschuk
Two College of Arts & Science students who first developed an interest in Japanese culture as children were excited to have the opportunity to visit Japan in person during an eight-day trip in January.
Psychology major Rochelle Doell and fine arts student Yonina Rollack were two of the 10 Canadian students selected to take part in the Kakehashi Project, an exchange program promoted by the Japanese government. The project helps to strengthen students' understanding of Japanese culture and build ties between the countries.
Doell and Rollack were previously enrolled in Japanese classes taught by U of S instructor Izumi Krasznai, who nominated them for the Kakehashi Project.
Rollack said she was "shocked" to be chosen for the opportunity. Each Japanese consulate in Canada selected three participants—for a total of 15—and that number was then narrowed down to 10, she said.
"Because Saskatchewan does not have a consulate, we also had to compete with Albertan students for selection by the Calgary consulate. Considering the competition, I didn't keep my hopes up," said Doell.
"Opportunities like this don't happen very often, and I think it's amazing that not only one, but two, U of S students were selected to participate. I felt quite honoured to represent the U of S and Canada."
Rollack was also "completely surprised" when she learned she was selected.
"Like many of the Kakehashi participants, my interest in Japanese culture developed at a young age as a result of watching anime and playing video games. I have always felt an affinity towards Japanese culture and aesthetic," she said.
Doell and Rollack didn't know each other prior to the trip, but they quickly became friends. During their time in Japan, they visited the Fushimi Inari Shrine in Kyoto, which is famous for its thousands of torii gates, ate "delicious" pork belly ramen and observed their surroundings while walking around the noticeably clean streets of Kyoto and Tokyo.
The students also visited Hakodateyama, a smaller ski resort area, where they experienced a night at a family-operated Japanese inn called a minshuku.
"Here we were able to experience traditional Japanese lifestyle. Before bed, we had to roll a futon out on the tatami mats covering the floor. We also ate at tables low to the ground while sitting on the floor," said Rollack.
"As someone who loves food and trying new dishes, the food in general throughout the whole trip was a highlight for me. At the inn, we were served sukiyaki—a dish served hot pot style—where meat and vegetables are simmered at the table on a portable element and eaten with rice as they cook.
"Finally, we also had the opportunity to soak in the onsen, a shared bath that is custom in traditional inns or public bath houses throughout Japan. Overall, staying at the inn felt like an experience that may be difficult to come by had I been travelling alone in Japan."
Doell wasn't sure she would "experience a true culture shock" during the trip, since she had previously taken Japanese pop culture and language courses at the U of S. However, she did experience many new things, including the various food dishes and seafood options available in Japan.
"The textures and flavours were unlike anything I'd eaten before," said Doell.
"On a much more mundane note, I was shocked to find out their infamous toilets not only featured bidet functions, but they also had heated seats. It was something that all the participants were shocked by and wished we could have back home."
Rollack and Doell said visiting Japan deepened their appreciation of Japanese culture, and both look forward to returning. They encourage other U of S students to consider taking part in the Kakehashi Project.
"If you have the chance to apply, don't hesitate. Having this curated tour of Japan was such a unique experience and I was so blown away by the hospitality we received while there," said Rollack.