Book launch: The Faces of Fear & La cola del cerdo
Posted in Arts & Culture
Sep 29, 2017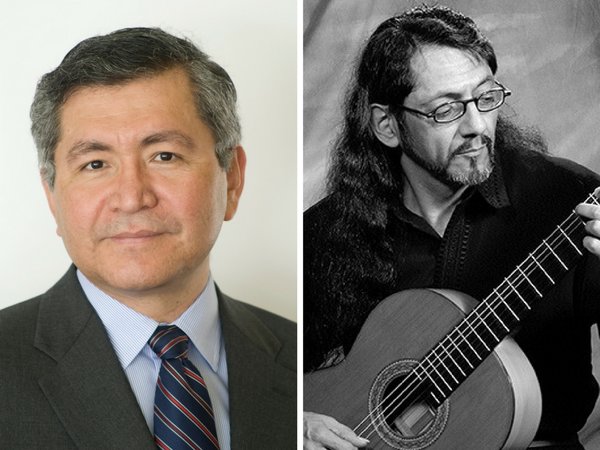 Julio Torres-Recinos and Rodolfo Pino-Robles
McNally Robinson Booksellers and Lugar Común Editorial present:
Julio Torres-Recinos launching The Faces of Fear & La cola del cerdo
with musical accompaniment by Rodolfo Pino-Robles
Friday, Sept. 29
7:00 pm
Travel Alcove, McNally Robinson
3130 8th Street East
The Faces of Fear is a bilingual edition (English / Spanish) of Torres-Recinos' latest book of poetry. La cola del cerdo (The Pig´s Tail) is a collection of short-stories in Spanish written by Hispanic Canadian writers, co-edited by Torres-Recinos and Luis Molina Lora.
Julio Torres-Recinos, originally from El Salvador, writes poetry and short stories. He has published eight books of poetry and a book of short stories. His work has appeared in magazines, newspapers and anthologies, as well as online, and has been translated into French, English, Italian and Romanian. In 1992, he won the First Poetry Prize in a competition organized by the Spanish Cultural Celebration in Toronto, Ontario. He is a Professor of Spanish in the Department of Languages, Literature, and Cultural Studies at the University of Saskatchewan.
This event will be bilingual (English/Spanish).