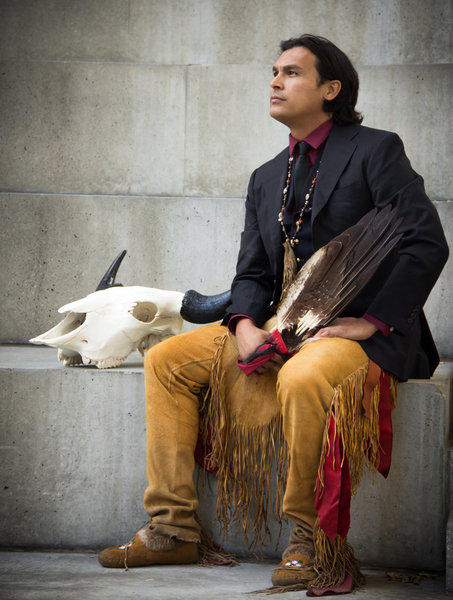 Adam Beach speaks at the College of Arts & Science on Oct. 2
The Gail Appel Lectureship in Literature and Fine Arts presents Adam Beach, award-winning actor for film and television.
---
Two free speaking events at the College of Arts & Science:
Monday, Oct. 2
2:30 pm
Breaking Character: The Life and Art of Adam Beach
Gordon Oakes Red Bear Student Centre
7:00 pm
Rewriting the Hollywood Indian
Convocation Hall, Peter MacKinnon Building
The evening lecture will be livestreamed! Watch it online: artsandscience.usask.ca/adambeach
---
Read our feature interview: Adam Beach on the role of his life
Adam Beach is an actor, producer and political activist who has appeared in more than 80 films and television programs including Flags of Our Fathers, Suicide Squad, Law and Order: SVU and Windtalkers. Born in Ashern, Man. and raised on the nearby Dog Creek Reserve, he became involved in the Winnipeg theatre community as a teenager. He earned his first major role as the lead in the 1994 Walt Disney film Squanto: A Warrior's Tale and landed guest appearances and recurring roles on television series such as North of 60, Touched by an Angel and Walker, Texas Ranger. He won an American Indian Film Festival best actor award for his performance in Dance Me Outside and followed it up with acting awards for My Indian Summer and the cult hit Smoke Signals. Beach had breakthrough Hollywood roles in Windtalkers opposite Nicolas Cage and in the Clint Eastwood epic Flags of Our Fathers, for which he received several best supporting actor nominations. He was nominated for a Golden Globe Award for his starring role in the television film Bury My Heart at Wounded Knee. Recently, he has starred in the CBC drama Arctic Air and in the supervillain film Suicide Squad. Beach is the founder of the Adam Beach Film Institute in Winnipeg, which trains Indigenous students in the craft of filmmaking. As an activist, he is committed to improving the profile and success of Indigenous people through speaking engagements and events.
The Gail Appel Lectureship in Literature and Fine Arts was established at the College of Arts & Science in 2002 by Gail Appel and her husband Mark. The lecture series invites high-profile artists, writers and musicians to speak to students and the general public on campus.