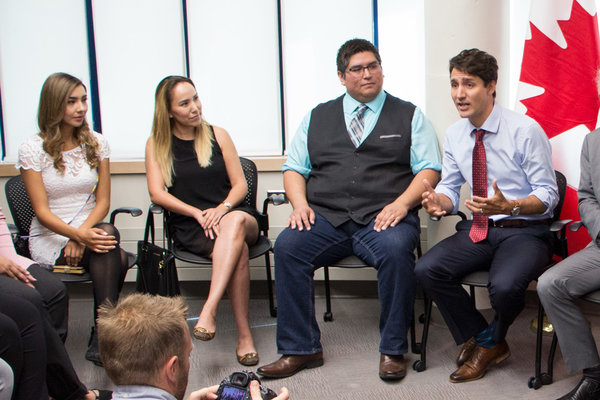 Justin Trudeau speaking with students at the Gordon Oakes Red Bear Student Centre at the University of Saskatchewan
Prime Minister Justin Trudeau spent an hour in conversation with a small group of University of Saskatchewan students during a stop in Saskatoon on Sept. 1.
Most of the students invited to the private roundtable discussion at the Gordon Oakes Red Bear Student Centre were past participants in the College of Arts & Science's Aboriginal Student Achievement Program (ASAP).
Katerina Iron, a third-year women's and gender studies student from Canoe Lake First Nation in Northern Saskatchewan, was part of the meeting with the prime minister.
"We talked about our experiences coming to university from the rural communities," said Iron. "And we talked about how the ASAP program helped us feel more comfortable on campus because we got a community and we got support from each other."
ASAP is a community of Aboriginal students who take a common set of courses, meet regularly with peer mentors and connect with Aboriginal role models.
At a news conference following the meeting, Trudeau said it was "incredibly humbling" to hear of the challenges faced by many young Indigenous students attending university, but that he was also encouraged by the successes of the U of S students he spoke with.
The meeting with the prime minister felt constructive, said Iron. "It was very intimidating, but once he was there we got more comfortable because he's very laid back."