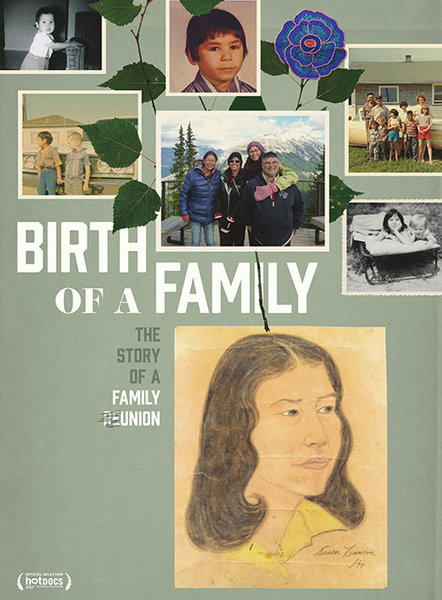 poster for Birth of a Family
Birth of a Family
Directed by Tasha Hubbard, assistant professor of English and alumna (BA'94, MA'06)

When is a family reunion not a reunion?
When your family has never met.
When: Wednesday, May 17, two screenings: 7:00 p.m. and 9:30 p.m
7:00 p.m. screening will feature a Q&A with Betty Ann Adam and Tasha Hubbard, moderated by Alex Rogalski.
Where: Broadway Theatre, Saskatoon
Free public event.
Note: ticket-holders must be in venue 15 minutes prior to screening for guaranteed entry.
The NFB along with the Saskatoon StarPhoenix are proud to present the Saskatoon premiere screening of Birth of a Family. Three sisters and a brother, adopted as infants into separate families across North America, meet together for the first time in this deeply moving documentary by director Tasha Hubbard.Removed from their young Dene mother's care as part of Canada's infamous Sixties Scoop, Betty Ann, Esther, Rosalie and Ben were four of the 20,000 Indigenous children taken from their families between 1955 and 1985, to be either adopted into white families or to live in foster care. Now all in middle age, each has grown up in different circumstances, with different family cultures, different values and no shared memories. Birth of a Family follows them through the challenges, trepidations and joys of their first steps towards forming their family.Meeting all together for the first time, they spend a week in Banff, Alberta, sharing what they know about their mother and stories about their lives and the struggles they went through as foster kids and adoptees. As the four siblings piece together their shared history, their connection deepens, bringing laughter with it, and their family begins to take shape.