Photos courtesy of University of Saskatchewan, University Archives and Special Collections, Nan McKay fonds
---
A BOOK WRITTEN by a College of Arts and Science professor shows queer people have had a long history on the Canadian prairies, but their lived experiences were largely marginalized, omitted or ignored during much of the 20th century.
In her recent book, Prairie Fairies: A History of Queer Communities and People in Western Canada, 1930-1985, Dr. Valerie Korinek explores the lives of queer urban and rural people living in the prairie provinces, with a particular focus on the cities of Saskatoon, Regina, Winnipeg, Edmonton and Calgary.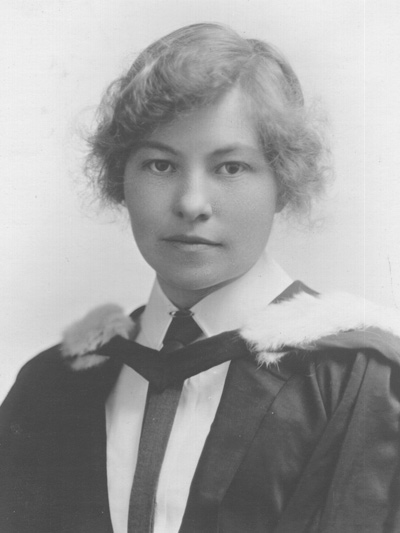 Today's youth have grown up in a world where queer identities are acknowledged and celebrated at Pride events throughout Canada, but this visibility wasn't always the case—both in academia and in larger society. Korinek writes about the lack of scholarship around queer history in Western Canada, noting "many scholars took silences, 'discretion,' purposefully covert activity, and lack of easily accessible archival documents as 'proof' that queer people were not part of the prairie communities."
While researching her book, Korinek found much "proof" of queer existence on the prairies in the Neil Richards Collection of Sexual and Gender Diversity, housed in the University Library. Richards—a University of Saskatchewan (USask) librarian and activist who posthumously received the Saskatchewan Order of Merit in April 2018—had made it his life's work to preserve, gather and document the heritage of LGBTQ+ communities. 
In the library's archives, Korinek also found a 1915 photo of USask alumna Annie Maude "Nan" McKay (BA'15), shown sharing an embrace and a kiss with a woman named Hope Weir (BA'15) outside a university residence building. The photo became the cover image for Prairie Fairies—a mindful choice made by Korinek, since such archival images of same-sex female relationships are few and far between. 
"Finding evidence of women's same-sex socializing and/or sexuality requires determination and good fortune," writes Korinek. "And when those glimpses and fragments are found, they require close attention because they raise suggestive questions about queer possibilities."
So who was Nan McKay?
Born in 1892 in Fort à la Corne to a prominent English Métis family, McKay was—in Korinek's words—a "striver"; she was an accomplished student who was active in campus life, serving on student council and the editorial board of The Sheaf and playing on the women's hockey team. She was also a tireless volunteer nurse during the flu epidemic of 1918.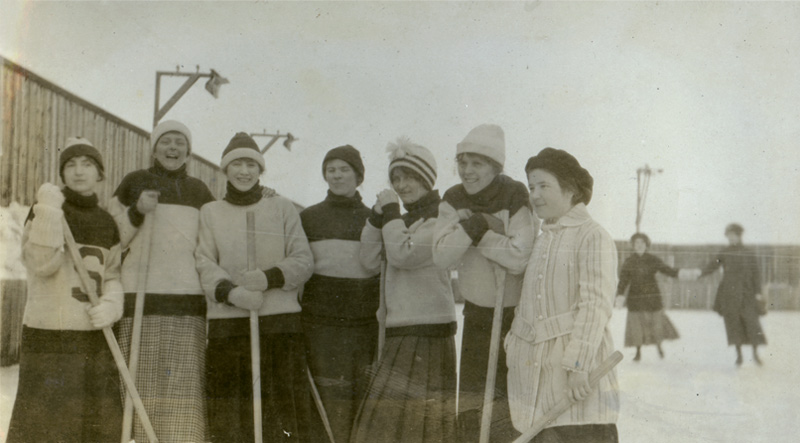 "McKay was everywhere on campus—particularly during the First World War when the vast numbers of male recruits marched off campus and to the western front, meaning that those who remained behind did double and triple duty," Korinek writes.
After graduation, McKay was hired as an assistant librarian at USask—where she remained employed throughout her career. She was considered to be an independent, sporty, university-educated woman who never married but had many friends. In 2009, the College of Arts and Science posthumously recognized McKay as one of its first 100 Alumni of Influence, describing her as the first Métis woman to earn a USask degree. McKay died in 1986, at the age of 93.
The kiss photo, now on the cover of Korinek's book, was originally found about one-third of the way through a McKay photo album that also included pictures of parties, theatrical performances, camping and other aspects of student life. It should be noted that McKay never self-identified as a lesbian, but she did keep the kiss picture throughout the years amongst other cherished photos. It can be argued that the small image "tilts the balance in favour of claiming her friends as a lesbian-like cohort," Korinek writes.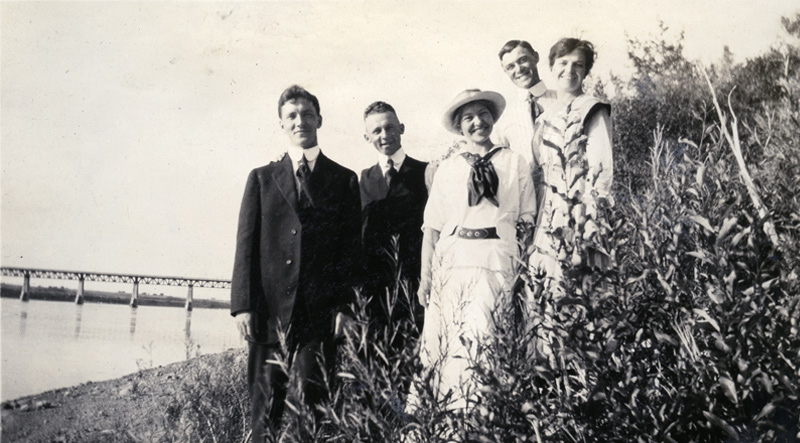 "With so few images, letters, or diaries about prairie lesbians prior to the 1950s, the significance of the McKay photo album is amplified," states Korinek. "It claims important space for historians to do more than merely suggest that lesbians existed in the prairies prior to the Second World War. And while Nan and her female friends are the focal point of most of her photos, she does have images of co-ed activities, and a couple of male students in their dorm rooms, which are also suggestive—certainly demonstrating that close homosocial bonds were in evidence in the women's and men's residences."
Since queer people on the prairies weren't—or, perhaps more aptly, couldn't be—open about their private lives for much of the 20th century, it's now up to historians like Korinek to create a "queer genealogy" using puzzle pieces such as photos, newspaper articles, life stories and oral histories. 
When reconstructing and reclaiming this largely unknown history, and while taking a "queer-eye view" in the process, as Korinek observes, "a kiss is never just a kiss."