IN MEMORY OF one of the Department of Music's most celebrated faculty members, two music graduates have made the largest donation from alumni in the history of the College of Arts & Science.
Xiaoping (Bob) Xu (MA'92) and his wife Ling Chen (MA'90) donated $2 million this spring to create the David L. Kaplan Chair in Music.
"I feel deeply touched yet very proud to have this opportunity to do something to honour my mentor and teacher Dr. Kaplan, who treated me and Ling like his own children," says Xu.
Musician, composer, conductor, scholar, teacher and active community member, Kaplan was part of the Department of Music for more than 30 years and was a pillar of Saskatoon's music community. He served as conductor of the Saskatoon Symphony Orchestra (SSO), founded the Saskatoon Klezmer Band and was inducted into both the Order of Canada and the Saskatchewan Order of Merit. Kaplan passed away in 2015 at the age of 91.
Arriving from China as graduate students in the 1980s, Xu and Chen found in Kaplan an "amiable, sympathetic and patient teacher" whose appreciation of Chinese music and instruments made them feel at home, recalls Xu.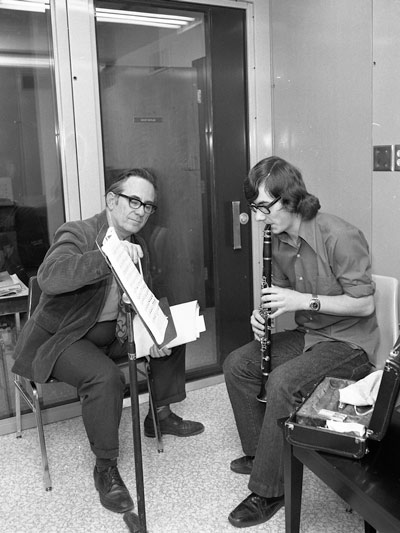 "I thought of him as a role model as I started my own career as a consultant for Chinese students who wanted to study overseas. I wanted to pass on Dr. Kaplan's genuine care for students to my own students in China."
After completing his master's degree, Xu co-founded New Oriental Education and Technology Group, now the largest provider of private education in China. He then established ZhenFund, an award-winning early-stage investment firm that promotes and supports innovation among youth in China and beyond. Xu was named one of the world's top 100 venture capitalists in the Forbes 2016 Midas List.
Xu and Chen's gift is a follow-up to their donation of $1 million seven years ago to establish the David L. Kaplan Scholarships. Since 2011, the scholarships have supported 45 music students as they achieved successes, including joining the SSO and performing at Carnegie Hall.
The Kaplan Chair will attract a high-profile string musician whose role will be to develop a new string instrument program in the Department of Music. Along with teaching and performing, the new chair—expected to be hired within two years—will seek out international relationships and opportunities for students to travel, perform, meet composers and exchange ideas with musicians around the world.
The new string program will support joint educational programs with the SSO. Greg Marion, head of the Department of Music, says the chair will "bolster our 87-year connections with the SSO, advancing our commitment to providing quality musical experiences that reach far beyond the provincial and the national landscapes."
The chair will also oversee two invaluable collections, continuing to make them available for research, performance and exhibition: the Amati string instruments—a rare set of 17th-century instruments crafted by the Amati family of Cremona, Italy—and Kaplan's own donated collection of historical and Indigenous instruments.
"Bob and Ling's gift will be transformative," says Marion.