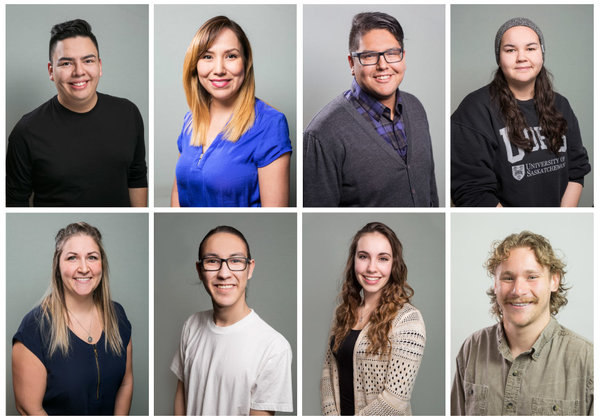 A few of the arts & science students recognized with Aboriginal Student Achievement Awards. (Photos: David Stobbe)
On March 2, 48 Indigenous students of the University of Saskatchewan received Aboriginal Student Achievement Awards recognizing their academic, leadership and community outreach accomplishments. The ceremony at the Gordon Oakes Red Bear Student Centre was one of the highlights of Aboriginal Achievement Week at the university, Feb. 27 to March 3.
Eighteen students in the College of Arts & Science were among the recipients.
See the complete list of award winners from all colleges at the U of S news website.
---
College of Arts & Science Aboriginal Student Achievement Award Winners, 2017
Milo Cameron
AWARD FOR ACADEMIC ACHIEVEMENT
Beardy's and Okemasis First Nation
Milo Cameron is a student in excellent standing in the drama program. As an extension of his coursework he appeared in several Greystone Theatre productions, including The Golden Age, The Caucasian Chalk Circle, and Cabaret. Going beyond the requirements of his program, Milo has been in every way an exemplary departmental, college and university citizen. Since September 2013, he has worked as a student peer advisor in the Arts and Science Undergraduate Student Office. He is currently on the executive of the Drama Students' Association and provides positive leadership in that organization. Last summer, Milo was employed as a camp counsellor during the drama department's Summer Drama Camps. This work involved teaching the craft of theatre and engaging with young people aged 10-17 to instill a love of both learning and drama. Milo has been a fine student and an excellent role model.
Victory Harper
AWARD FOR LEADERSHIP
Onion Lake Cree Nation
Victory Harper is from the Onion Lake Cree Nation and has been a peer mentor in the Aboriginal Student Achievement Program since 2013. Last year, Victory took on a Learning Community on her own and mentored students in many classes. Her major is biology with a minor in math, and she is now pursuing a degree in education. This will lead her to becoming one of the few Aboriginal female biology teachers and the first Aboriginal female teacher with a secondary teaching area in math. Victory is dedicated, has excellent leadership skills and is very relaxed and easygoing. She creates a positive atmosphere for the first-year students that she mentors.
Gabriel Lamarche
AWARD FOR ACADEMIC ACHIEVEMENT
Chimnissing, Waabzheshi Dodem
Gabriel Lamarche is a third year archaeology major in the College of Arts and Science. Gabriel has consistently demonstrated academic excellence in all his classes, not just those in his major. On top of this, Gabriel has demonstrated outstanding engagement and leadership in archaeology. He is a highly accomplished—and largely self-taught—flintknapper, or maker of stone tools, who has actively shared his knowledge and expertise with other students and members of the public. He routinely gives flintknapping demonstrations in classes and at Open Houses, leads weekly flintknapping workshops and produces replica tools for both instruction and display. Gabriel serves on the executive of the Archaeology and Anthropology Students' Association and has even been recommended for a board position with the Saskatchewan Archeological Society, one of the most active and effective volunteer-based archaeological societies in North America.
Iloradanon Efimoff
AWARD FOR LEADERSHIP
Haida
Having only been in Saskatoon for five months, Iloradanon Efimoff has already made substantial impacts within the Indigenous community on campus. As the co-chair of the Indigenous Graduate Students' Council, she has taken the lead in organizing several events for Indigenous students on campus, such as the Sisters in Spirit poster-making session. Through this role, she sits on several committees to collaborate with other Indigenous student groups at the university. Here, she represents the needs of Indigenous graduate students, a unique population on campus. As the Graduate Students' Association Aboriginal Liaison, she works with committees to ensure that the Indigenous student voice is heard at all levels of administration. Her master's research will focus on the experiences of Indigenous individuals who do not physically appear to be Indigenous.
Agis Daniels
AWARD FOR ACADEMIC ACHIEVEMENT
Sturgeon Lake First Nation
Agis Daniels is a second-year student in computer science who is already well known for the generous community spirit he brings to undergraduate labs. During his first year in the program, when some students were struggling just to keep on top of the work, Agis could often be found helping his peers in the labs at all hours. One of Agis's computational hobbies is testing the Collatz Conjecture—a mathematical conjecture that is believed to be true but has never been proven—for very large numbers, beyond any known, published limit. This project underscores his technical abilities and his motivation to ask and pursue research questions. Agis is also an avid participant and champion in the department's twice-annual Programming Contest, having been on the winning team on two occasions and thus travelling to the regionals in fall of 2016 to compete against teams from all across North America.
Gladys Sinclair
AWARD FOR ACADEMIC ACHIEVEMENT
George Gordon First Nation
Gladys Sinclair, a member of George Gordon First Nation, is a mature student who graduated in 2016 with a degree in English, and she has continued to take honours seminars in preparation for graduate studies. Gladys used discipline, focus and persistence to return to university as an adult to study Indigenous Social Work at First Nations University of Canada and then to work as a social worker. During her studies over the past three years she has maintained high academic standing in her English classes. She excelled in particular at essay writing, constructing original and powerful examinations of a number of works of literature, and was so inspired by some of those investigations that she plans to go on to graduate studies in English.
Nancy Whitecalf
AWARD FOR ACADEMIC ACHIEVEMENT
Thunderchild First Nation
Nancy Whitecalf is a fourth-year student in psychology. She is an active volunteer in her home community of Thunderchild First Nation. She achieved high academic standing in a third-year project-based class in social psychological research. Even though she was late joining the course, she engaged quickly with the other students and was a key contributor to her group's top standing. She went above and beyond class requirements by making and presenting a poster with her peers for the annual Department of Psychology Undergraduate Conference. She is driven to complete her degree in psychology to combat mental illness in Indigenous communities. She feels obligated to help her people access the tools they need so they may lead healthier, happier lives.
Aidan Mowat
AWARD FOR RESEARCH EXCELLENCE
Alexis/Nakota/Sioux
Aidan is a bright, hard-working student who has just finished her undergraduate studies and will be starting her master's degree later this year. Aidan received awards in 2013, 2015 and 2016 because of her high marks and contributions to geological student activities at the University of Saskatchewan. She has presented at several international, national and student conferences, has received awards for her posters at two recent conferences, and has already published one paper in an international, peer-reviewed journal and is well on her way to submitting a second. Aidan is also very active in group activities outside of the university, invariably acting as mentor. For example, she was as a Pipe Major for the 96th Highlanders Pipes and Drums, where she has competed at several World Championships.
Renée Prefontaine
AWARD FOR ACADEMIC ACHIEVEMENT
Métis Nation
Renée Prefontaine is Métis and is in her third year of studies in SUNTEP. In 2015, she was a Golden Key International Honors Society Invitee, as well as being on the Dean's Honor Roll in the College of Education. Throughout high school, she was on the honour roll at Marion Graham Collegiate and finished her grade 12 with a bilingual diploma. She was active in athletics and has worked extensively with children of all ages, having coached gymnastics and soccer throughout her life. Renée is a passionately engaged learner and a wonderful role model.
Brendan Desjarlais
AWARD FOR ACADEMIC ACHIEVEMENT
Fishing Lake First Nation
Brendan Desjarlais is a motivated and noteworthy student pursuing a degree in computer science, a field that is currently in high demand and requires both creative and computational thinking skills. Brendan has demonstrated that he is a strong student in his courses through both his high academic standing and by working with his peers to develop course projects. He is currently interning with a local tech company in Saskatchewan as a software developer. Brendan has admirable priorities and values, focusing both on school and his family life. He has received glowing reviews from his supervisor, exhibiting a passion to learn new skills and technologies. Brendan is both a promising student and a role model for incoming students.
Martinique Downs
AWARD FOR LEADERSHIP
Métis Nation
Martinique Downs has been a peer mentor in Arts and Science in the Aboriginal Student Achievement Program since 2015. Martinique is an award-winning student for her academic achievements and is now being recognized for the leadership role she takes on as a peer mentor in the college. Martinique is an excellent role model for the students she mentors, taking on five courses per term in addition to her peer mentoring hours. Martinique is dedicated and reliable and has excellent leadership and presentation skills. Martinique creates a positive atmosphere for the first-year students that she mentors.
Dakota Sinclair
AWARD FOR LEADERSHIP
Poundmaker Cree Nation
Dakota Sinclair, who is a member of the Poundmaker Cree Nation, exemplifies exceptional leadership qualities through her work as a peer mentor with the Aboriginal Student Achievement Program. Dakota is a third-year student in the College of Arts and Science. Her interests focus on youth criminal justice issues and assisting youth to make better choices. She is currently majoring in sociology with a concentration in Aboriginal Justice and Criminology. Dakota's generous spirit is evident in the careful and thoughtful planning that occurs when organizing activities for the students in the learning community that she leads. The students' needs are balanced with an opportunity for connection with each other and the community at large. As one student so eloquently stated: "Dakota has a soft and gentle approach that provides a level of comfort and sense of security as we try to make sense of university life."
Jacqueline Nokusis
AWARD FOR LEADERSHIP
Peepeekisis First Nation
Jacqueline Nokusis is from the Peepeekisis First Nation and is pursuing a degree in microbiology and immunology. Jacqueline has been a student peer advisor, tutor and volunteer in the college. She has been an exemplary employee, balancing a complicated work role with her responsibilities as a student and mother. The Trish Monture Centre in the college has benefited greatly from Jacqueline's involvement with Indigenous students. Jacqueline connected with Indigenous students, assisting them in understanding their roles as students, directing them to resources and providing peer support and mentorship. She is committed to providing access, support and information to Indigenous students and has been integral in providing culturally relevant academic advising.
Jaz Gatin
AWARD FOR LEADERSHIP
Métis Nation
Jaz Gatin is a Métis student completing a degree in environmental biology. He is a student, father and dedicated advocate for Aboriginal students on and off campus. Jaz has worked with the Saskatchewan Research Council in the Aboriginal Mentorship program, is part of the Biology Student Society, and he actively participates in sending out employment opportunities he finds. Jaz makes it a priority to volunteer at the University of Saskatchewan Annual Graduation Powwow and other community events in Saskatoon. Jaz is currently an Aboriginal Student Ambassador with the Trish Monture Centre for Student Success and is happy to get involved to advance student opportunities within the college.
Shianne Janvier
AWARD FOR LEADERSHIP
Clearwater River Dene Nation
Shianne Janvier is from the Clearwater River Dene Nation. She is currently pursuing a degree in Indigenous studies and looks forward to returning to her community as a university graduate. Shianne is a student who is always ready to help. She goes out of her way to make other students feel comfortable, informally mentors others who need a friend on campus and is always available for a chat. Shianne has worked at the Aboriginal Students' Centre as a summer student and remains a positive force on the university campus.
Stephanie Isaac
AWARD FOR RESEARCH EXCELLENCE
Métis Nation
Stephanie Isaac is a motivated student who, in her first year of courses, engaged in a group research project focusing on understanding the mechanisms of sample selection during medical research. More specifically, she looked at how the exclusion of those with intellectual disabilities from research studies impacts the subsequent relevance of policies and procedures for patients with intellectual disabilities. This is a challenging and important topic, and Stephanie formulated original ideas around the complex processes by which mechanisms designed to protect individual rights can perpetuate systemic discrimination against vulnerable populations. She is passionate about deconstructing barriers to educational equity for Indigenous learners, and is a strong role model to her fellow students, demonstrating high standards for herself.
Jocelyn Ens
AWARD FOR ACADEMIC ACHIEVEMENT
Métis Nation
Jocelyn Ens is an engaged learner with interest in medicine and medical research. She is a responsible and attentive student, and actively contributes to a collaborative learning environment in her classes by asking great questions, demonstrating resilient approaches to problem solving, supporting her classmates in their learning and finding personal points of connection to the curriculum. She conducted undergraduate research in her first year around how apophenia, or the tendency to perceive patterns in random data, can affect student performance on multiple choice exams—as well as strategies to help both students and instructors overcome the effect. In Jocelyn's own words, "I thought it would be really difficult to understand a topic I knew nothing about… instead, it felt very productive to expand my area of knowledge. It makes me wonder what other topics I will enjoy researching, possibly topics I currently do not know exist!"
Trevor Iron
AWARD FOR COMMUNITY INVOLVEMENT
Canoe Lake Cree First Nation
Trevor Iron has a bachelor of arts in Native studies and he recently returned to the U of S to study education. He has been an advocate for First Nations education throughout his academic and professional career, sharing knowledge of traditional teachings and land-based activities including trapping, fishing, hunting and wild rice harvesting. Trevor speaks Cree fluently and has applied his cultural knowledge to adapt and deliver K-12 curriculum to First Nations students both through volunteer and pre-service teacher placements and to adults in the community as the lead facilitator for the Muskeg Lake Elders Cree Law Gathering. Trevor's commitment to contributing to community knowledge translation and cultural resilience while advancing his own education reflects a generous spirit of learning that benefits both his home nation and the greater processes of Indigenous knowledge revitalization.