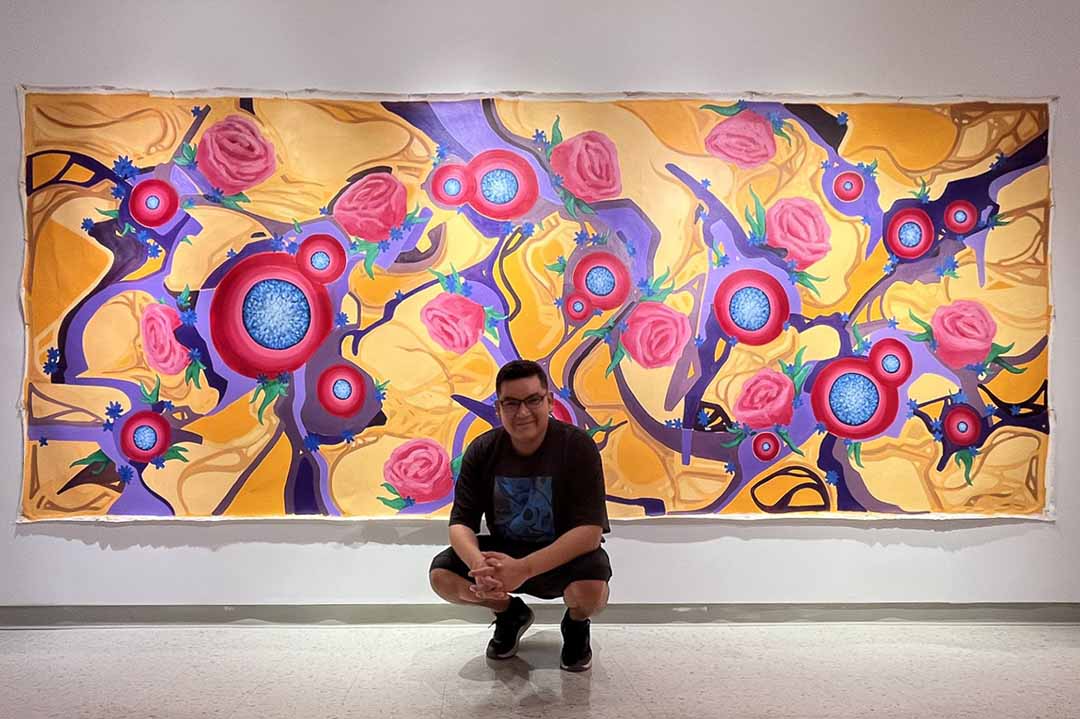 Indigenous USask graduate processes personal hardships, emotions through artwork
Brody Burns (BA'21, MFA'23) discusses completion of Master of Fine Arts degree with support from Department of Art and Art History
By Kristen McEwen
After facing a series of personal challenges, Master of Fine Arts (MFA) candidate Brody Burns (BA'21) never thought he would see his thesis project on display at the University of Saskatchewan (USask) Snelgrove Art Gallery this summer.
"I honestly never thought I'd make it to my MFA," Burns said. "But at the same time, it feels so good having that accomplishment and being able to rest and … really reflect and heal right now."
These paintings were part of an exhibition, No Words Necessary, from the College of Arts and Science graduate student in the Department of Art and Art History. Since successfully presenting his thesis project, Burns will be graduating at the USask Fall Convocation on Nov. 8.
A Treaty Six Plains Cree artist from James Smith Cree Nation, Burns' paintings explored emotions and concepts that go beyond the use of words while using acrylic, oil paint and digital media.
In his own words, the figures in his paintings "represent the energy and emotion that connects everyone and everything. Like synapses firing in the brain, information is communicated between all beings physically, mentally, emotionally and spiritually."
The concept of the paintings was a way for Burns to begin processing the experiences of helping immediate and extended family members facing serious health issues.
"That was always a challenge," he said. "It was something that was holding me back emotionally and mentally. It was hard for me to stay focused.
"Painting really helped me get through a lot of things like it did during my undergraduate (degree)." Burns completed his Bachelor of Arts degree in Psychology in 2021. Burns said the art and art history classes he took during his psychology degree changed the direction of his life.
Shortly after starting his second year of his master's degree program, he learned about upsetting news from home in September 2022. A series of stabbings had taken place on James Smith Cree Nation. The incident deeply impacted the tight-knit community.
"That set me off so bad," Burns said. "It was a struggle to show up every day, or just go to class. There was a big chunk of time that I missed."
He noted that the faculty members–such as University Art Galleries and Collections director jake moore, Art and Art History associate professors Dr. Mary Longman (PhD) and Allyson Glenn, who were all part of his thesis committee–as well as fellow classmates in his MFA cohort, were supportive and understanding.
"I think that really helped me succeed and make it to the end of the program," Burns said. He noted that at one point he considered dropping out entirely. He met with USask artist-in-residence Ruth Cuthand (BFA'83, MFA'92), who provided Burns with advice and encouragement to continue with the MFA program.
As a teenager, Burns was a graffiti artist. The exhibition was a move away from graffiti into Indigenous abstract art, he said. His work is also influenced by his culture and artists such as Kevin Pee-ace, Alex Janvier and Jerry Whitehead.
"When you look at some of the paintings, they're all reflections of the last two years," Burns said. "Taking a picture of the emotional state I was in and what those relate to.
"No Words Necessary became kind of this phrase of talking about death and trauma, like with James Smith, or with illnesses. Saying we don't need to talk about it–we know what happened and we just move forward with it."
While looking forward to Fall Convocation, Burns noted the upcoming celebration was a mixture of emotions as it wrapped up his academic journey for his undergraduate and master's degrees.
"For the last seven years, I've always expected school to be the thing I'm focused and working on right now. It's always been school, school, school."
While school is coming to an end, Burns has a number of upcoming commissioned projects until December and into the New Year, as well as working on a new exhibition called, Shapeshifter. Burns provides updates on his work through his website and social media.
As he looks to the future, Burns noted that his success in his MFA program was supported by the Department of Art and Art History.
"With the MFA program, you basically become family with all the other MFA students," Burns said. "I think having that strong support, that's kind of why it was really successful."
---
Related Articles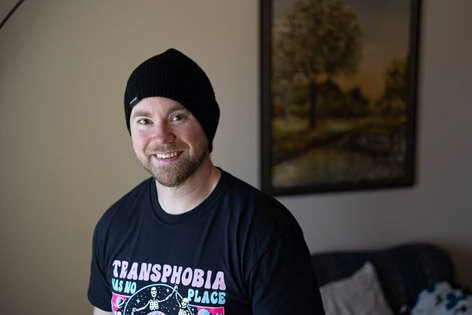 Pottle (PhD'16) is bringing a fresh, much-needed voice to the country's literary landscape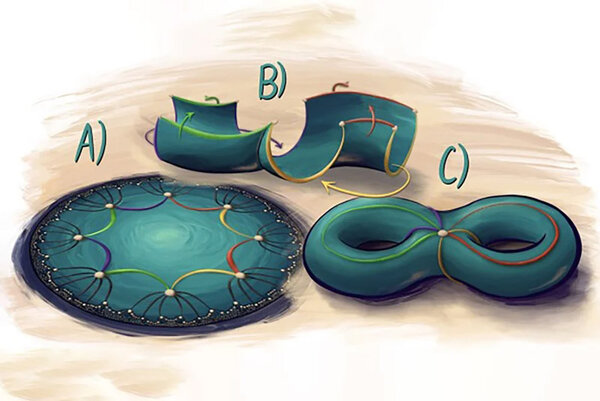 At USask, a mathematician and a musician collaborated to turn a quantum research paper into a jazz performance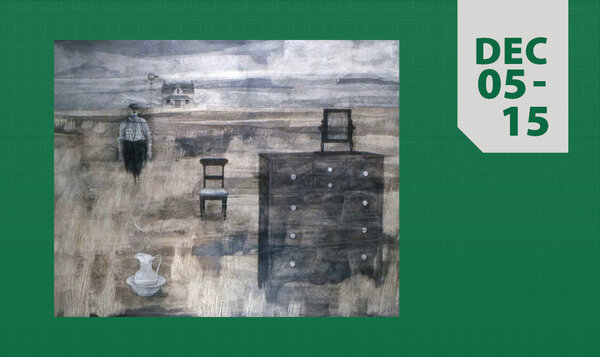 A collaborative exhibition by USask students