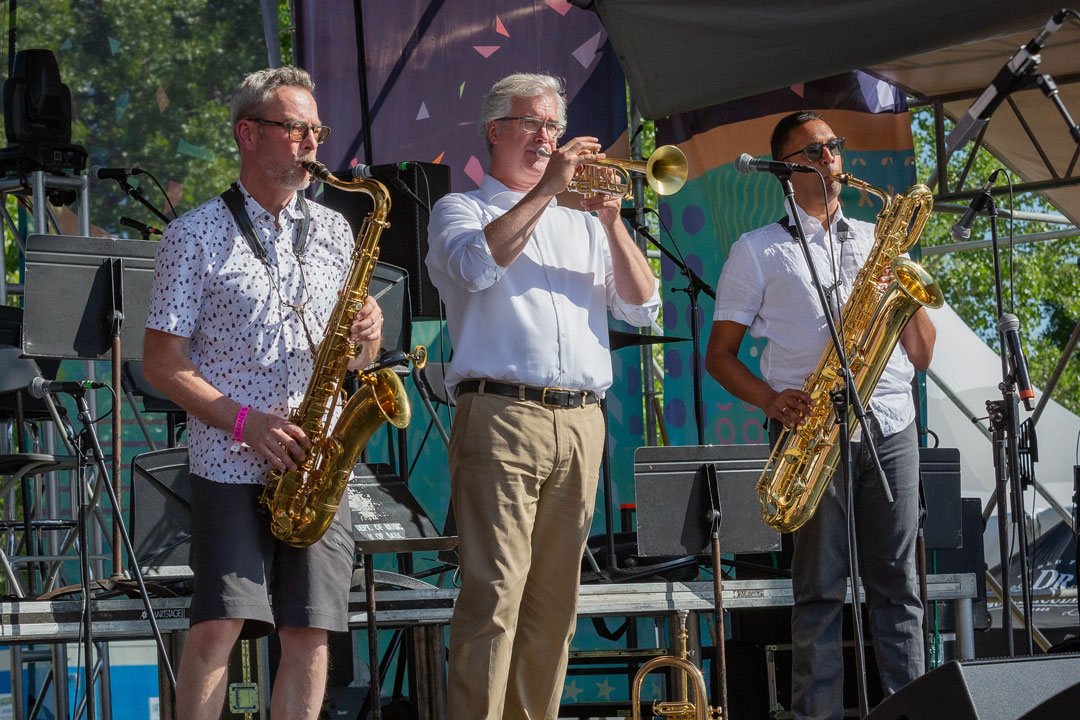 Longtime jazz ensemble receives special recognition at Saskatchewan Jazz Festival
Music department head Dean McNeill has led the Saskatoon Jazz Orchestra for more than 20 years
By Kristen McEwen
A local jazz ensemble that regularly features University of Saskatchewan (USask) musicians was recognized with an award during this year's Saskatchewan Jazz Festival.
The Saskatoon Jazz Orchestra (SJO), led by College of Arts and Science music department head Dean McNeill, was presented with the festival's Special Recognition Award on July 5.
"It means a lot to me," McNeill said. "It has been a privilege to work with so many great local, national and international level musicians through the SJO's activities since the SJO's inception.
"When the SJO received the award, we had various members of the organization come up front of the stage as representatives, including a member of the volunteer board, local musicians, composers, arrangers, national guest artists, singers. This was because the SJO is a group effort all around."
A previous Saskatchewan Jazz Festival Special Recognition Award winner, McNeill has been leading the orchestra since before the ensemble adopted its current name. Formerly called the Metro Jazz Ensemble, he started the group about 23 years ago. The SJO was formed about 10 years ago when the ensemble was able to make the leap to create an organization with more solid infrastructure, McNeill said.
"I think we have performed at the festival almost every year of the Metro's (then SJO's) existence," he said. "In general, playing at the Sask. Jazz Festival has been a big deal for the SJO because we can often present a show at the festival that's too ambitious for the SJO to produce on its own."
Some of the large-scale shows by the SJO at the Sask. Jazz Festival involve collaboration from researchers at USask to create a cross-disciplinary and unique performance.
Past performances have included collaboration with visual artist and USask Associate Professor Allyson Glenn for a show called "Dimensions in Sound." The show explored synesthesia, the involuntary linking of two or more senses. McNeill also highly values working on SJO projects with USask faculty with non-fine arts backgrounds like award-winning professor emeritus of history Dr. Bill Waiser (PhD).
An upcoming performance, called "Math + Jazz," is a cross-disciplinary performance involving USask mathematics professor Dr. Steven Rayan (PhD). This show will be a musical rendering of Rayan's concepts of hyperbolic geometry.
"We are always looking for new ways to tell new stories," McNeill said. "You have to be adaptive to do this. One of the challenges is always considering how to stay authentic to yourself while trying to accomplish a win for the audience and for all the other collaborators involved.
"I've learned over the years when working with people from other disciplines that there is a bit of a 'dance' that you go through to make sure everyone gets what they need out of the collaboration," he said. "It's more work to do it this way, but it is always worth the extra effort."
The SJO also regularly features people from USask and artists from the greater SK community.
Past SJO collaborators have included USask music professors Dr. Glen Gillis (PhD), Dr. Greg Marion (PhD) and Dr. Jennifer Lang (PhD), College of Arts and Science Associate Dean Student Affairs Dr. Darrin Oehlerking (DMA), and students like Master of Music Education student Stacey Mortenson Spokes. Other collaborators include many BMus majors, local artists, poets, actors and dancers, faculty and sessional lecturers from other universities, such as McGill University, MacEwan University, University of Regina, Brandon University, University of Manitoba, University of Toronto and the University of British Columbia.
"As I program the repertoire for the shows, and I often conduct the band, I do my best to get a lot of other people up front of the band as well," McNeill said. "When this happens, I can sit back inside the band and do my own music thing, which is my first love, and watch the magic of shared artistic collaboration unfold in organic kinds of ways."
---
Related Articles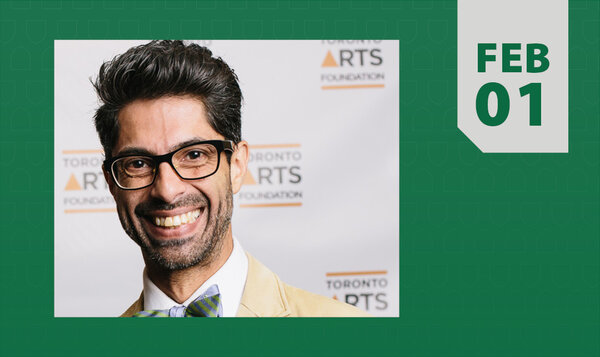 A talk in the Fine Arts Research Lecture Series (FARLS) in Music by Hussein Janmohamed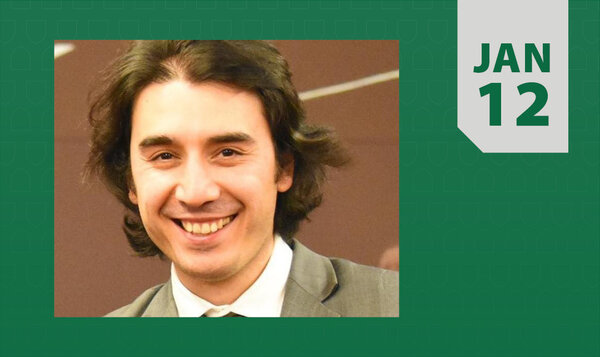 A talk in the Fine Arts Research Lecture Series (FARLS) in Music by Shah Sadikov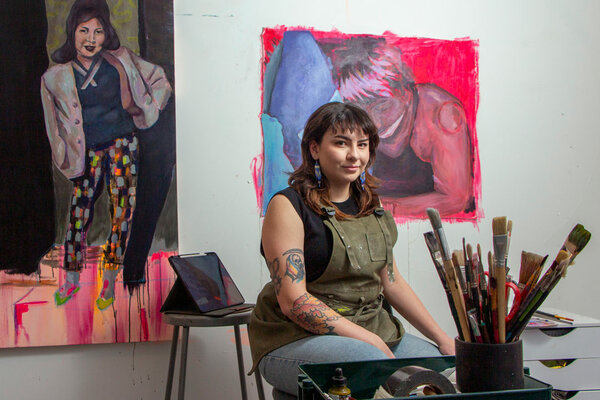 MFA student won a 2023 Outstanding Student Achievement in Contemporary Sculpture Award from the International Sculpture Center