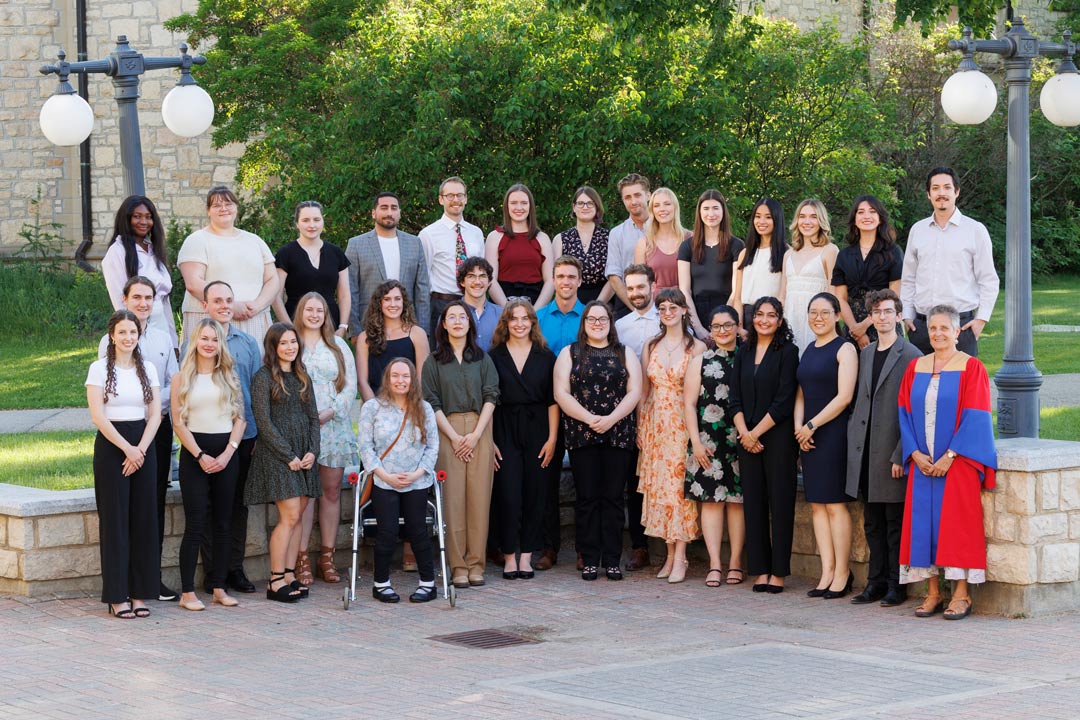 Top graduates recognized at College of Arts and Science Convocation Awards Ceremony
Most outstanding graduates of 2023 and convocation medal winners were honoured at the annual event
The College of Arts and Science celebrated a group of its most outstanding graduates at a ceremony on June 5, 2023.
The annual College of Arts and Science Convocation Awards Ceremony was held at Convocation Hall. Thirty-four students who recently completed undergraduate degree programs were in attendance to be recognized as the top graduates in their programs or winners of convocation medals.
Most of the award winners were among the 964 new graduates receiving undergraduate degrees at the 2023 University of Saskatchewan Spring Convocation on June 6. Medal winners from the 2022 Fall Convocation were also honoured.
Photos from the event can be viewed on the USaskArtSci Flickr account.
The names of the award winners are listed below.
Award Winners in Humanities and Fine Arts
Michayla Faith Siwak
Braj Sinha Award for the Most Outstanding Graduate in Religion and Culture
Matthew John Primrose
Debrou Top Graduate Award in History
Grace Armstrong-Christensen
Department of Philosophy Convocation Award
Hailey Margaret Weber
Judy Poole Award in Art and Art History
Emma Bock
Most Outstanding Graduate in Languages, Literatures and Cultural Studies
Jill Christine Jeffrey
Walter Mills Award in Drama
Award Winners in Social Sciences
Mackenzie Kate Bjornerud
Gordon A. McMurray Prize in Psychology
Julia Morelli
Honourable Donald Alexander McNiven Prize in Political Studies
Laurina Yvette Marie Farr
Most Outstanding Graduate in Archaeology (BA Degree)
Lennon Sayer Sproule
Most Outstanding Graduate in Archaeology (BSc Degree)
Nial Austen Willems
Most Outstanding Graduate in Linguistics
Alexandria Michelle Flaman
Tania Balicki Memorial Award in Indigenous Studies
Award Winners in Science
Tanvir Minhas
Dr. J. F. Morgan Memorial Award in Microbiology and Immunology
Bonnie Yang
Jack Miller Bursary in Physiology and Pharmacology
Jose Carlos Zapien Verdugo
Most Outstanding Graduate in Biochemistry, Microbiology and Immunology
Xialu Chen
Molson Canada Undergraduate Achievement Award in Food Science
Yaxin Guo
Most Outstanding Graduate in Anatomy and Cell Biology
Jennifer Suzanne Just
Most Outstanding Graduate in Computer Science
Alexa Arnyek
Most Outstanding Graduate in Environmental Biology
Alexander James Magnus
Most Outstanding Graduate in Physics
Tyler Grodecki
Most Outstanding Graduate in Statistics
Emily Josephine Harrison
Ore Gangue Memorial Award in Environmental Geoscience
Grace Elizabeth Braaten
W.P. Thompson Convocation Prize in Biology
Award Winners in Interdisciplinary Programs
Oluwamayokun Grace Alabi
Mabel F. Timlin Prize in Business Economics
Nolen Joseph Timmerman
Most Outstanding Graduate in Bioinformatics
Nathan James Baillie
Most Outstanding Graduate in Classical, Medieval and Renaissance Studies
Emily Anne Ireland
Most Outstanding Graduate in Environmental Earth Sciences
Emily Jane Becker
Most Outstanding Graduate in Environment and Society
Andy The Tran
Most Outstanding Graduate in Interactive Systems Design
Jayden Laine Bissky
Most Outstanding Graduate in International Studies
Saif Marei
Most Outstanding Graduate in Mathematical Physics
Ava Dulos
Most Outstanding Graduate in Regional and Urban Planning
Evan Arron Spencer Kohlman
Most Outstanding Graduate in Toxicology
Zoey Antoinette Smith
Tonya Kaye Award for Most Outstanding Graduate in Women's and Gender Studies
Fall Convocation Medal Winners
Timothy Nickerson
Rose Litman Medal in the Humanities
Elizabeth Doreen Pywell
University Medal in the BA&Sc Degree
Most Outstanding Graduate in Health Studies
Athena Ni
University Medal in the Fine Arts
Stephanie Shay Lenz
University Medal in the Social Sciences
Most Outstanding Graduate in Sociology
Hannah Marie McCutcheon
Fall Convocation Three-year Medal
Shaoyan Wang
President's Medal
Dean's Medal
University Medal in the Sciences
Most Outstanding Graduate in Chemistry
Spring Convocation Medal Winners
Ava Hope DeCoursey McLean
Copland Prize in Humanities, Award for Excellence in English Studies
Kyle Luo
University Medal in the Bachelor of Science Biomedical Science Degree
Most Outstanding Graduate in Cellular, Physiological and Pharmacological Studies
Azin Dolatabadi
University Medal in the BA&Sc Degree
Rylan Smith
Spring Convocation Three-year Medal
Most Outstanding Graduate in Mathematics
Graeme Rhys Dyck
Haslam Medal
Earl of Bessborough Prize in Science
University of Saskatchewan Film Society Prize
Arthur Collingwood Convocation Prize in Music
William Stryker
Governor General's Silver Medal
Copland Prize in Social Sciences
Lewis C. Gray Prize in Economics
---
Related Articles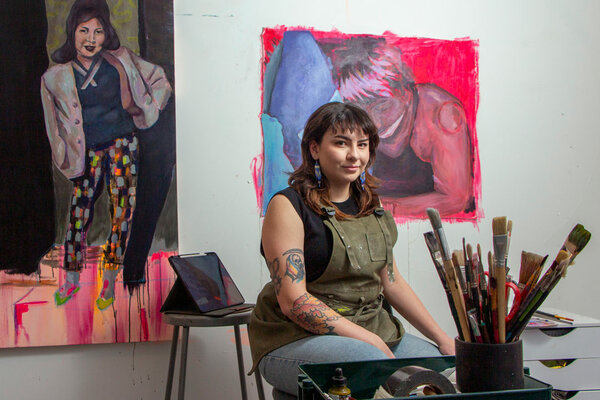 MFA student won a 2023 Outstanding Student Achievement in Contemporary Sculpture Award from the International Sculpture Center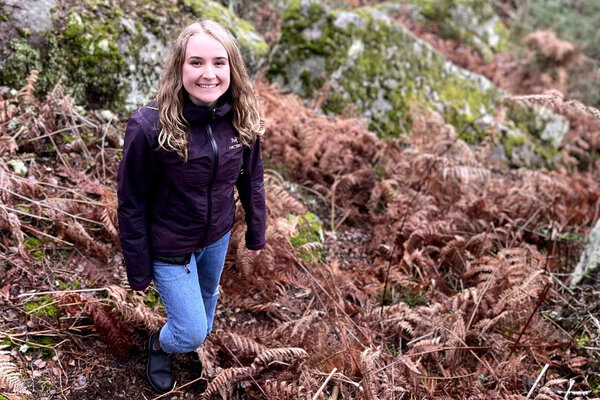 USask biology student Rachel Andres is making plans to continue her love of plant science research at the University of Oxford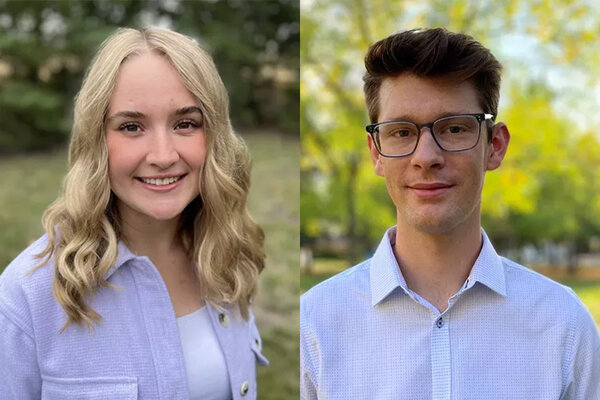 Biological sciences student Rachel Andres is one of two USask recipients selected for the prestigious Rhodes Scholarship