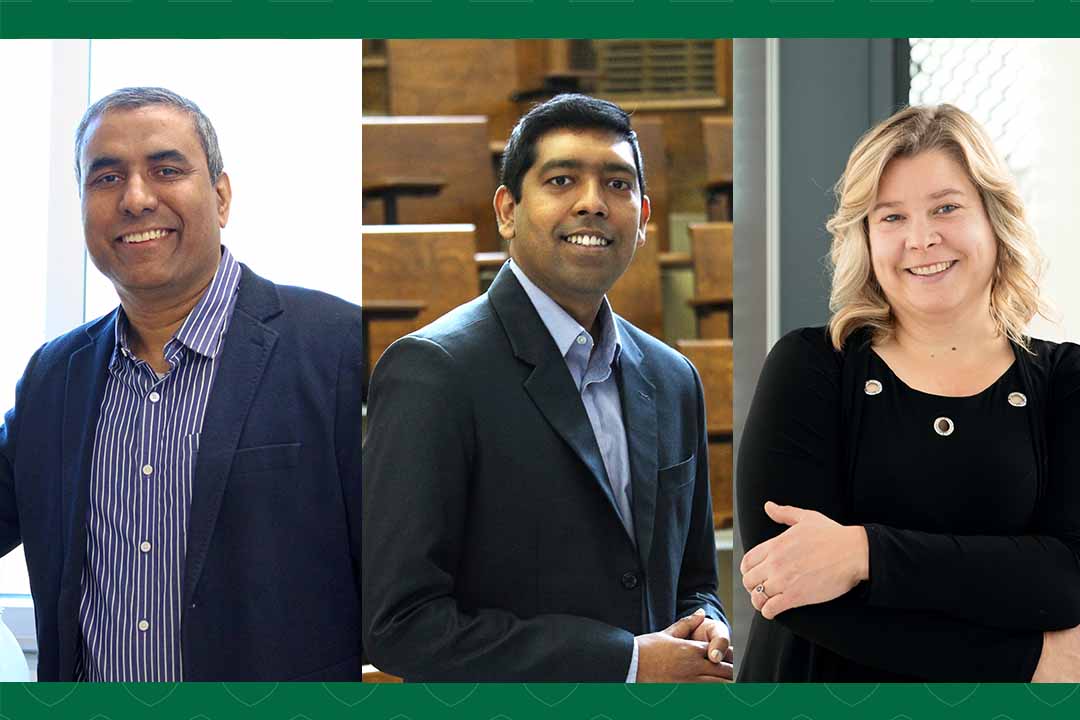 Faculty excellence in research, scholarly, artistic work recognized with college awards
Three faculty members were presented with college awards for outstanding research, scholarly and artistic work
From conducting performances for Ukrainian refugees to training graduate students and publishing countless research materials, College of Arts and Science faculty have been making an impact with their work.
Three faculty members from the college were presented with awards on May 4 recognizing their outstanding research, scholarly and artistic work (RSAW).
Drs. Som Niyogi (PhD), Debajyoti Mondal (PhD) and Jennifer Lang (PhD), received the Distinguished Scholar, New Scholar, and Publicly Engaged Scholarship awards respectively.
Earlier this year, the College of Arts and Science recognized the work of more than 40 scientists, scholars and artists, including Mondal and Lang, during the annual College Plan Celebration Day.
Distinguished Scholar Award recipient Som Niyogi
Dr. Som Niyogi (PhD), a professor in the Department of Biology, was named as the recipient of the Distinguished Scholar Award. Niyogi is considered to be one of the top researchers on the impacts of metals on fish physiology and development in the world.
Niyogi started in the Department of Biology in 2004 and appointed to the Toxicology Centre. He was promoted to associate professor in 2010 and professor in 2016. As a researcher he has received almost $2.5 million in funding from various organizations, including the Natural Sciences and Engineering Research Council (NSERC) and Canada Foundation for Innovation (CFI).
He has also supervised a number of trainees, including 15 graduate students and five post-doctoral researchers. He has produced more than 90 research materials with 52 publications since 2016. His work has been cited in more than 1,800 other documents. Niyogi's research has also been used to develop better waste management strategies and more sensitive water quality guideline for the protection of aquatic health.
"I am deeply honored to receive the College of Arts and Science Distinguished Scholar Award. I owe a debt of gratitude to my students and postdocs for their hard work and dedication. I am truly grateful to my research collaborators here on campus and elsewhere for inspiring me, and for their contributions which resulted in my research and scholarly successes," said Niyogi.
"Last but not the least, I would also like to thank my family and my colleagues in the biology department and toxicology program – this would not have happened without their continuous support and encouragement," he said.
New Scholar Award recipient Debajyoti Mondal
Dr. Debajyoti Mondal (PhD), an associate professor in the Department of Computer Science, was recognized with the New Scholar Award.
Mondal was first appointed to the department as an assistant professor in 2017. Upon arriving at USask, Mondal began teaching algorithm courses, and also created information visualization and graph drawing courses in addition to teaching.
He is also the founder and director of the Visualization, Geometry, and Algorithms (VGA) Lab at the Department of Computer Science. Through the lab, Mondal has supervised 16 undergraduate, seven graduate and three PhD students.
As an early career researcher, Mondal's work has hundreds of citations in Google Scholar. He is known internationally for his research on computational geometry and network visualization. He has collaborated across campus with researchers to visualize data in plant phenotyping (P2IRC project), hydrology (GWF project) and emergency medicine (CBME project).
In a collaboration with City of Saskatoon through a Research Junction research project, he is focusing on creating a more efficient transit system through developing algorithms that takes a large volume of complex data that generates visual hidden patterns. Mondal's work helps analyze and predict ridership changes to optimize the transit system.
"I feel honoured and grateful to receive the New Scholar recognition from the college," he said. "I am thankful to my family for their tremendous patience and support as I often need to submerge myself in research. I am blessed to have wonderful collaborators and students who have always been the source of my work inspiration."
Publicly Engaged Scholar Award recipient Jennifer Lang
Dr. Jennifer Lang (PhD), an associate professor in the Department of Music, was presented with the Publicly Engaged Scholar Award.
Lang conducts the Greystone Singers, and teaches undergraduate and graduate courses in choral literature, methods, pedagogy and sociological perspectives of music education. As the director of choral activities in the Department of Music, Lang is regularly engaged with artistic work in the public.
"I am very fortunate that my work in music education and choral singing programs invites me into a space of working with community members in ways that enrich their quality of life," Lang said.
When the public was restricted from gathering during the pandemic, Lang maintained connections in the community through music. She conducted and coordinated a performance honouring healthcare workers with the Greystone Singers, Saskatoon Jazz Ensemble and Wind Orchestra, called Play it Forward. Last year, Lang also directed the Greystone Singers and University Chorus at TCU Place for the Unite for Ukraine Performance.
She also is part of the Newcomer Youth Engagement Program in partnership with the Saskatoon Industry Education Council—a program that helps newcomer youth with a number of skills including, language development, communication, financial and technological literacy—in which she initiated an opportunity to incorporate music to assist refugees and immigrants with developing these skills.
Lang's research also extends into the community as evidenced by her development of an intergenerational singing program, Timeless Voices, in which seniors from Sherbrooke Community Centre and students from USask's Department of Music and Evan Hardy Collegiate meet weekly to connect through song, spirit, and friendship under her leadership.
As a researcher, Lang is the co-lead of a new interdisciplinary signature research area at USask: Health and Wellness, with Dr. John Gordon (MD) from the College of Medicine. The category is a collaborative research area formed from a number of perspectives that share a common focus for health and wellness.
"To be recognized for this engagement with the community—that is meaningful for its participants—is such an honour. I'm grateful that the College of Arts & Science celebrates publicly engaged scholarship recognizing it as an important responsibility of our work at the university."
---
Related Articles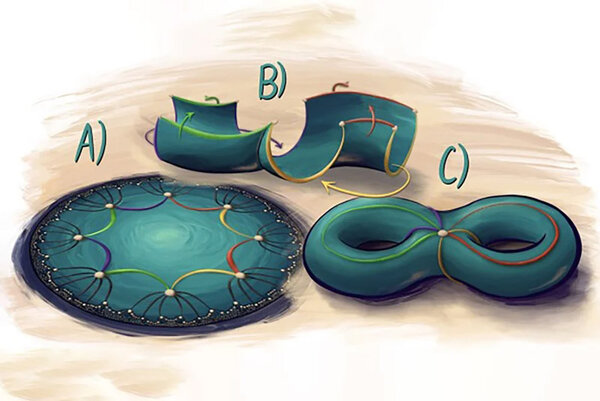 At USask, a mathematician and a musician collaborated to turn a quantum research paper into a jazz performance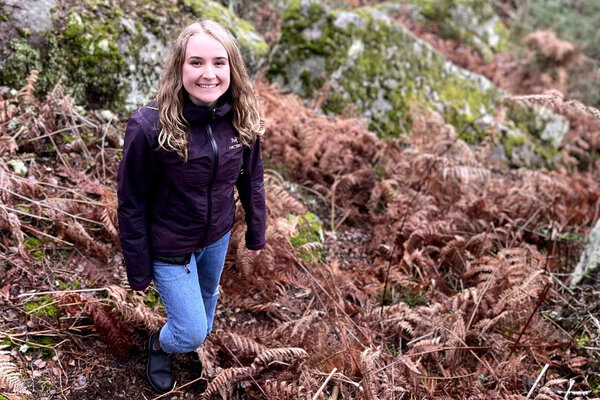 USask biology student Rachel Andres is making plans to continue her love of plant science research at the University of Oxford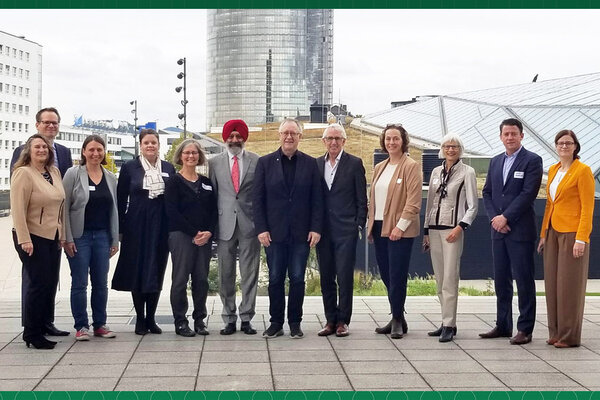 College of Arts and Science faculty members were part of the USask delegation that travelled to the University of Bonn (UBonn) in Germany