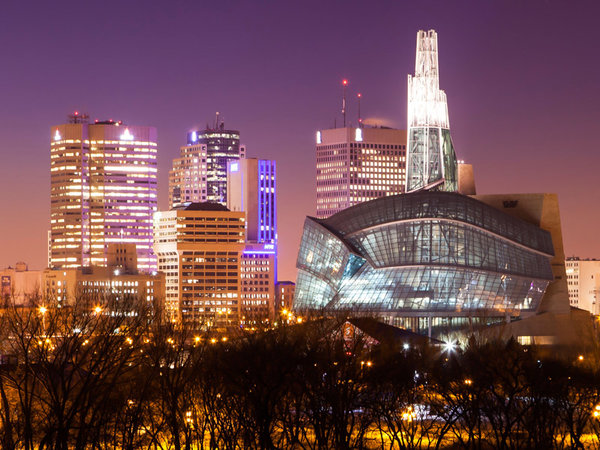 Human Rights in History students take a three-day trip to the Canadian Museum for Human Rights in Winnipeg. (Photo: Aaron Cohen/CMHR-MCDP)
Learn about human rights as a product of history in this experiential learning course that includes a trip to the Canadian Museum for Human Rights.
Hist 272.3: Human Rights in History
Instructor: Mark Meyers
Offered: Spring-Summer 2017 (Q3) (June 29 – July 20) with mandatory travel to Winnipeg (July 4-6)
Using a visit to the new Canadian Museum for Human Rights (CMHR) in Winnipeg as their point of departure, students in this intensive experiential learning course will look at human rights as a product of history, the result of the changing moral frameworks that shape how people define and grapple with injustice in the world. Where did the concept of human rights come from? Why have demands for justice in the modern world so often been articulated as matters of human rights? How has the meaning of human rights changed over time? Finally, how does the CMHR present the history of human rights (or their violation), and in what ways do the museum's choices influence the public's understanding of that history? By engaging our senses and passions along with our rational and critical faculties, the encounter with the museum will heighten our interest in the subject matter and facilitate transformative learning. Moreover, the museum's exhibitions and resource center will provide us with examples of case studies and contexts that may be explored further in class or in research projects.
Visiting the Canadian Museum for Human Rights
Air travel and accommodations for the three-day trip to Winnipeg will be subsidized by the University of Saskatchewan. A program fee of $200 will be charged in addition to tuition. This covers round-trip air travel to Winnipeg, two nights' accommodations (single-occupancy) at the University of Winnipeg Downtown Hostel, airport transfers in Winnipeg, two lunches and museum admission. Students are encouraged to apply for a U of S Travel Award to help them cover the program fee.
E-mail Prof. Meyers for details and updates: mark.meyers@usask.ca.