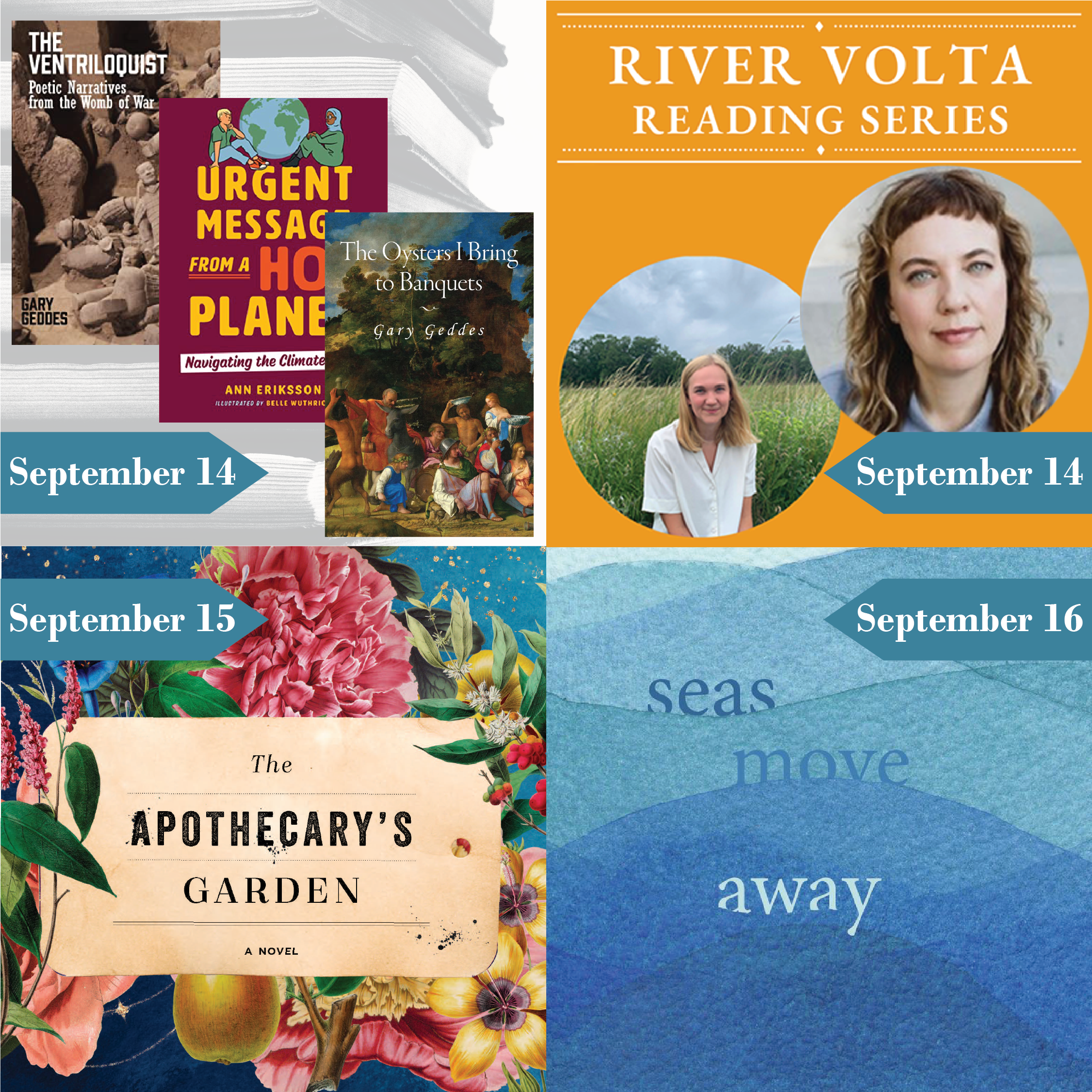 Department of English September Events!
Join the Department of English during this busy week of literary events!
Wednesday, September 14
3:00 pm
Arts 153
The Department of English kicks of the academic year with a double reading featuring Ann Eriksson and Gary Geddes reading from new work including The Oysters I Bring to Banquets, The Ventriloquist, and Urgent Message from a Hot Planet: Navigating the Climate Crisis.
Wednesday, September 14
7:00 pm
via Zoom
Please join the MFA in Writing Program for their upcoming RiverVolta Reading Series Event on Wednesday, September 14th at 7 pm CST. Hear readings and interviews with Sheri Benning and Sarah Ens

The event is free and open to the public. You can register for the Zoom webinar through Eventbrite, here: https://www.eventbrite.ca/e/river-volta-reading-series-sheri-benning-sarah-ens-tickets-411356497357


Thursday, September 15
7:00 pm
McNally Robinson Booksellers
The Department of English is pleased to invite you to two hybrid events at McNally Robinson Saskatoon!
Book Launch for Jeanette Lynes's The Apothecary's Garden
Thursday Sep 15 2022 7:00 pm - McNally Robinson Travel Alcove + YouTube, Saskatoon
Join Jeanette Lynes for the hybrid (in-person + streaming) launch of her new novel The Apothecary's Garden (HarperCollins Canada).
Victorian Canada: Touring circuses, seances, and a world powered by steam engines. But in Belleville, Ontario, a twenty-eight-year old spinster, Lavender Fitch, barely scrapes by, selling flowers from her garden at the train station, her position in life greatly diminished after the death of her father, the local apothecary.
Then, one day, a glamorous couple step off the train. The lady is a famed spirit medium, Allegra Trout, who has arrived for a public show of her mediumship, accompanied by her handsome but disfigured assistant, Robert. With her striking beauty and otherworldly charms, Allegra casts a spell over Belleville from the moment she arrives.
As the Trouts remain in town, preparing for their Mystical Extravaganza, Robert and Lavender grow close, much to Allegra's disapproval. Will Robert and Lavender's relationship blossom or will it be abandoned when he leaves for the next town? Will Lavender be forced from her home and beloved garden? The Apothecary's Garden is a story about the mysteries of life, the enchantment of flowers, and wonders of love.
Jeanette Lynes is the author of seven collections of poetry and two novels and directs the MFA in writing program at the University of Saskatchewan.
See https://www.mcnallyrobinson.com/saskatoon_events for event details.
Friday, September 16
7:00 pm
McNally Robinson Booksellers
Joanne Leow in conversation with Tenille Campbell
Friday Sep 16 2022 7:00 pm - McNally Robinson Travel Alcove + YouTube, Saskatoon
The launch of Joanne Leow's debut poetry collection seas move away (Turnstone Press) features a reading and a discussion of the book with host Tenille K. Campbell.
Meditating on exile, loss, diaspora, authoritarian law, and altered ecologies, Joanne Leow's debut collection spans from the would-be Eden of hyper-planned and surveilled Singapore to an uneasy settling in the Canadian Prairies, seeking answers to the question of what is lost in intensive urban development and the journey across continents. Reflecting on relationships between lovers, parents and children, state and citizen, land and body, seas move away asks what we owe each other across borders and what endures in times of great flux and irreversible ecological change.
Joanne Leow is writer of essays, fiction, and poetry, and Associate Professor at the University of Saskatchewan. Tenille K. Campbell is an award-winning Dene/Métis author and photographer from English River First Nation.
See https://www.mcnallyrobinson.com/saskatoon_events for details.