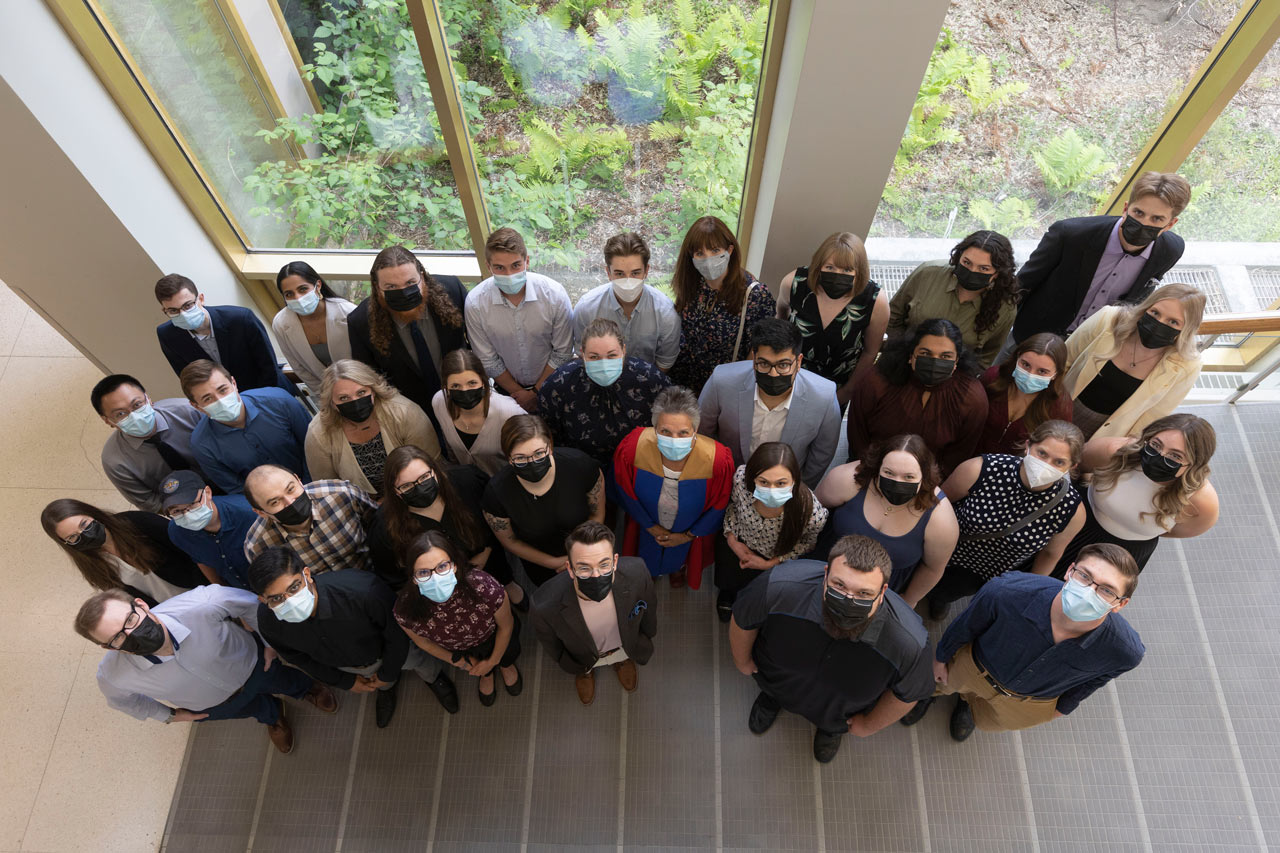 College of Arts and Science recognizes top graduates
Medal winners and most outstanding graduates were celebrated at a June 6 awards ceremony
The College of Arts and Science honoured its top graduating students of 2021/22 at an awards ceremony on Monday night.
More than 30 award winners attended the June 6 College of Arts and Science Convocation Awards Ceremony to be recognized as the most outstanding graduate in their program or the winner of a medal at Fall or Spring Convocation.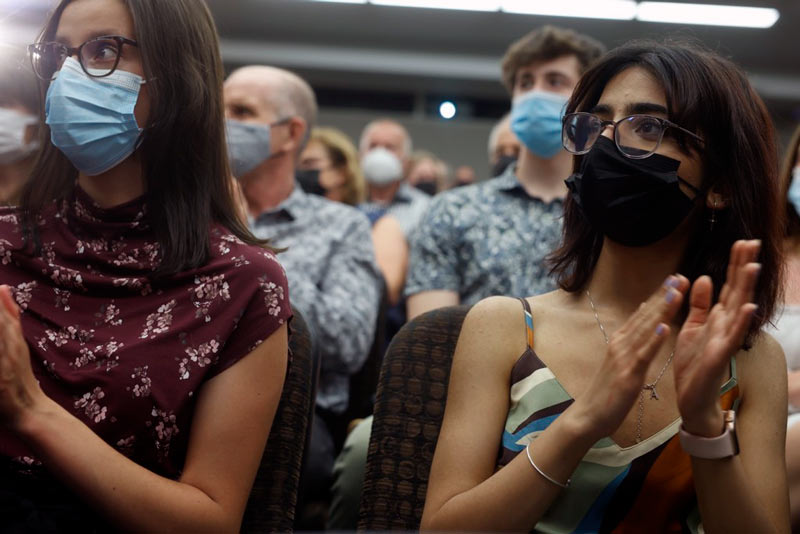 Dr. Peta Bonham-Smith (PhD), dean of the College of Arts and Science, addressed the award winners gathered at Neatby-Timlin Theatre at the University of Saskatchewan (USask) and presented them with certificates of achievement.
"We are so proud of all that you have accomplished. We know that wherever you go in the future, and whatever you choose to do, you will continue to make us proud," Bonham-Smith told the crowd of graduating students and their guests.
The College of Arts and Science Teaching Awards for 2022 were also presented at the event. Faculty members Dr. Jon Bath (PhD), Dr. Janeen Loehr (PhD) and Dr. Colin Sproat (PhD) received New Teacher Awards from the college.
This year's College of Arts and Science Convocation Awards Ceremony marked the first time since 2019 that the event has been held in person. In 2020 and 2021, convocation awards were presented at virtual ceremonies because of the COVID-19 pandemic.
View photos from the awards ceremony on Flickr.
USask 2022 Spring Convocation ceremonies for the College of Arts and Science are today, June 7. More than 1,000 graduands of the college will receive their parchments.
The names of this year's student award winners are listed below.
College of Arts and Science 2021/22 Convocation Award Winners
Award Winners in Humanities and Fine Arts
Drusilla Hazel Waltz
Arthur Collingwood Convocation Prize in Music
Robin Leslie Larocque
Braj Sinha Award for the Most Outstanding Graduate in Religion and Culture
Alan Graham Wobeser
Debrou Top Graduate Award in History
Jessica Kathleen Harms
Department of Philosophy Convocation Award
Leanne Read
Judy Poole Award in Art and Art History
Mairyn Anne Rackow
Most Outstanding Graduate in Languages, Literatures and Cultural Studies
Katrina Harper Renee Blackburn-Dust
Walter Mills Award in Drama
Award Winners in Social Sciences
Quinn Rozwadowski
Honourable Donald Alexander McNiven Prize in Political Studies
Aaryan Singh
Lewis C. Gray Prize in Economics
Amara Aida Wristen
Most Outstanding Graduate in Archaeology and Anthropology
Elina Schwarz
Most Outstanding Graduate in Linguistics
Devin Quinton Pratchler
Most Outstanding Graduate in Sociology
Aurora Grace Wolfe
Tania Balicki Memorial Award in Indigenous Studies
Award Winners in Science
Natisha Thakkar
Jack Miller Bursary in Physiology and Pharmacology
Meet Atulkumar Patel
J.F. Morgan Memorial Award in Biochemistry, Microbiology and Immunology
Sarah Hogarth
Molson Canada Undergraduate Achievement Award in Food Science
Todd Elliot Stang
Most Outstanding Graduate in Anatomy and Cell Biology
Haley Mae Paul
Most Outstanding Graduate in Biochemistry
Nicholas Jason Claude Bauer
Most Outstanding Graduate in Cellular, Physiological and Pharmacological Sciences
Azaria Larisa Antosh
Most Outstanding Graduate in Environmental Biology
Alana Janel Regier
Most Outstanding Graduate in Physics
Gavriel John Masa Arganosa
Most Outstanding Graduate in Statistics
Jaiden Donald Christopher
Ore Gangue Memorial Award in Geological Sciences
Rachel Reed
W.P. Thompson Convocation Prize in Biology
Award Winners in Interdisciplinary Programs
Lukas Conly
Mabel F. Timlin Prize in Business Economics
Vaidehee Uday Lanke
Most Outstanding Graduate in Bioinformatics
Aaron Coverett
Most Outstanding Graduate in Environmental Earth Sciences
Salena Samrith
Most Outstanding Graduate in Environment and Society
Phaedra Marie Berger
Most Outstanding Graduate in Interactive Systems Design
Matthew Don Reimer Dyck
Most Outstanding Graduate in International Studies
Mikayla Julie-Anne Rychel
Most Outstanding Graduate in Palaeobiology
Jordan Philip Reimer
Most Outstanding Graduate in Regional and Urban Planning
Jordan James Comfort
Most Outstanding Graduate in Toxicology
Hannah Elizabeth Adamcryck
Tonya Kaye Award for Most Outstanding Graduate in Women's and Gender Studies
Fall Convocation 2021 Medal Winners
Edward Krisna Utama
Most Outstanding Graduate in Mathematical Physics, University Medal in the Sciences, Dean's Medal
Kaitlin Roberta Lockert
Fall Convocation Three-year Medal
Megan Kristine Gorsalitz
Rose Litman Medal in Humanities
Brant Evans Morrow
University Medal in the B.A.&Sc. Degree (Fall Convocation)
Keiko Jacqueline Tanaka
University Medal in the Fine Arts
Rhiannon Caswell
University Medal in the Social Sciences
Spring Convocation 2022 Medal Winners
Hannah Natalie Tran
Haslam Medal, Copland Prize in Humanities, Award for Excellence in English Studies
Katelyn Shirley Lockinger
Copland Prize in the Social Sciences, Gordon A. McMurray Prize in Psychology
Noah William Friesen
Earl of Bessborough Prize in Science, Most Outstanding Graduate in Computer Science, Most Outstanding Graduate in Mathematics
Michael Riley Luciuk
Spring Convocation Three-year Medal
Keitha McClocklin
University of Saskatchewan Film Society Prize
Paige Lucienne Daubenfeld
University Medal in the B.A.&Sc. Degree (Spring Convocation), Most Outstanding Graduate in Health Studies
Melanie Claziena Gibbons
Governor General's Silver Medal
---
Related Articles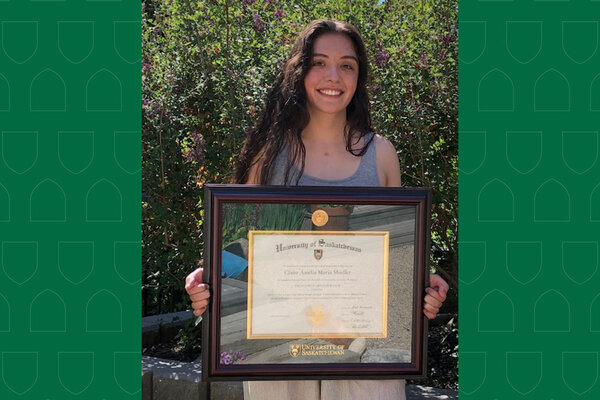 Claire Mueller's family has established an award to financially support undergraduate students enrolled in linguistics and studio art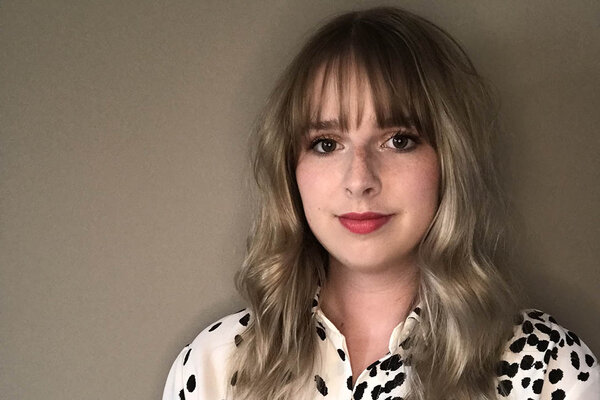 Cassidy Serhienko has been awarded a Rhodes Scholarship to pursue her Master's in English Literature at the University of Oxford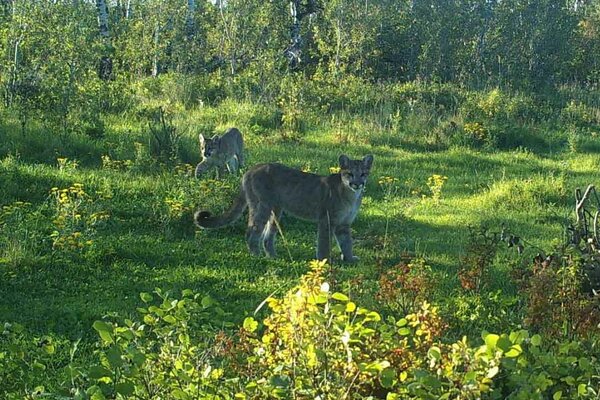 A Department of Biology researcher is building a database to uncover the whereabouts of the secretive and elusive prairie cougar.