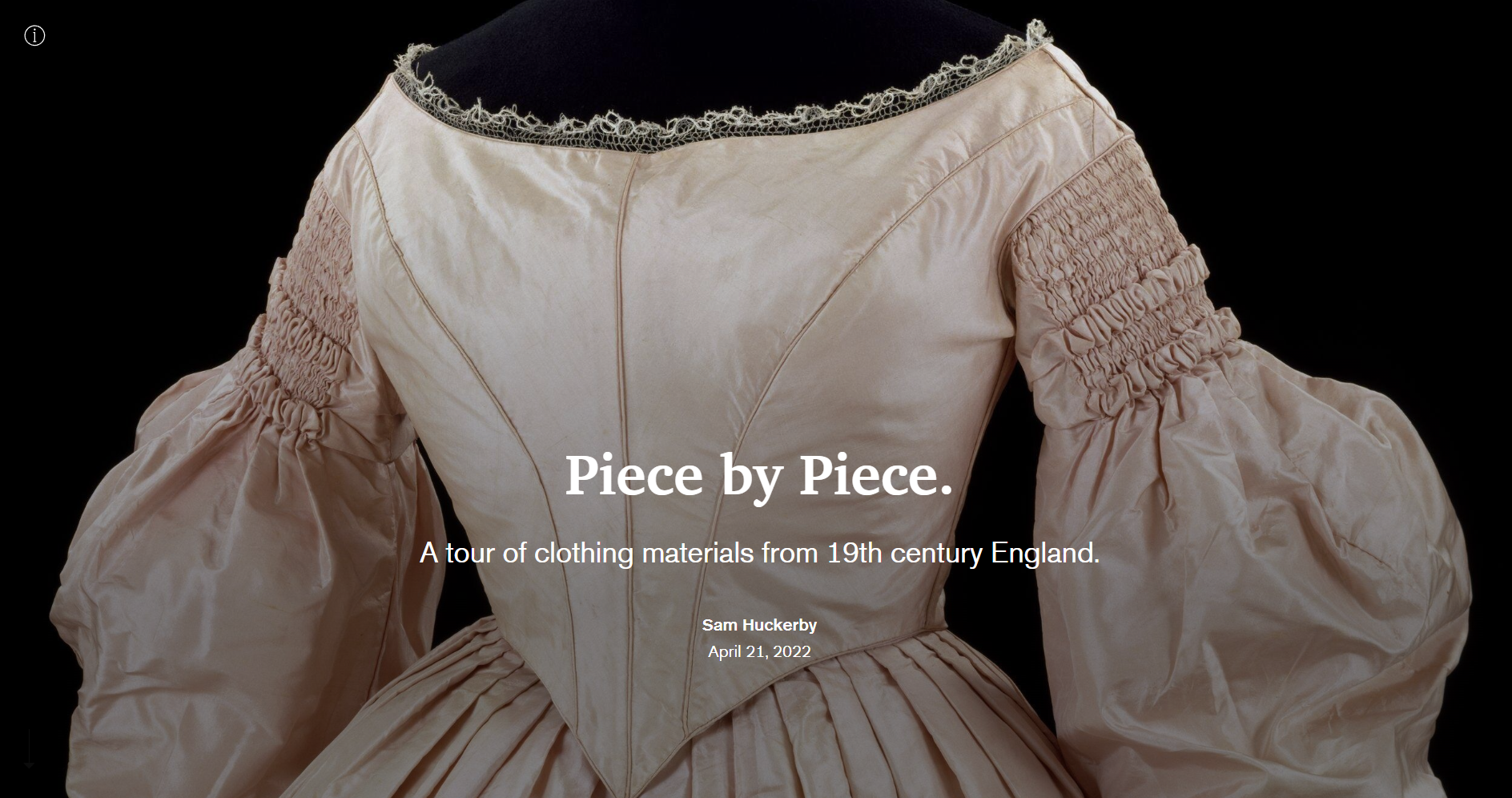 USask student uses digital tools to explore 19th-century British fashion
Undergraduate course taught by Dr. Jim Clifford (PhD) introduces students to new ways of researching and presenting history
By Shannon Boklaschuk
A University of Saskatchewan (USask) undergraduate research project is showcasing 19th-century British fashion and is using digital tools to share information about the historical and social contexts associated with the clothing materials.
The online project, Piece by Piece, was undertaken by College of Arts and Science student Sam Huckerby for a digital history course taught by Dr. Jim Clifford (PhD) in the winter term.
"A reason I really wanted to do this project is because there is this gap in the historical dress community and discourse and history," Huckerby said.
"There is this focus on the aesthetics of the dress and how it changes over time, but there is a lot of history behind the clothing itself—like figuring out who made them, where those pieces came from. To me, that is just as important as examining how they changed over time. We can't just ignore the fact that 88 per cent of cotton for England came from slave plantations in the Americas."
Huckerby, who has just completed her third year of studies at USask, is pursuing a double honours degree in history and studio art. She chose to research 19th-century English dress for her HIST 396.3: Digital History project due to her longtime interest in fashion and after reading a blog post about Canadian clothing from the same period.
One of the things Huckerby found most interesting in her research was learning about hats worn by British women that were adorned with stuffed birds—a fashion statement that was connected to other changes occurring at the time.
"It's interesting to see that bird preservation roots start in the mid-1800s," she said.
In her introduction to Piece by Piece, Huckerby wrote that fashion isn't created in a vacuum, and clothing is more than just a visual record of what people liked, and when. In an interview, she pointed out that the premise of material culture history is that the objects humans create and interact with are products of our society.
"I really wanted to try and drive that home in my project," she said. "Just because it's clothing, it's not a neutral entity. If you examine where clothing comes from and who made it, we unlock a plethora of just so many connections—and I only went into a small handful of possibilities, quite honestly, in my project."
In Clifford's digital history class, students explored the application of new and emerging technologies in the study of history; for example, Huckerby used ArcGIS StoryMaps to create a digital exhibition of the pieces of 19th-century British fashion. She will now work this summer as a research assistant with Clifford and is considering exploring her project further in a future master's thesis.
"Piece by Piece is a really impressive website," Clifford said. "Sam matches a visually stunning site with really strong historical analysis. She builds on the public's fascination with 19th-century fashion but encourages visitors to consider a different aspect of these cultural artifacts. How did fashion connect upper-class British women to global supply chains, new technology, slavery and the decline of the right whale population?"
Along with discussing what digital history is and its ongoing evolution, Clifford's course introduced students to text mining, geographic information systems (GIS) and the development of historical websites. It also explored how digital archives are changing how scholars preserve and research history. Students were also provided with an opportunity to obtain hands-on experience with a wide range of digital skills and use these new methods to develop a final digital history project.
"Digital tools provide new research methods and new ways to communicate history to the public," said Clifford, a faculty member in the Department of History who works with the Historical GIS Lab. "We can use text-mining tools to explore millions of pages of digitized documents from the 19th century or GIS software to track the growth of cities or the movement of the North West Mounted Police in the 1880s. The Internet also gives us tools to share history through blogs, podcasts, videos or interactive websites."
Clifford said he was impressed by the quality of the research projects completed by Huckerby and her classmates in HIST 396. He noted that USask students have been through a difficult two years due to the global COVID-19 pandemic but they have continued to produce high-quality work.
"Sam and her classmates showed incredible resiliency," he said. "Most of them produced fantastic projects that were equal to all the times I taught this class before the pandemic."
---
Related Articles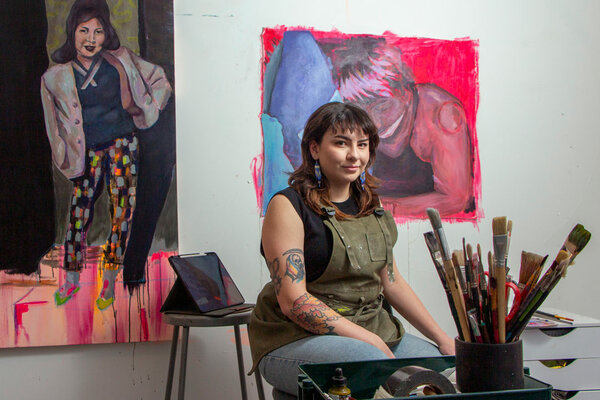 MFA student won a 2023 Outstanding Student Achievement in Contemporary Sculpture Award from the International Sculpture Center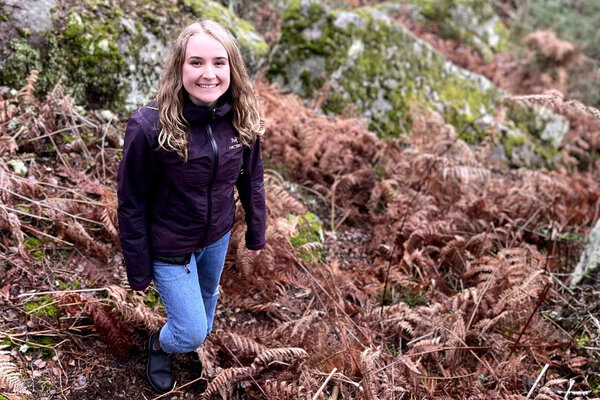 USask biology student Rachel Andres is making plans to continue her love of plant science research at the University of Oxford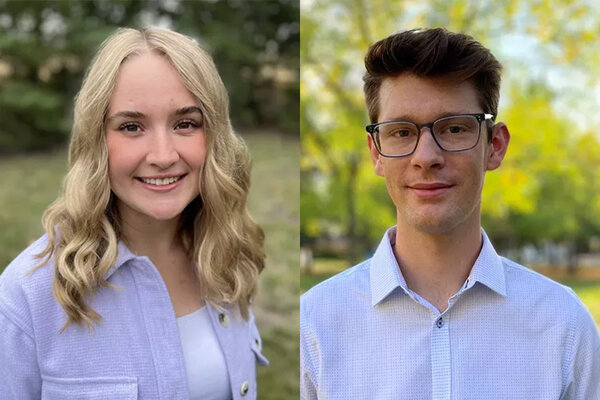 Biological sciences student Rachel Andres is one of two USask recipients selected for the prestigious Rhodes Scholarship