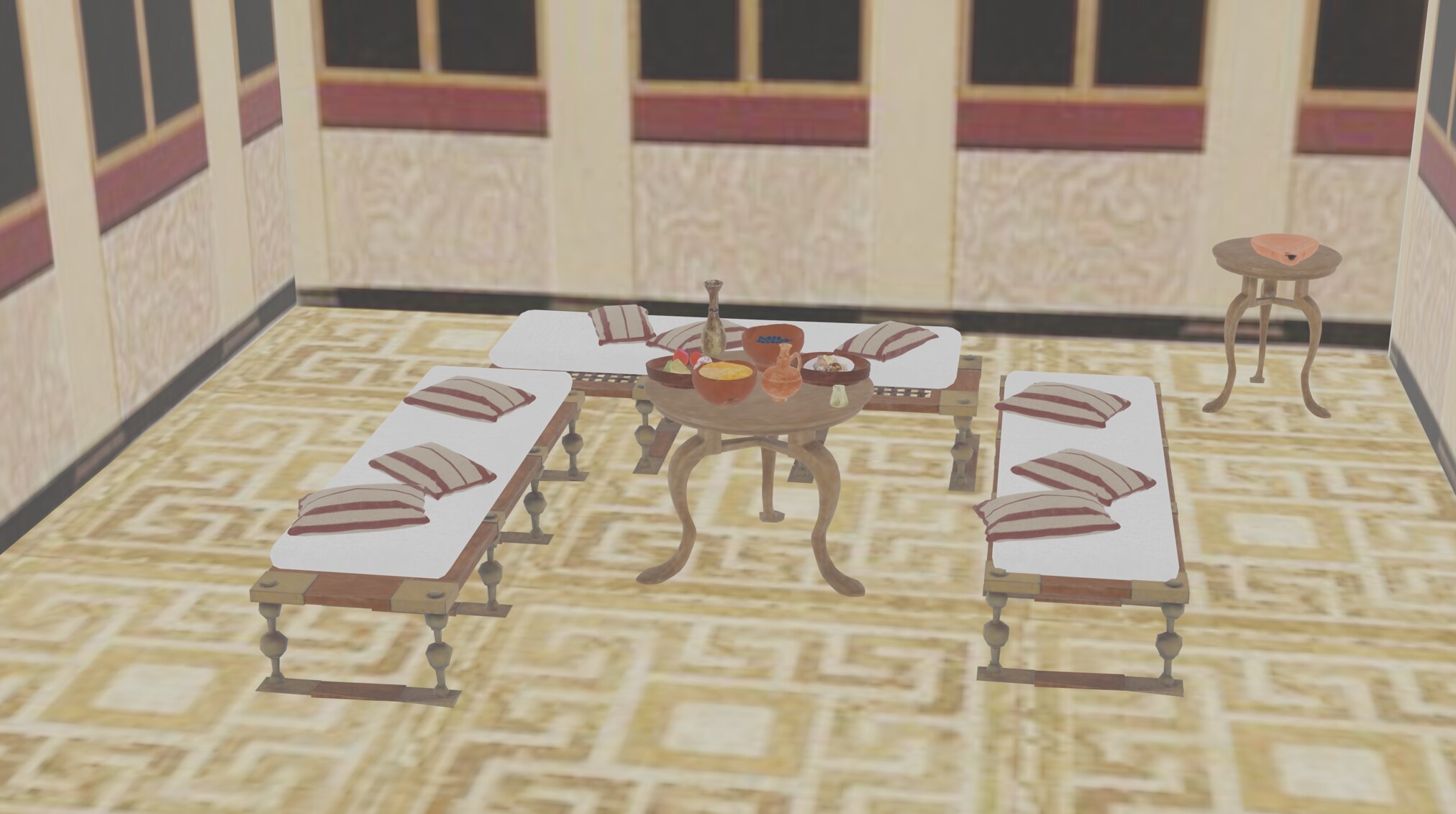 USask digital exhibit showcases dining practices of ancient Romans
Cēna was developed by archaeology graduate student Christie Fender and is housed on USask's Shared Spaces app
By Shannon Boklaschuk
Have you ever wondered what it was like to dine in ancient Rome?
A new University of Saskatchewan (USask) digital exhibit is shedding light on dining and reclining practices dating back to 300 – 400 CE.
The virtual exhibit, Cēna, is a project of USask's Museum of Antiquities, which is home to a collection of Greek, Roman, Egyptian and Near Eastern sculpture in full-scale replica as well as original artifacts. Cēna—which means "meal" in Latin—was developed by graduate student Christie Fender, a digital collections assistant at the museum, and is housed on USask's Shared Spaces app.
After downloading the app, viewers can interact with a digitally replicated dining scene dating back to 3rd- to 4th-century Rome and learn more about tableware and meals in ancient contexts.
"I hope that people are able to get a better understanding of daily life in ancient Rome," said Fender (BSc'21), a recent College of Arts and Science graduate who is currently pursuing a master's degree in archaeology and who is also completing an undergraduate degree in environmental biology in the college.
The virtual nature of Cēna enables the Museum of Antiquities to showcase its collection of highly fragile ancient glassware without physically putting the artifacts on display in the museum. Fender noted that because the exhibit is housed on the Shared Spaces app—which can be downloaded on Apple or Android devices—it is accessible to everyone.
"It's fun when you get to play around with it and learn anywhere you want," she said.
Shared Spaces is a three-year project of the USask Art Galleries and Collection. With support from the Canada Council for the Arts, the project is exploring how augmented reality can create opportunities for connection through art, both by making art accessible anywhere through approaches such as digital 3D sculptures and by providing additional content that is often personal in nature.
Some of the artifacts featured in Cēna include a strap-handled jug and a broad-bottomed beaker—both original artifacts that are part of the Museum of Antiquities' Minden Collection. Glassware was a luxury item in ancient Rome that was used for special occasions, and the beaker was likely used to hold wine. The exhibit also highlights the type of low, round dining table used in ancient Roman times that was known as a mensa—meaning "in the middle"—and that may have held food such as grapes, apples, asparagus, fish, beef, lamb, stew, soup, bread and wine. When it was time to dine, guests would sit on couches arranged in a U-shape around the mensa.
To bring the artifacts to the Shared Spaces app, Fender used a hand-held scanner to scan them and then create digital images from the scans. For the jug and beaker, she also used a process called photogrammetry, which involved taking sets of overlapping photos, putting them into a computer program and then extracting 3D information from the pictures to create a model.
"Glass is a little bit more reflective, so photogrammetry was the preferred method of creating models ," she said.
Because the Museum of Antiquities didn't have models of ancient Roman dining and seating arrangements on hand, Fender created those images with various computer programs based on research she conducted about life during 300 - 400 CE.
Other scanned items featured in the digital exhibit include a red slip flask (100-200 CE)—a piece that originated in North Africa and is an original artifact in the museum's collection—and an oil lamp (25-75 CE) that is a replica piece at the museum. Three-dimensional models of the mensa and the dining arrangement are also part of Cēna.
In addition to the virtual exhibit, Fender is working on other digital projects at the Museum of Antiquities, under the supervision of director and curator Dr. Tracene Harvey (PhD). Fender said she is pleased to have an opportunity to learn more about ancient Greek and Roman life in the process. For her Master of Arts thesis in archaeology, which she is working on under the co-supervision of Dr. Terence Clark (PhD) and Dr. Glenn Stuart (PhD) from the Department of Archaeology and Anthropology, Fender is focused on a community-based project in British Columbia identifying cultural sites at risk.
Fender is particularly interested in how climate change and human activity can impact archaeological sites and cultural heritage, and she believes the digital skills she is developing at the Museum of Antiquities could assist her in her future research and her career endeavours as she works in partnership with Indigenous communities.
"I wanted to learn how to preserve artifacts that might otherwise be damaged," she said. "There's a lot of ways that you can preserve artifacts and sites digitally. Depending on the community you work with this might not always be an appropriate or preferred method, but it is a growing method of keeping a digital record to study and learn from. Direction from community members and informed consent is key."
Fender said she "jumped at the opportunity" to take on the digital collections assistant role at the Museum of Antiquities, which was made possible through the Government of Canada's Young Canada Works program. Working at the museum has been a fun experience, with a learning curve—and Fender is looking forward to learning, and doing, more in her role.
"I really love to challenge myself," she said.
---
Related Articles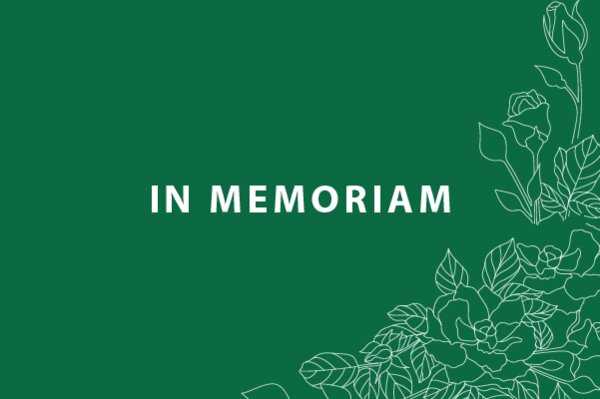 Courtney was a professor in the Department of Political Studies and a Senior Policy Fellow at JSGS for 58 years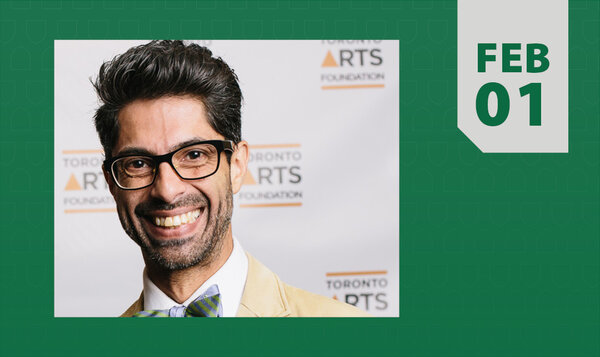 A talk in the Fine Arts Research Lecture Series (FARLS) in Music by Hussein Janmohamed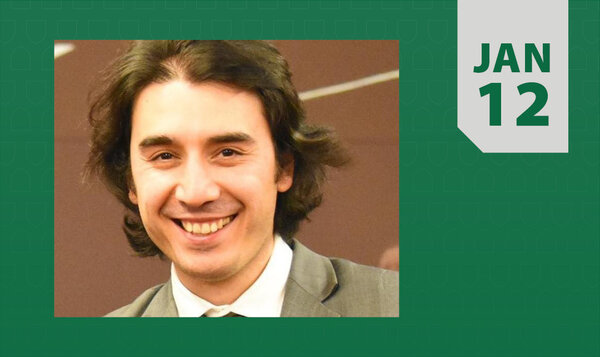 A talk in the Fine Arts Research Lecture Series (FARLS) in Music by Shah Sadikov