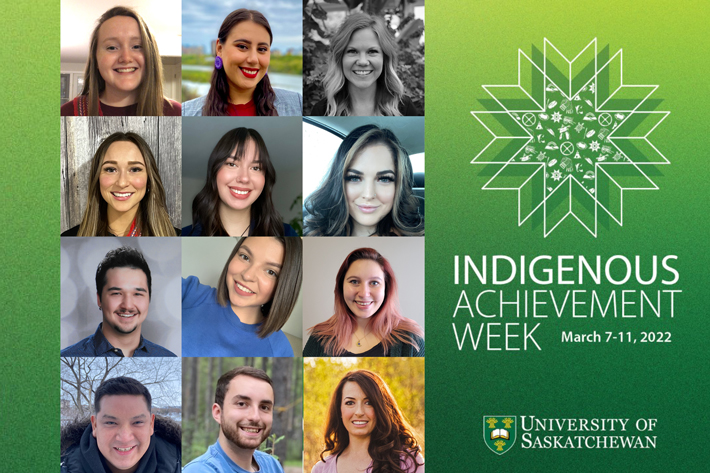 College of Arts and Science students recognized with Indigenous Student Achievement Awards
Indigenous Achievement Week is an annual event that celebrates the successes and contributions of Métis, First Nations and Inuit students, staff, faculty and alumni
Fifteen College of Arts and Science students were honoured on March 10 during the 2022 Indigenous Student Achievement Awards Ceremony.
"On behalf of the College of Arts and Science, I would like to congratulate this year's Indigenous Student Achievement Award recipients," said Dr. Peta Bonham-Smith (PhD), Dean of the College of Arts and Science. "We are so proud of you, and we are pleased to have an opportunity to celebrate your accomplishments in the areas of academic achievement, leadership and research."
The awards ceremony, which was held online, was part of University of Saskatchewan (USask) Indigenous Achievement Week (IAW) activities. IAW is an annual USask event that celebrates the successes and contributions of Métis, First Nations and Inuit students, staff, faculty and alumni. This year's IAW was hosted remotely and was held from March 7 - 11, 2022.
The College of Arts and Science's 2022 Indigenous Student Achievement Award recipients are:
Sarah Pocha-Tait, Leadership Award
Sarah Pocha-Tait is in her final year of undergraduate studies in archaeology. She is originally from the hamlet of MacDowall, where she is very active within the community and with Métis local #83. She is the vice-president of the department's undergraduate student association, AASA, for 2021-2022 and is active in department meetings. She was also involved in planning the APALA student conference in 2022. She hopes to be involved with the department's ARCHAIA graduate student association next year and begin her master's degree focusing on Métis ceramic use at Fort Carlton.
Micaela Champagne, Research Award
Micaela Champagne is a Métis/Cree woman who is currently in her first year of her Master of Arts (MA) degree in archaeology. She is actively involved within her community by engaging with Indigenous youth and promoting Indigenous ways of knowing within the sciences. Micaela is passionate about reclaiming her traditional practices and language, in particular by learning from her Kokum. Part of her MA research involves work being done with residential schools and survivor communities to bring closure and awareness to communities in Canada.
Chelsea Brant, Academic Excellence Award
Chelsea Brant is a Mohawk of the Bay of Quinte Turtle Clan from Tyendinaga Territory who is currently studying and residing on Treaty 6 Territory and the Homeland of the Métis. Chelsea is an emerging interdisciplinary artist, independent curator and a candidate in the Master of Fine Arts program. She is a graduate of the University of Guelph and has since worked for several arts organizations within administrative roles, curatorial assistantships and programming coordination positions.
Brody Burns, Academic Excellence Award
Brody Burns is Cree from James Smith Cree Nation. In the spring of 2021, Brody completed a Bachelor of Arts degree in psychology at the University of Saskatchewan. Given his lifelong interest in art, he enrolled in the Master of Fine Arts program in the Department of Art and Art History in the fall of 2021. Brody's artwork consists of paintings, drawings and digital media that are influenced by ceremonies, graffiti and neuropsychology related to trauma and healing.
Skye Landrie, Academic Excellence Award
Skye Landrie is a proud Métis student from Glaslyn, Sask. She is currently enrolled in the College of Arts and Science and the Gabriel Dumont College program. Skye actively seeks to improve the arts academy by promoting Indigeneity. She is interested in screen writing, the film industry and acting. Skye has been celebrated for her high academic average and her promotion of Métis culture in the fine arts.
Carmen Larson, Academic Excellence Award
Carmen Larson is in her fourth year at the University of Saskatchewan studying regional and urban planning. She is from Chitek Lake, Sask., and is a member of the Pelican Lake First Nation. Environmental resilience, First Nations ecological knowledge and sustainable planning strategies are her interest and passion. Carmen is an active executive member of the planning students' association. Her goal is to have a positive impact on communities and the surrounding environment in her professional career.
Leah Burwash, Academic Excellence Award
Leah Burwash is a Métis undergraduate student researcher who was born in Calgary and raised in Prince Albert, Sask. She is completing her second year of a bachelor's degree in Indigenous studies and is planning to continue her studies on Indigenous governance, policies, substance use and law. Her goal is to create positive changes for Indigenous people and communities. Leah's research as an undergraduate has generated important understandings of the intersections between cultural practices and health-care delivery to Indigenous residents of Saskatchewan, with particular attention to the segregation of health-care delivery during the 20th century's tuberculosis epidemic.
Kristen Wapass, Leadership Award
Kristen is a reconnecting person of British/white and nēhiyaw decent. She is a dedicated mother and student, keeping a full course load while staying home with her daughter. In reconnecting she developed a passion for nēhiyawēwin and believes it should be made accessible and attractive for people of all ages, ethnicities and education levels to learn. She delivered a thought-provoking presentation at a public forum during the National Day for Truth and Reconciliation in September 2021.
Jennifer Ward, Academic Excellence Award
Jennifer Ward is in her final year of a Bachelor of Arts degree majoring in linguistics. She finished her honours thesis this past year and plans to apply for graduate studies in the fall. She received the Academic Excellence Award in 2021, was added to the Dean's Honour List and is a member of the Golden Key Honour Society. Along with her studies, she enjoys singing in the Greystone choir and taking piano lessons.
Austin Goyer, Academic Excellence Award
Austin Goyer is a third-year political studies student born and raised in Saskatoon. Austin is very proud of his Métis background. Before beginning his post-secondary journey, he backpacked through Southeast Asia and lived in Vancouver. The 2021-22 academic year has been incredible for Austin; he was also awarded the George McNevin Award for Public Service scholarship. Austin hopes to attend USask's law school to pursue a career in Aboriginal law.
Hayden Ulriksen, Academic Excellence Award
Hayden Ulriksen is a first-year Arts and Science student studying at the University of Saskatchewan's Prince Albert campus. Hayden's goal is to earn a degree from the Edwards School of Business. His hobbies include playing lacrosse for the Prince Albert Attack, where he is the captain of the team, going to the gym and sledding. Hayden is proud to be a member of the Lac La Ronge Indian Band, and he is grateful for their support in his educational goals. He wishes to thank the University of Saskatchewan for the honour of this award.
Nicholas Boudreau, Research Award
Nicholas Boudreau is a fourth-year psychology honours student who identifies as Métis. Nicholas was born in British Columbia, grew up in Ontario and has spent much of his life in Saskatchewan. Nicholas has always been people-oriented and never realized until attending university that psychology was the right fit for him. Applying his psychology studies to counsel others has become Nicholas' most important mission.
Demetria King, Research Award
Demetria King is originally from La Loche, Sask. Over the summer she completed an exploration project on Tommy Douglas and the Co-operative Commonwealth Federation in northern Saskatchewan's social policy initiatives and their implementation 1944 - 1960. Demetria's work focuses on the day school experience in La Loche. Much of the history on the school has been from the perspectives of church missionaries and she is working toward changing that.
Samantha LaRose, Academic Excellence Award
Samantha LaRose, from Birch Hills, Sask., is currently in her fifth year at the University of Saskatchewan. She is completing a bachelor's degree in sociology and is in the Indigenous justice and criminology program. She hopes to work with Indigenous people to help them obtain access to the necessary support and healing that they need to better their lives and better the community overall.
Justine Hunter, Academic Excellence Award
Justine Hunter has been a high-achieving student in a variety of introductory mathematics and statistics courses. Through academic correspondences and her coursework, it has become evident that Justine is an excellent communicator with a great attitude toward learning. This award is a great acknowledgement of her early successes.
---
Related Articles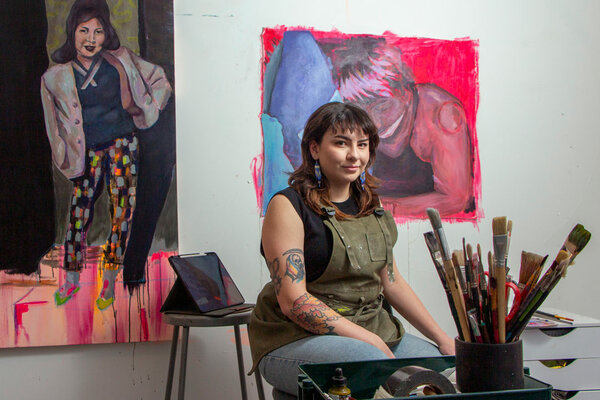 MFA student won a 2023 Outstanding Student Achievement in Contemporary Sculpture Award from the International Sculpture Center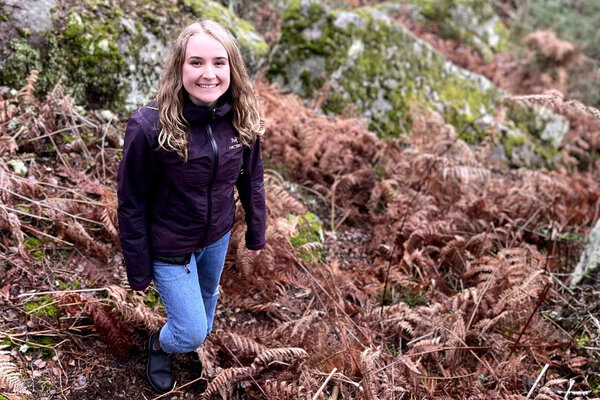 USask biology student Rachel Andres is making plans to continue her love of plant science research at the University of Oxford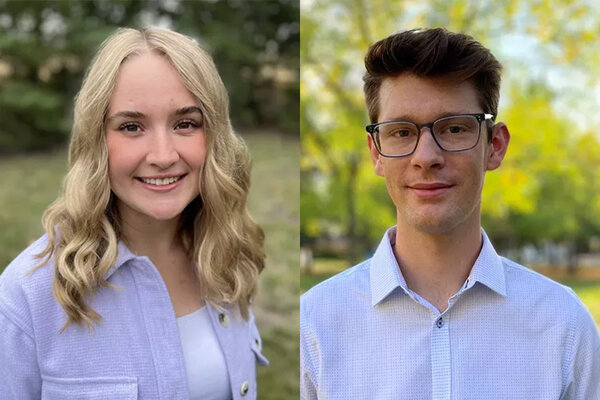 Biological sciences student Rachel Andres is one of two USask recipients selected for the prestigious Rhodes Scholarship