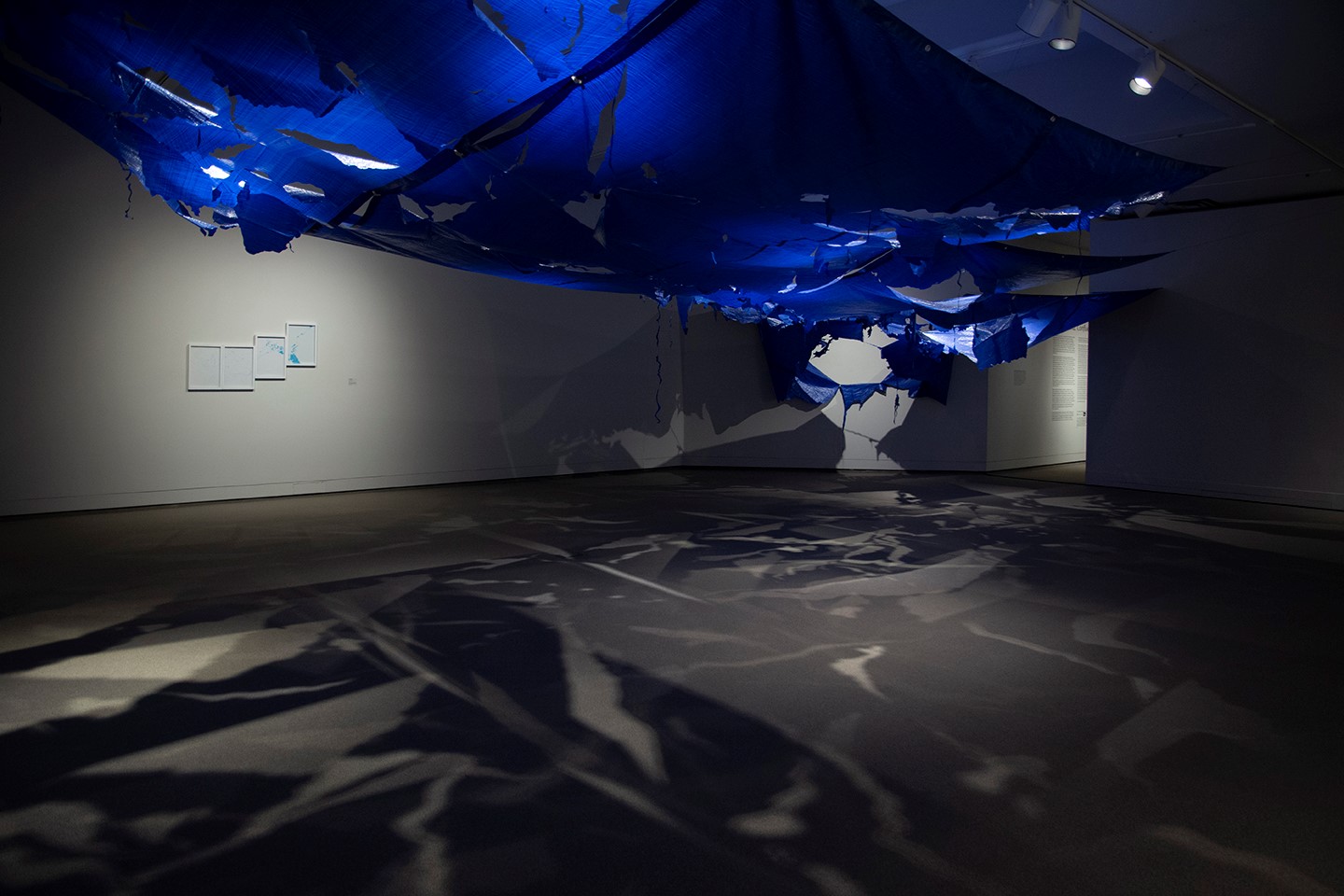 'We take water for granted': USask professor highlights human relationship with water through artwork
Susan Shantz's new exhibition, Confluence, will be on view at the Moose Jaw Museum & Art Gallery until May 1
By Shannon Boklaschuk
Water is a source of ongoing artistic inspiration for University of Saskatchewan (USask) professor Susan Shantz.
For the last several years, Shantz—a mixed-media artist and faculty member in the Department of Art and Art History in USask's College of Arts and Science—has collaborated with USask scientists as she explores the human relationship with water.
"We take water for granted. We don't really think about where it comes from, how we use it and that it may not always be so readily available," she said.
Now, Shantz has a new exhibition on view at the Moose Jaw Museum & Art Gallery (MJMAG) that showcases her exploration of Saskatchewan's water systems and the human-nature connection. The exhibition, Confluence, presents installation, video, embroidered objects and more as it encourages viewers to consider the human impact on water and the interconnectedness of the water systems on the Prairies.
Shantz said she's excited to show her new work at the MJMAG. While the exhibition was postponed for a year due to the COVID-19 pandemic, Shantz has been working in her studio for a number of years on various projects related to the show—and it's now "gratifying to see it all together in one space," she said.
"Some of the pieces required a large space to install, so I'm seeing them for the first time here," said Shantz. "These kinds of installation artworks aren't really completed until you can set them up in a gallery to see if they work as you envisioned—which is a bit risky, and then also exhilarating when what you imagined is realized and sometimes is even better than you thought. The large blue tarp piece, Water Basin I, which is a map of the Saskatchewan river water basin cut out of four joined tarps with the rivers and lakes dripping down from above, is an example of that."
Shantz was first inspired to create water-themed artwork by her walks from her home in Saskatoon's City Park neighbourhood to the USask campus. As she travelled across a bridge over the South Saskatchewan River, she often thought about the river's source in the Rocky Mountains and its terminus in Hudson Bay, and how Saskatoon is connected to a much larger system.
"I suspected that the river is more complicated than I initially thought, which is why working with USask water scientists became an important part of my research," she said.
One of Shantz's USask collaborators is Dr. Graham Strickert (PhD), an assistant professor in the School of Environment and Sustainability (SENS) and a member of the Global Institute for Water Security (GIWS), who is interested in how art and science can intersect. In May 2017, Shantz and Strickert co-taught the interdisciplinary course ART 356.3: Becoming Water, which connected science with art to deepen students' awareness of issues related to water. A key component of the course was a four-day residency at Cumberland House, where students met with Indigenous community members and Elders and worked on multimedia art projects.
A 15-minute documentary about the course, Becoming Water: Art and Science in Conversation, was later selected for screening in international film festivals. The video is now on view in the Moose Jaw gallery's foyer area as part of Confluence.
Also in 2017, Shantz led a collaborative community public art billboard project for the City of Saskatoon called We Are the River to help city residents think about the fact that we "drink the river" every day. Through the project, she wanted to demonstrate that the river "is intimately part of our bodies, not just something external to us that we enjoy viewing in our city."
We Are the River is also featured in the Moose Jaw gallery's foyer, and the gallery is doing its own version of the Saskatoon billboard project. As well, Shantz will be assisting with water-related art projects in local Moose Jaw schools with the gallery's art educator.
As part of her research for Confluence, Shantz attended some events hosted by GIWS. In particular, she remembers Dr. Helen Baulch (PhD), a GIWS member and SENS associate professor, and Dr. John Pomeroy (PhD), a professor in the Department of Geography and Planning in the College of Arts and Science and the director of the Global Water Futures Programme, talking about water quality and water quantity.
"For my exhibition in Moose Jaw, I made two new pieces related to that city's water source in Buffalo Pound Lake using photos taken at the lake's water treatment plant where Helen does research," said Shantz. "One of these is a video I made using hourly photos taken by a trail cam mounted on a lake buoy that watches the water and weather (Sentinel: Buffalo Pound Lake); this video, mounted into the wall in a round portal/hole, is the first thing you see when you enter the exhibition."
When asked what she hopes viewers will take away from Confluence, Shantz noted that her approach to thinking about the river and water through the artworks she created "is more poetic than didactic."
"By that I mean that what viewers take away is left somewhat up to them to decipher, based on their experience in the exhibition, if they approach it with curiosity and openness," she said.
"I wanted elements of both beauty and disturbance, as I think both inform how I've come to think about the river, and water more generally. There is so much that attracts us to water visually, conceptually and practically, and also a lot that we may not be aware of in terms of the larger connections I learned about from scientists as I worked on this project. If we can have a sense of both aspects and our larger connections to water and our environment, we might begin to modify the ways we use water now and in the future."
Confluence will remain on view until May 1, 2022. Shantz and Strickert will give an online public talk about the exhibition and their collaborative projects on March 3 at 7 pm. More information about the event, and a 3D virtual tour of the exhibition, is available on the MJMAG website.
---
Related Articles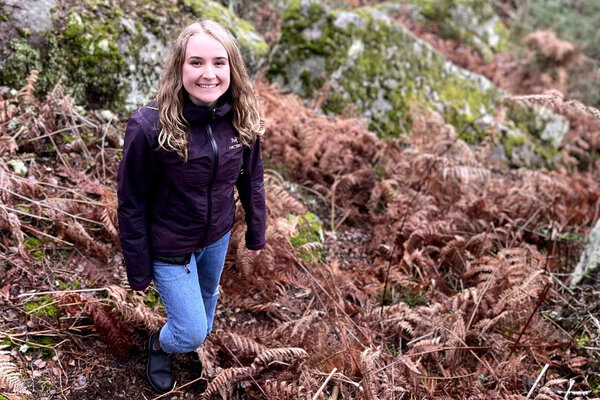 USask biology student Rachel Andres is making plans to continue her love of plant science research at the University of Oxford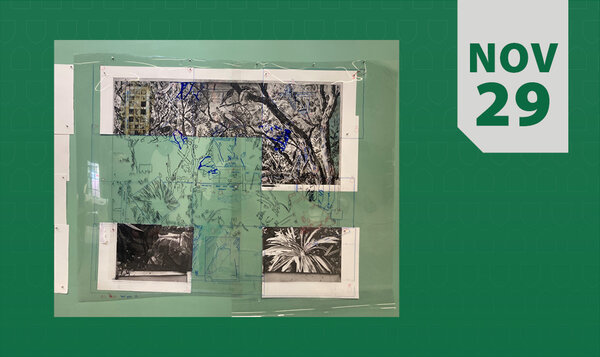 A talk by visiting artist Jillian Ross, master printer and founder of Jillian Ross Print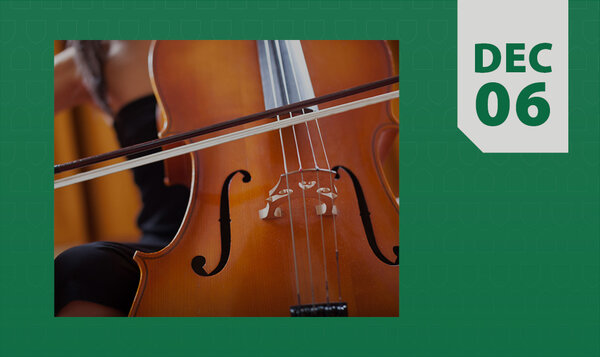 Enjoy beautiful chamber music works performed by students in the USask Chamber Ensemble