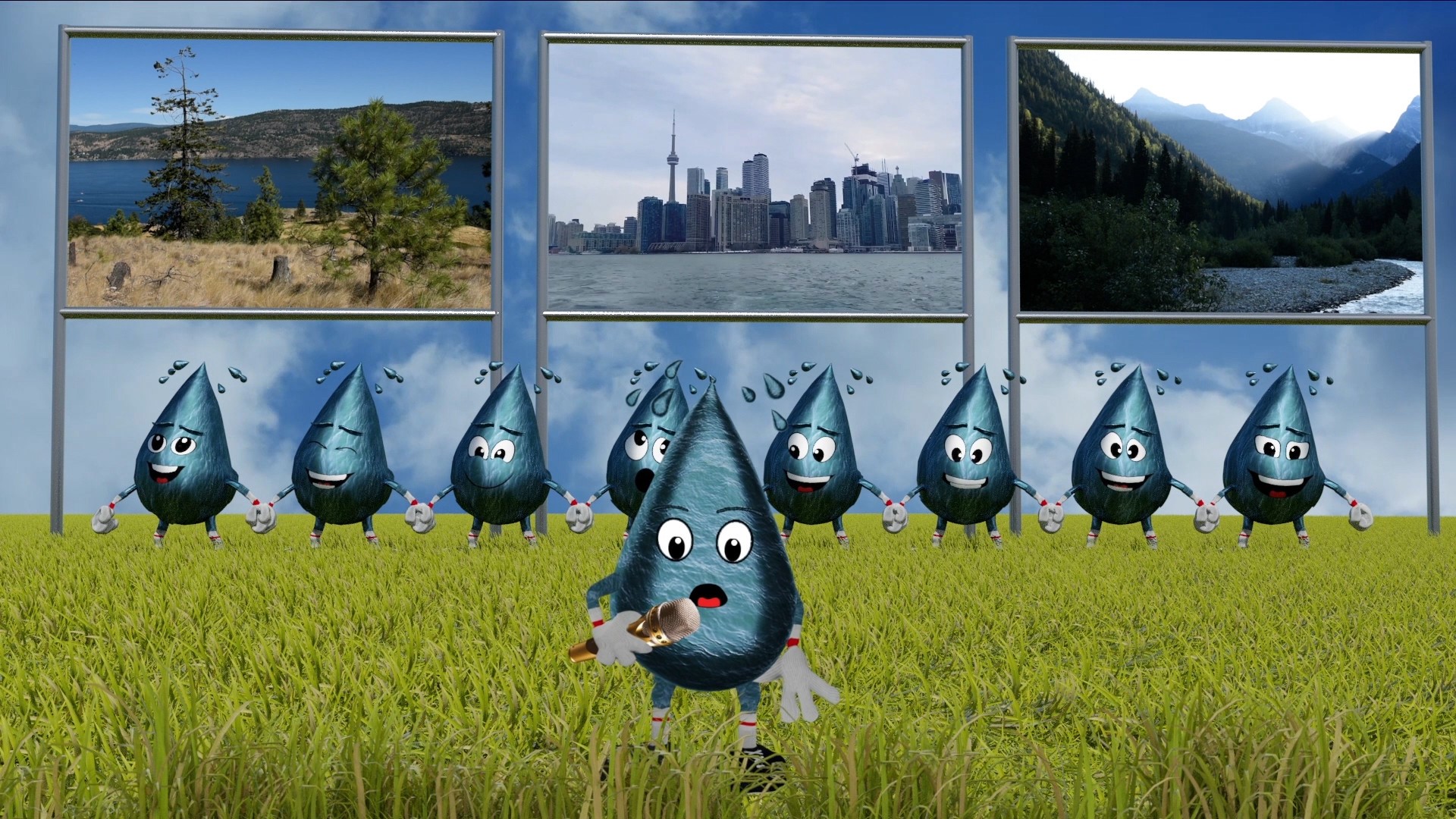 New USask short film highlights water security issues
"Water You Waiting For," an animated video created by two USask students, is included in the BC Environmental Film Festival
By Shannon Boklaschuk
A new University of Saskatchewan (USask) video that merges art with science was created by USask students to educate youth about some of Canada's most pressing water security issues.
The short film, titled "Water You Waiting For," features research from 16 leading scientists working with the Global Water Futures (GWF) program. The scientific information in the video is shared from the perspective of an animated waterdrop who discusses current water security challenges while also highlighting what people can do to make a difference and change the future.
"As the video is based on hard science but rendered in a very approachable manner, we are hoping that the video will be both educational and entertaining—giving the viewer pause to consider how water security might impact them," said Prof. Lisa Birke, assistant professor of digital and extended media in the Department of Art and Art History in USask's College of Arts and Science.
"Water You Waiting For" is currently included in the short animation category of the BC Environmental Film Festival, which runs until Dec. 27.
The innovative video project was the brainchild of Dr. Lori Bradford (PhD), assistant professor in the Ron and Jane Graham School of Professional Development in the College of Engineering and the School of Environment and Sustainability. Bradford was curious about how the findings from various GWF research projects would come together, and she was also aware of an opportunity for funding for summer students. As a result, she reached out to Birke and to Prof. Dean McNeill, head of the Department of Music in the College of Arts and Science, for suggestions on how to engage USask fine arts students in a water-related project.
"Artistic work is the creation of new knowledge, and I thought that this might be a way to bring together the diversity of research in GWF—that is, by making the researchers and their work the subject of art," Bradford said.
Birke suggested that Leanne Read, a Bachelor of Fine Arts student, could help by translating the scientific concepts into digital animation. McNeill suggested that Ricardo Martins, a graduate student in the Department of Music, could create the video's musical score.
The students were supervised by Birke, McNeill, Bradford and Stephanie Merrill, a past GWF knowledge mobilization specialist, as they worked on the project. Numerous scientists were interviewed about their research to inform the video script: Bradford, Dr. Markus Brinkmann (PhD), Hayley Carlson, Dr. Bob Clark (PhD), Dr. Grant Ferguson (PhD), Dr. Tim Jardine (PhD), Dr. Karl-Erich Lindenschmidt (PhD), Dr. Matt Lindsay (PhD), Dr. Merrin Macrae (PhD), Dr. Simon Papalexiou (PhD), Dr. Ravi Selvaganapathy (PhD), Dr. Mark Servos (PhD), Dr. Chris Spence (PhD), Dr. Tricia Stadnyk (PhD), Dr. Ron Stewart (PhD) and Dr. Julie Thériault (PhD). Funding for the project was provided by the GWF program and the Global Institute for Water Security, the top water resources research institute in Canada and one of the most advanced hydrology research centres in the world.
Read, an undergraduate student in the Department of Art and Art History, focused on the video's animation, graphics and character design throughout the process. She also worked with Bradford and Birke to create the script for the video, and with Birke on the storyboarding. Tasman and Aurelia Strickert voiced the video, and Luiza Martins provided chorus vocals.
"My initial thought was that the storyline needed a character who people felt sympathetic towards, so I created a waterdrop character that became the highlight in all the scenes," said Read. "I am extremely happy with how the project turned out. When I was approached with this opportunity, I felt like it would be a great experience to work with a team to create an animation. It was a huge undertaking to create a five-and-a-half-minute animation in less than four months. Ricardo was amazing at bringing my digital animation to life with his music and sound effects. I feel like the result of great teamwork created an animation that is something to be very proud of."
Martins, who received his Bachelor of Music individualized degree at USask in the fall and is now pursuing a Master of Music (performance) degree, composed and produced all of the music and sound effects for the video. He said he is proud the animated short was included in the film festival, and he hopes the video inspires younger generations to take an interest "in the precious water we have in Canada and how important it is to take care of it today, not tomorrow."
"So, I hope that this short animation can be a tool for teachers to use in schools and social media," he said.
McNeill said the aim of the project was to share research findings from scientists associated with GWF "in new, creative, engaging and compelling ways"—and the students achieved that goal. McNeill noted that the fine arts have an important role to play in knowledge dissemination.
"At the most fundamental level, the fine arts are often telling stories that can, and often do, extend far (beyond) that of mere entertainment for entertainment's sake," he said.
Birke said she "couldn't be prouder" of what the students accomplished.
"Having a film—made by an undergraduate student, and a graduate student in the middle of their studies—shown at a film festival demonstrates the quality and integrity of the work," she said. "It is both exciting, as well as a tremendous learning experience, to work through the full process of conceptualizing, producing and then disseminating a work in the public sphere."
"Water You Waiting For" has been submitted for inclusion in other national and international environmental film festivals. The film will also soon have a permanent home on the GWF Virtual Water Gallery, and educational kits have been developed to support learning in elementary and secondary classrooms.
"I'm incredibly grateful for the creativity and commitment shown by Leanne and Ricardo and their supervisors under the constraints of doing interviews with experts, translating the detailed research language and findings into a story and score, and then animating it over four short COVID-restricted months," said Bradford. "They worked hard to make sure that GWF science was accessible to children and youths, an audience not yet targeted by GWF. I have my favourite parts of the video—like the algae monster and the droplet hitting the windshield—but every time I watch it, I see something new that I can connect to the science. The message of hope, amongst the urgency of joint action, is also very clear."
Read said she is excited that the film is being featured in a festival and she is grateful to have had the opportunity to work on the project. She hopes "Water You Waiting For" will resonate with young people in Grade 4 through Grade 10—the target audience for the video.
"It was such a great learning experience," Read said. "Working with Professor Lisa Birke as my supervisor on this project helped me grow so much in my abilities and knowledge. I feel that it would be great if science and art could merge more. I would love to see other artists at the university have an experience like this."
Martins added that he is proud to represent USask and the fine arts through his work on the video.
"I want to thank this university for investing and believing in its students, giving them opportunities like this," he said.
---
Related Articles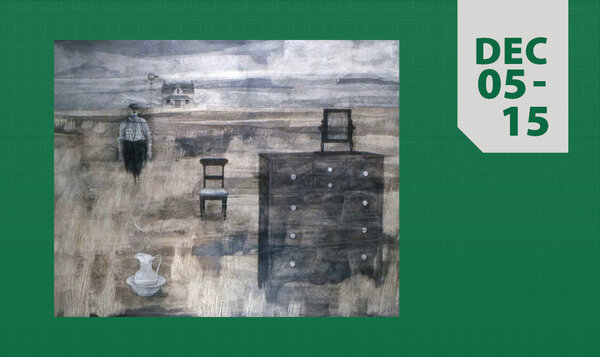 A collaborative exhibition by USask students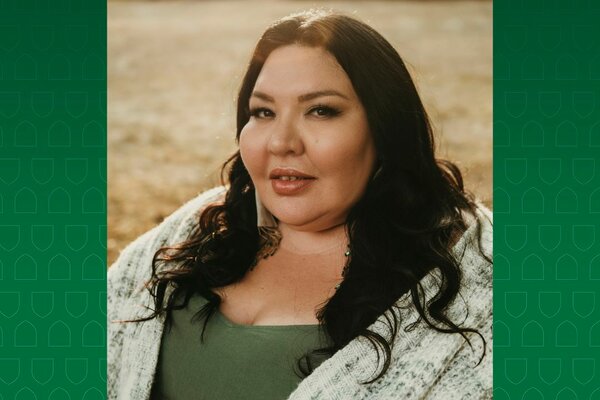 Award-winning poet and photographer Tenille Campbell (BA'07, MFA'12) has been selected as the next Indigenous Storyteller-in-Residence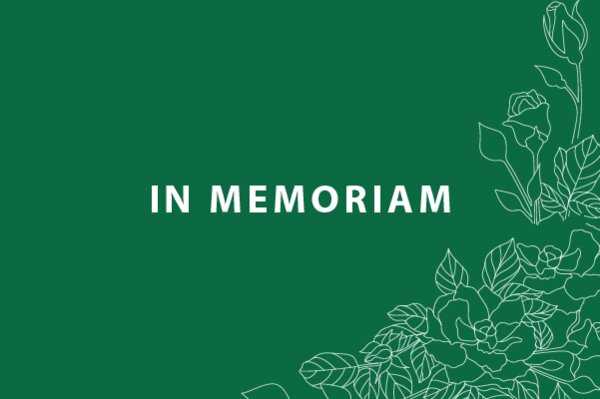 Courtney was a professor in the Department of Political Studies and a Senior Policy Fellow at JSGS for 58 years