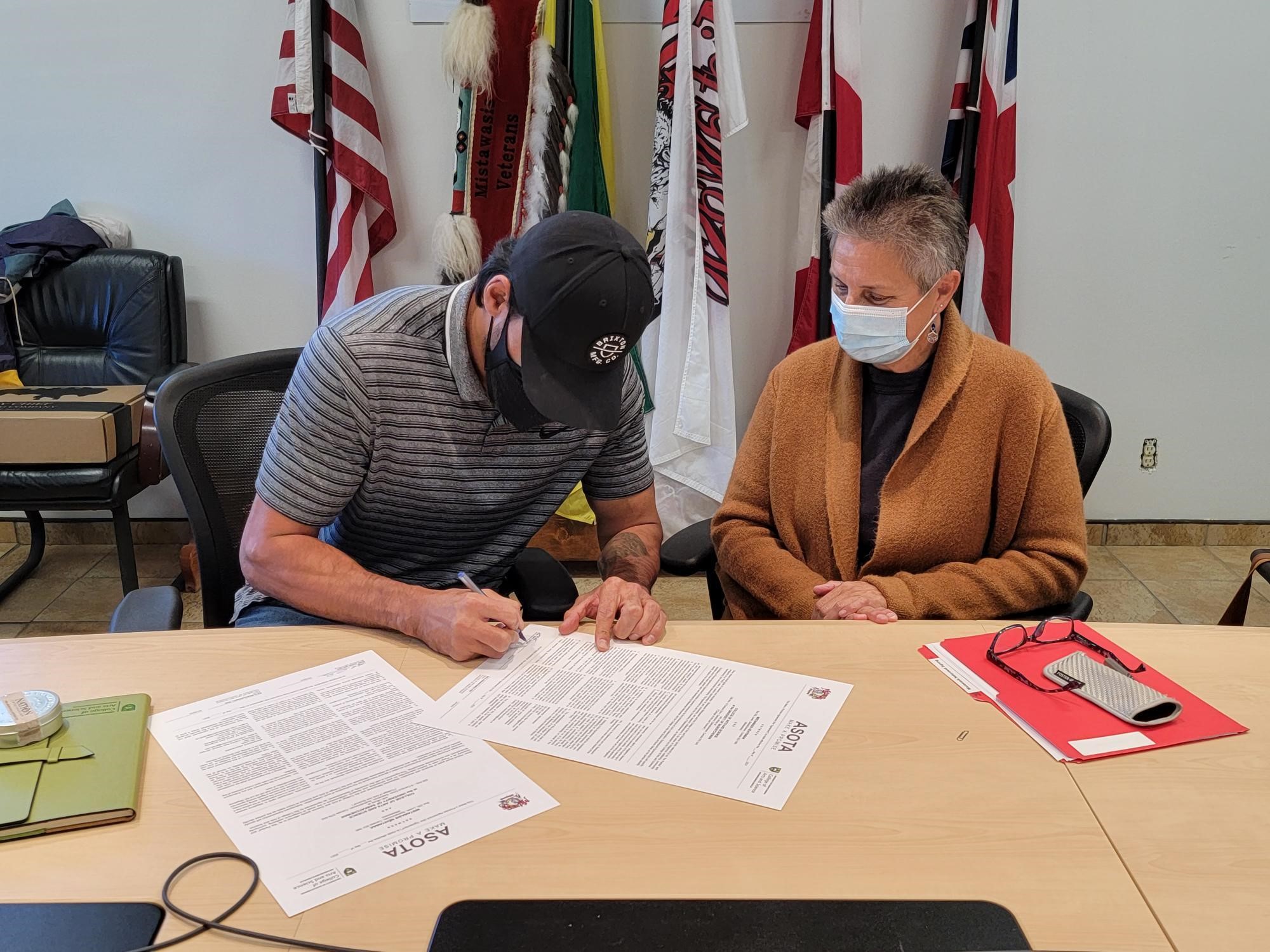 "Make a Promise": USask College of Arts and Science and Mistawasis Nêhiyawak enter knowledge partnership
Partners will collaborate in the areas of Indigenous wellbeing, community development and environmental stewardship
By Chris Putnam
The community of Mistawasis Nêhiyawak and the University of Saskatchewan (USask) College of Arts and Science have begun a new partnership dedicated to sharing and creating knowledge.
Leaders of the college and the community signed an Asota at a ceremony at Mistawasis Nêhiyawak—a First Nation located 120 km north of Saskatoon—on Oct. 22. Asota is a sacred Cree term that translates to "Make a Promise."
"As Mistawasis Nêhiyawak builds towards true self-determination and self-government, we will want our partners and friends beside us. Now, as a member of the Mistawasis family, we would like the University of Saskatchewan College of Arts and Science to walk with us for a shared good future," said Chief Daryl Watson of Mistawasis Nêhiyawak.
Over the next five years, the community and the College of Arts and Science will develop new teaching and research collaborations in the areas of Indigenous wellbeing, community development and environmental stewardship.
"With this partnership, the College of Arts and Science is committing to a long-term relationship with Mistawasis Nêhiyawak built on cooperation and mutual learning. We hope to serve the needs of Mistawasis Nêhiyawak while respectfully bringing the community's knowledge into our classrooms and research," said Dr. Peta Bonham-Smith (PhD), dean of the College of Arts and Science.
One of the first outcomes of the partnership will be a class created jointly by Mistawasis Nêhiyawak High School and USask's Department of Geography and Planning.
In the course—titled GEOG 465: Environment and Health in Indigenous Communities—senior USask undergraduate students will team up with high school students from Mistawasis to study environmental and health challenges facing the community, such as food and water security.
During the three-week course planned for May 2022, Mistawasis students will visit the USask campus and USask students will spend a week living at Mistawasis Nêhiyawak as they learn about Indigenous and western worldviews. They will form small research teams to study topics proposed by members of Mistawasis and present their findings to the community.
"There is so much to hear, learn and understand from communities like Mistawasis Nêhiyawak. I want our students to recognize the strengths and resources that exist here. I want us to build bridges between First Nations communities and the university campus," said Dr. Corinne Schuster-Wallace (PhD), a faculty member in the Department of Geography and Planning.
Schuster-Wallace will teach the course alongside Dr. Paul Hackett (PhD) and Mistawasis Nêhiyawak special advisor Anthony Blair Dreaver Johnston.
The course will evolve in future years to address new environmental and health topics chosen by the community, some of which might be flagged for further investigation by USask researchers.
"I know that a partnership on this level will benefit students at Mistawasis Nêhiyawak. Sharing ways of knowing, engaging in conversations and walking alongside each other will aid in understanding our collective responsibility that each side shares. I am looking forward to seeing acts of reconciliation and reclamation in action," said Mistawasis Nêhiyawak High School land-based coordinator Daniel Sylvestre, who helped design the geography course.
The new promise agreement builds on previous research and teaching collaborations between Mistawasis Nêhiyawak and departments in the College of Arts and Science. The agreement will provide a solid foundation for the partners to "work together in a good way," said Dr. Angela Jaime (PhD), USask's interim vice-provost Indigenous engagement.
"We are humbled that this Indigenous community is willing to share their ways of knowing, being and doing with the Department of Geography and Planning at USask. This partnership is exciting for the College of Arts and Science, as it will create additional programming which will directly benefit Indigenous students, staff, faculty and communities."
Jaime noted that the partnership aligns with USask's commitment to stewardship—preserving and amplifying Indigenous cultures, languages and protocol learnings—through the university's inaugural Indigenous Strategy. USask has pledged to increase the number of meaningful partnerships and agreements it holds with Indigenous communities.
---
Related Articles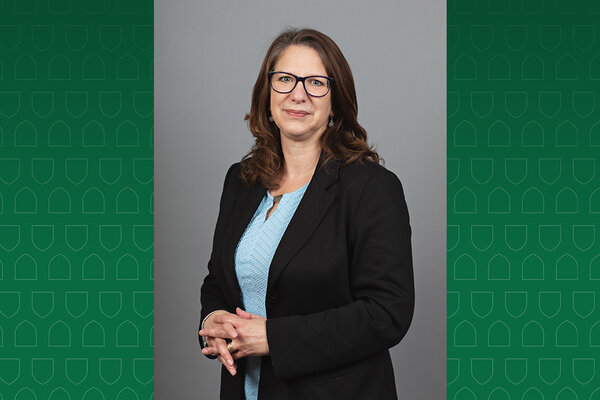 Department of Anthropology professor will serve a 13-month term on the College of Arts and Science leadership team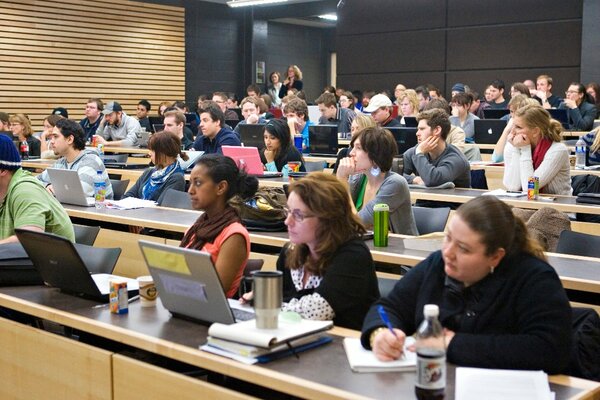 Dr. Loleen Berdahl (PhD), Dr. Simonne Horwitz (D. Phil), and Dr. Cheryl Troupe (PhD) are inaugural recipients of the new award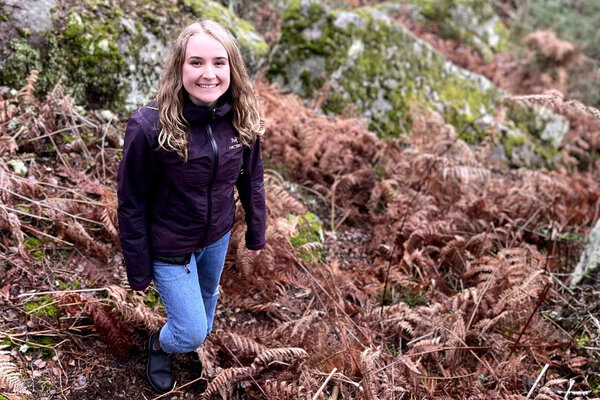 USask biology student Rachel Andres is making plans to continue her love of plant science research at the University of Oxford