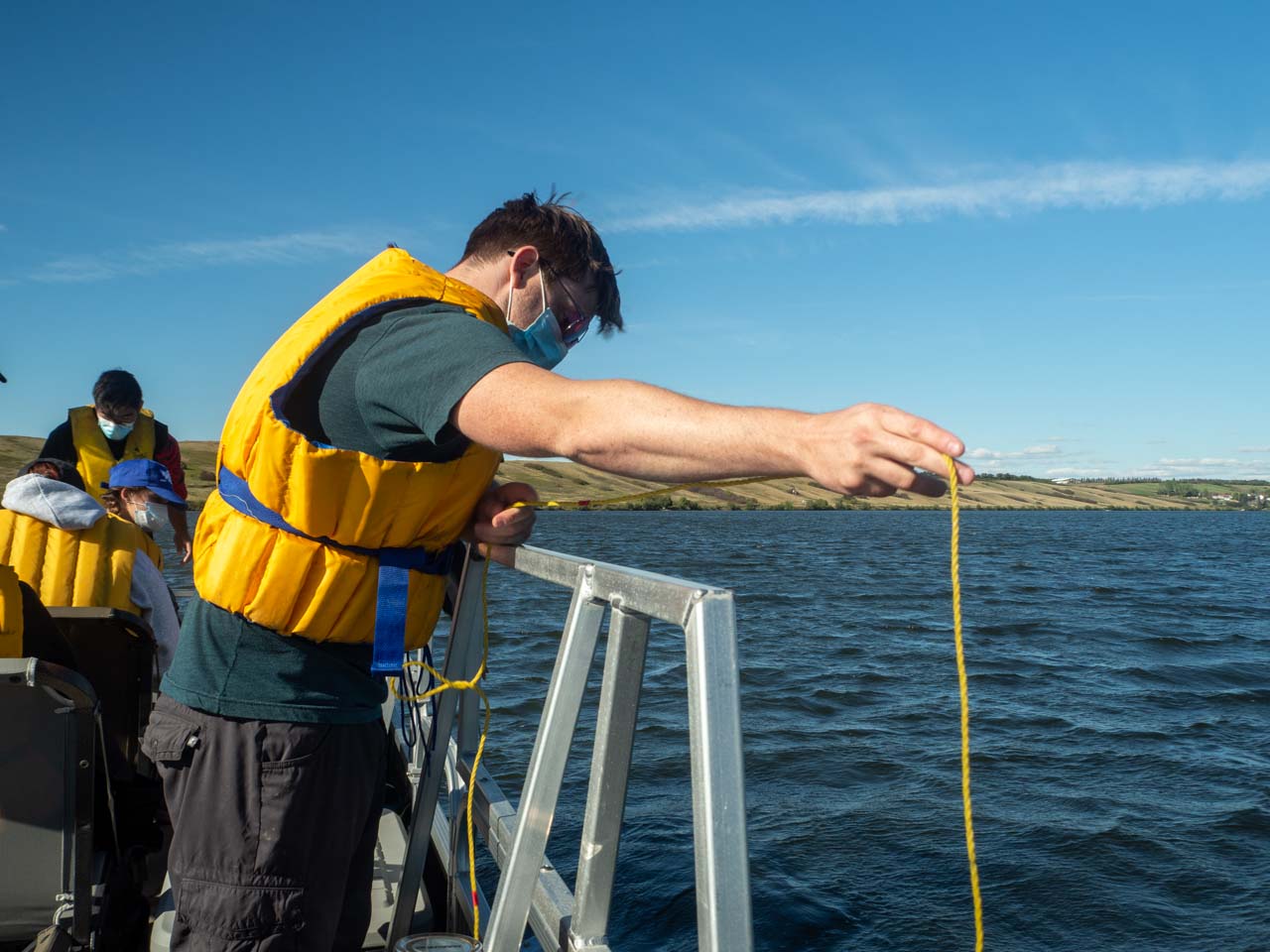 Donor-funded teaching boat enhances USask biology student training
Seven students joined the first official voyage of the boat in September to learn practical skills in the field of limnology—the study of inland waters
By Chris Putnam
A new custom-made pontoon boat in the University of Saskatchewan (USask) Department of Biology is helping students get hands-on experience studying the lakes of Saskatchewan.
Funded in part by donors, the teaching and research vessel is the result of a multi-year fundraising campaign led by Dr. Jeff Hudson (PhD), professor of biology in the College of Arts and Science.
Seven students in the USask undergraduate course BIOL 412 joined Hudson for the first official voyage of the boat in September to learn practical skills in the field of limnology—the study of inland waters.
"This ties what they're learning in the classroom to what's going on in the natural world around them," said Hudson. "They actually absorb the material and hold onto it longer."
On Sept. 10 and 11, the class visited Blackstrap Lake and Martins Lake, Sask., to learn methods for collecting samples of water, plankton, sediment and more from the lakes. Later, in a laboratory on the USask campus, the students analyzed their samples to gain knowledge of lake ecosystems and water quality.
"It was super cool. I kind of realized that as much learning as you do in the classroom, you don't learn as much as when you're actually out there hands-on observing and doing things yourself," said Emily Bodnar, a fourth-year environmental biology student who joined the field trip.
The limnology course has a long history of providing students with experiential learning, but the new teaching boat makes the annual field trip a much better experience.
"In the past, it was a bit of a struggle," said Hudson.
In previous years, about five boats would be brought onto the lakes and tied together. The students would have to pass equipment between boats while Hudson shouted instructions.
The new 7.8-metre pontoon boat is large enough to fit an entire class. Its deck is laid out with custom seating to make room for students and the assortment of sampling equipment needed on the field trip.
"It's just so much more comfortable, so much more efficient in terms of communication and moving equipment around," said Hudson.
Limnology is a very important topic, Hudson said, because it deals with water quality—a critical issue in Canada.
Despite this importance, field programs have been declining at post-secondary institutions across Canada due to the large investment of teaching time and money they require.
"However, with the myriad of environmental issues we face globally, we have to reverse this trend and return to training youth about their natural world 'in' the natural world. This connection between humans and the natural environment is broken, at a time when we need it more than ever," said Hudson.
Having practical experience in limnology is a major boon to students seeking jobs in water quality and related fields, Hudson added.
Students on the trip used a variety of tools and techniques for studying inland waters, ranging from large nets for catching plankton near the surface to Secchi discs for measuring the transparency of the water.
Bodnar's favourite tool was the Ekman grab used to retrieve samples of material from the lakebed. A metal box with hinged jaws on its bottom, the device drags up sediment and bottom-dwelling invertebrate animals from the deepest parts of a lake.
The foul-smelling muck can give scientists valuable information about the condition of an ecosystem or the presence of contaminants.
Bre Hipkin, another student majoring in environmental biology, enjoyed sampling plankton using Wisconsin nets.
"It's a pretty easy practice, but it's really interesting to see how much data it gives you about the lake health and what kind of organisms are living in it," she said. "It was a really fun trip. It seems like it's going to be a really interesting class."
The new boat cost just over $60,000 and was supported by donations from Saskatchewan Walleye Trail, Fishing for Tomorrow Foundation, Pally Performance Products, Jeff Hudson, Scott Halpin, AMD Manufacturing, and Ted and Marie Hammer. The College of Arts and Science and the Department of Biology also provided funding for the purchase.
"This teaching vessel wouldn't be possible without the funding we've had from the donors," said Hudson.
The new boat is named the Hudson-Hammer-Rawson Limnology Teaching Vessel, or HHR, in honour of the three limnologists hired by the Department of Biology since its founding: Hudson, Dr. Ted Hammer (PhD) and Dr. Donald Rawson (PhD).
Donations are still being accepted for upgrades and enhancements to the boat. Donor inquiries can be sent to jeff.hudson@usask.ca.
---
Related Articles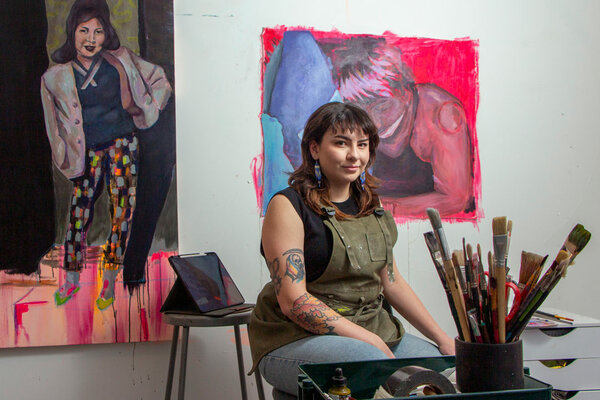 MFA student won a 2023 Outstanding Student Achievement in Contemporary Sculpture Award from the International Sculpture Center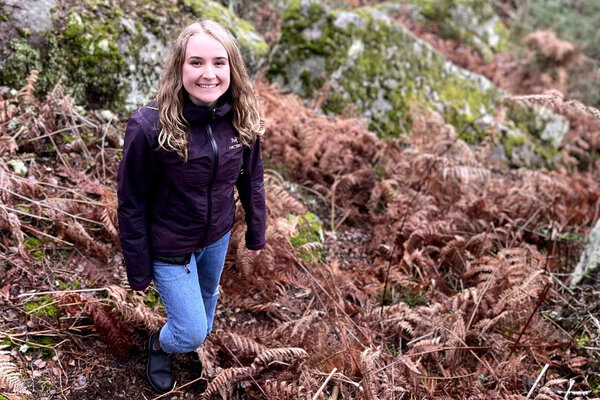 USask biology student Rachel Andres is making plans to continue her love of plant science research at the University of Oxford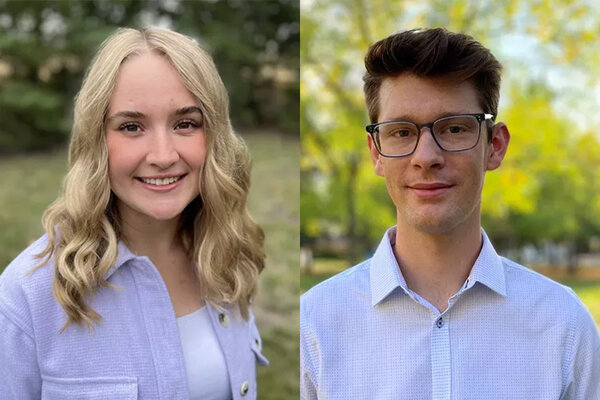 Biological sciences student Rachel Andres is one of two USask recipients selected for the prestigious Rhodes Scholarship