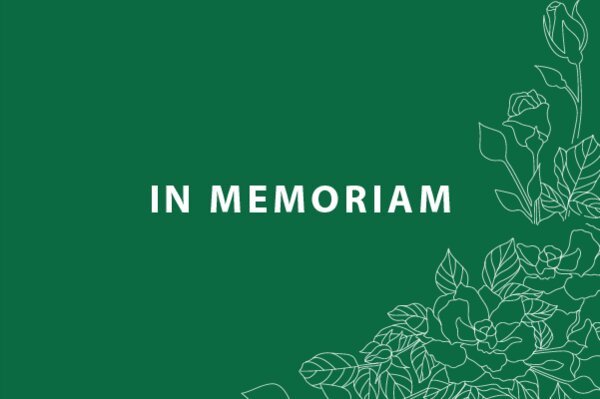 Dr. Susan Robertson, a dedicated and long-term member of the Department of Sociology, passed away on March 21, 2021.
The following is a tribute written by Dr. Liz Quinlan, Associate Professor of Sociology, College of Arts and Science
Dr. Susan Robertson,a dedicated and long-term member of the Department of Sociology, passed away suddenly on March 21, 2021. Dr. Robertson was highly respected within the Department of Sociology; an admired sessional lecturer and Research Associate; and a truly valued friend and colleague. Susan's door was always open to those who needed an ear, and she was never at a loss for words with her quick wit and compassionate humour that always had undertones of great wisdom. Family was of the utmost importance to her. She was a caring and compassionate wife, mother, sister, aunt, and friend. She is survived by her daughters Dani (Curtis) and Alex Robertson-Boermsa, her large extended family, her many friends, and her trusted furry companions.
In her capacity as Research Associate, Dr. Robertson was an active researcher on numerous sociology projects, ranging from breast cancer survivorship and workplace harassment to the history of Saskatoon's Community Clinic. She was cherished by her colleagues, putting in endless hours to support all of those in the Department and beyond.
Susan was born in Quill Lake on October 14, 1955. In 1965, she and her family moved to Saskatoon, where she attended school at Brevoort Park, Walter Murray Collegiate and the University of Saskatchewan. She received her B.A. (1978), M.A. (1989) and Ph.D. in Sociology in 2002.
Dr. Susan Robertson's 35-year career as a Sessional Lecturer began in 1986. She designed, taught, or had an imprint in some way on many of the department's undergraduate courses, pouring her boundless creative and intellectual energy into each one. Susan mentored and inspired thousands of USask students over the years. Current and past students sent unsolicited notes reflecting on her teaching excellence; how they "grew from her wisdom" and her encouragement "not to sacrifice the integrity of thought but rather lean into challenging and complex topics".
Susan was also a highly respected, contributing union sister in CUPE 3287, the local representing sessional lecturers on campus. Her activities in the union began in the early 1990s, coinciding with the formative years of the local. In 2008, she held the elected position of President, served on the union's negotiating team, and for years was Recording Secretary. We can expect to hear hoots of delight from a graduate student 30 or 40 years from now whose thesis topic is a social history of the sessionals' union, when they come across her minutes in the archives because Susan had the most exquisite penmanship.
Dr. Susan Robertson will be remembered for her enduring passion for knowledge and education and her dedication to her students and colleagues.
The Dr. Susan Robertson Memorial Book Fund has been established to honor Susan Robertson's legacy. This fund supports the work of sessional lecturers within the Department of Sociology. Dr. Robertson was an avid reader and this fund, established in her name, will allow sociology's sessional lecturers to draw upon the fund in order to purchase books of their choice.
Dr. Susan Robertson's obituary was published in the Saskatoon StarPhoenix newspaper.