Video Games, Storytelling, and Materializing Identity
Posted in Events
Mar 12, 2021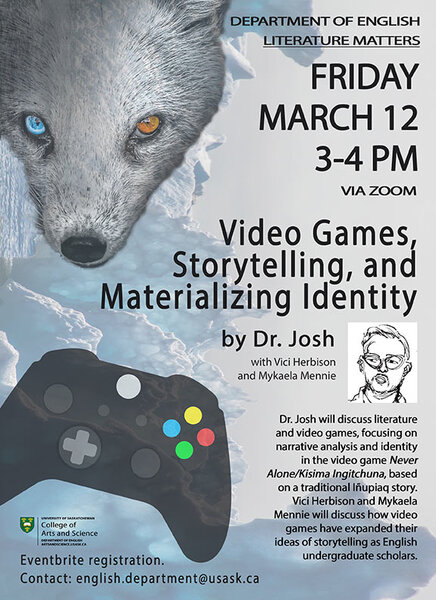 Literature Matters March 12 with Dr. Josh, Vici Herbison, and Mykaela Mennie
LITERATURE MATTERS
PUBLIC TALKS BY MEMBERS OF THE DEPARTMENT OF ENGLISH
Video Games, Storytelling,
and Materializing Identity
by Dr. Josh
with Vici Herbison & Mykaela Mennie
FRI MAR 12
3-4 PM
VIA ZOOM
Eventbrite registration:
https://www.eventbrite.ca/e/video-games-storytelling-and-materializing-identity-tickets-143082833607
In this Literature Matters panel, Dr. Josh (WGST & English) will outline some key similarities and differences between narrative analysis and affordances in literature and/vs. video games.
In particular, he will discuss how video game play provides unique opportunities for materializing identity and culture, specifically in the video game Never Alone/Kisima Ingitchuna based on a traditional Iñupiaq story.
Panellists Vici Herbison and Mykaela Mennie will each discuss briefly discuss one way video games have expanded their ideas of storytelling as English literature scholars.