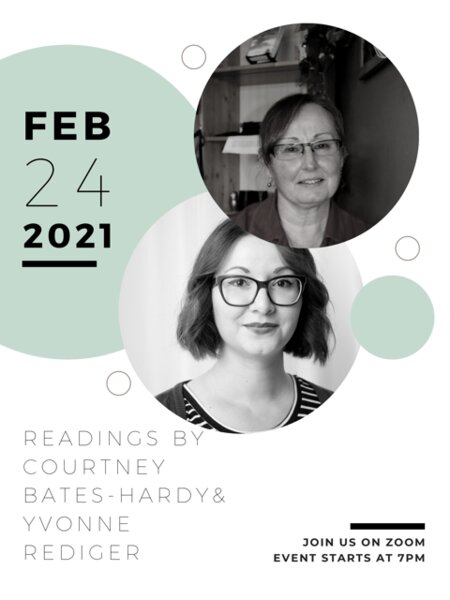 River Volta Readings, Feb 24 at 7 PM, via Zoom
Feb 24
7 PM
via Zoom


Eventbrite registration here: https://bit.ly/2N3ME8J
The February 24 readings feature Courtney Bates-Hardy and Yvonne Rediger.
Courtney Bates-Hardy is the author of House of Mystery (2016) and a chapbook titled Sea Foam (JackPine Press, 2013). Her poems have been published in Room, Carousel, This Magazine, and the Canadian Medical Association Journal, among others. She is currently working on her second manuscript, tentatively titled Anatomy of a Monster. She lives in Regina with her partner and their cat.
Her book can be purchased from Mortise and Tenon: (https://yourecofriendlystore.com/products/house-of-mystery-by-courtney-bates-hardy?_pos=1&_sid=2d5f8ef5a&_ss=r).
-----------------------------------------------------------------------------------------------
Yvonne Rediger was born in Saskatchewan, lived and worked in northern Manitoba, Alberta, New Brunswick, and Vancouver Island, British Columbia. She now resides in Preeceville, SK. Yvonne has been writing since she was in her teens. Her favourite genres are Urban Fantasy, Paranormal, Romance, and Mysteries. Each with a bit of humour. She is traditionally published and self-published as well. This makes her one of the new breed of hybrid authors.She is a member of the Saskatchewan Writers Guild and Saskatchewan Romance Writers. She is married to her scuba diving buddy who is also her sailboat captain. She has two children.
Website: http://blackyvy50.wix.com/yvonnerediger
http://www.facebook.com/vicshapeshifters/
Twitter: @blackyvy
Instagram: @blackyvy50
YouTube: https://www.youtube.com/channel/UCRg1KoOYF0e1nQuhy5rV-wA?