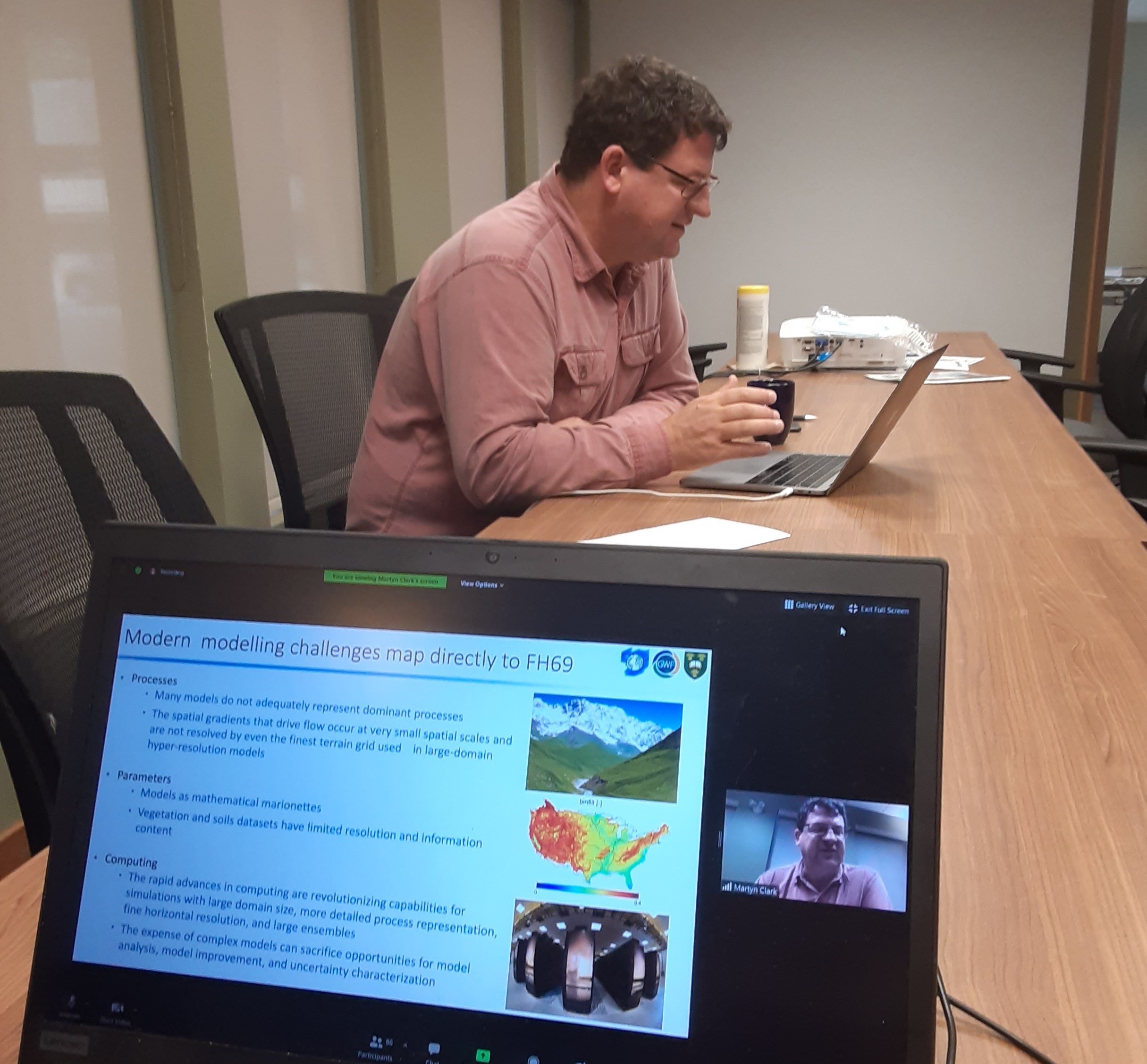 'It's been a pretty wild ride': USask course attracts students from around the world, demonstrates innovation in teaching and learning
More than 90 students from more than a dozen countries enrolled in GEOG 825, taught by Dr. Martyn Clark (PhD)
By Shannon Boklaschuk
The first university course Dr. Martyn Clark (PhD) ever taught is memorable for many reasons.
First, Clark started teaching the University of Saskatchewan (USask) graduate geography course—GEOG 825—in September 2020, when most USask classes moved online due to the global COVID-19 pandemic. Second, because the course was offered remotely, students from more than a dozen countries around the world signed up. Third, Clark employed innovative teaching and learning practices in the course, including cloud computing, super-computing and hands-on model development.
As a result, teaching GEOG 825 involved a lot of "learning by doing," said Clark, a professor in the Department of Geography and Planning in USask's College of Arts and Science and the associate director of the Centre for Hydrology. "It's been a pretty wild ride," he said.
GEOG 825 was originally intended to be a two-week in-person intensive experience in the Canadian Rockies, but the pandemic necessitated the move to a remote-learning format. With the course online, 93 students from countries around the world were able to enroll in it—including Canada, France, Italy, Spain, Germany, Switzerland, Belgium, the Netherlands, Finland, Morocco, India, South Korea, China, Japan, Australia, the U.S. and the U.K. The participants came from academia, government and industry, with graduate students, postdoctoral fellows and mid-career scientists in the mix.
"It's a great group of people, actually. The participants are very engaged in the class and we have some excellent discussions," Clark said.
Clark required the students to complete numerous challenging assignments throughout the term; the first assignment involved developing a simple hydrological model from scratch without being provided even a letter of code.
The students were also taught to run large model simulations on supercomputers. One exercise, for example, entailed simulating hydrological processes for 671 river basins across the contiguous U.S., and the students wrote scripts to run each basin on a separate processor.
"This also gave a huge sense of accomplishment for many who had not yet had the opportunity to use high-performance computing facilities," Clark said.
Clark partnered with the Consortium of Universities for the Advancement of Hydrologic Science, Inc. (CUAHSI) in the U.S. for the cloud computing component of his course. CUAHSI provided USask with access to the jupyterHub server, which enabled students to build digital notebooks online without having to install any software. The only requirement was a web browser, which made the exercises accessible to students using a wide range of computer platforms.
Another notable GEOG 825 assignment involved students using GitHub for collaborative model development.
"This was awesome, because the students would be in completely different time zones and still work together on model development," said Clark. "For example, student A, in one time zone, would add their code to the model, and student B, in another time zone, would review the code from student A while student A was sleeping."
Clark said the feedback he received from his students was generally "very positive."
"It's amazing, actually, how many people show up to class synchronously. We record the lectures and post them online after the class, and normally 80 to 90 per cent of students join live and ask a ton of questions. I really like this; the class discussions are excellent."
Caroline Aubry-Wake, a USask PhD student in the Department of Geography and Planning, was pleased to have the opportunity to learn from Clark, whom she called "a leader in the field of hydrology" who has done "ground-breaking research regarding hydrological modelling." She enjoyed the class assignments, which enabled her to learn a lot about topics she had previously considered intimidating. As a result, she was able to slowly build her confidence in areas such as parallel computing, collaborative code building in GitHub or using jupyter notebooks to document model simulations.
"It is also great that the course is based at the University of Saskatchewan, because a lot of examples were drawn from local study sites—which made it even more interesting for me," Aubry-Wake said. "Dr. Clark also covered topics in his course that are not usually taught in classes—he covered research-grade and cutting-edge research methodologies and tools. It seemed like a unique opportunity to learn about these topics."
The remote-learning format of the course was also beneficial for Aubry-Wake, who is based off-campus at the Coldwater Laboratory in Canmore, Alberta. Her location has made taking regular, semester-long classes difficult for the last few years.
"With this remote format, I was able to take this great class without having to move back to Saskatoon," she said. "I really appreciate how the shift to remote learning is enabling us to connect and participate in more events even without being physically on site."
Fellow USask PhD student Dave Casson, who is also based at the Coldwater Laboratory, agrees. Casson enjoyed the remote learning aspects of the course, noting that GEO 825 provided students with "an opportunity to connect with world-leading experts in this field and students with a common interest."
"I like remote learning. We have plenty of materials and assignments, to work with, so there is no shortage of content. The online lectures provide convenient access to attend, ask questions and interact," he said.
"We miss a lot these days due to the need for social distancing. However, a course like GEOG 825 shows that we can all be connected across large distances. I don't imagine the guest lecturers and international students all would have attended otherwise, so to me it really demonstrated that remote learning and working has advantages. I hope some of the advantages of remote collaboration remain, even when things return to normal."
Like his students, Clark also appreciates the advantages of online teaching and learning. He said it is clear the online experience will become part of the "new normal" and will continue even once the pandemic is over. The remote learning in GEOG 825 also made it much easier to have world-leading experts give guest lectures. Getting guest lectures from multiple leaders in the field is not that common in many graduate courses, he said.
"As students begin to get more comfortable with online learning, and see the benefits, I expect that there will be more appetite for learning online," he said. "The same will apply to faculty. These initial years of online teaching will require serious effort, but as teachers become more comfortable in this role, they will be able to confidently reach a much wider audience than they did before."
---
Related Articles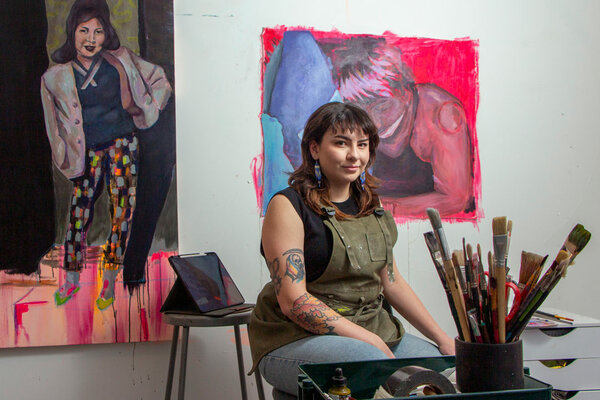 MFA student won a 2023 Outstanding Student Achievement in Contemporary Sculpture Award from the International Sculpture Center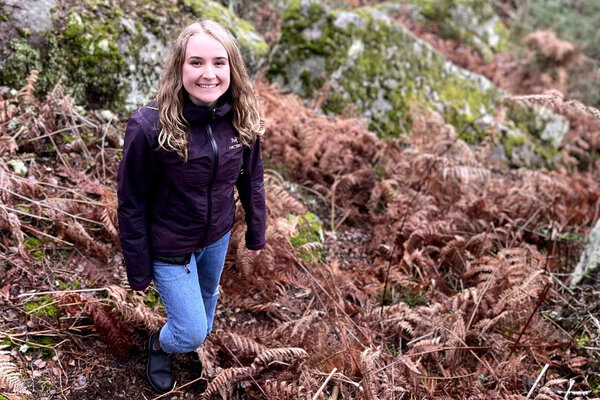 USask biology student Rachel Andres is making plans to continue her love of plant science research at the University of Oxford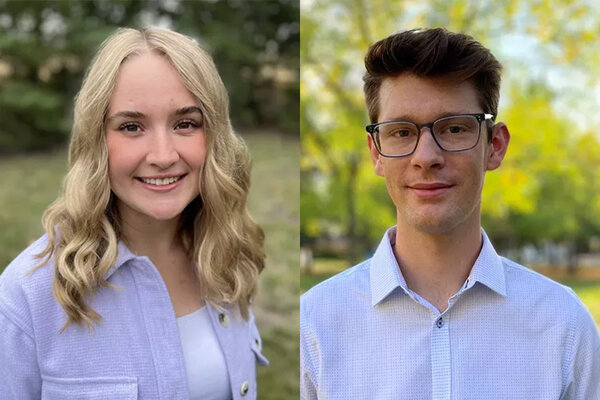 Biological sciences student Rachel Andres is one of two USask recipients selected for the prestigious Rhodes Scholarship