MFA in Writing holds Virtual Celebration to Honour the Class of 2020!
Posted on 2020-11-18 in MFA in Writing News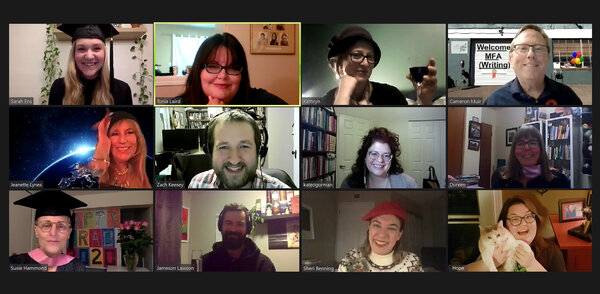 A screenshot from Zoom of the MFA in Writing graduating class
MFA in Writing faculty and graduates lit our collective screens on Convocation Day, November 10; on this day, the program's largest cohort of writing students to complete the program since it began nine years ago, celebrated, virtually, from Saskatchewan to Ontario, to Ohio, U.S.A.
Our lively celebration was bittersweet, of course, since we'd so hoped to be together. But our virtual visit was lively and warm; talk ranged from hats to cats to, of course, writing – and what everyone is working on now. This was a stellar cohort of students. We know you'll do great writerly things and we wish you every success!