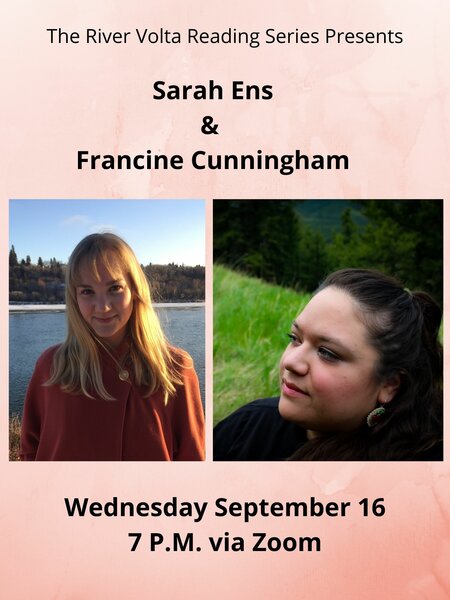 River Volta Reading Series, Wed Sept 16 at 7 pm, via Zoom.
Join the River Volta team and our MFA in Writing students at the River Volta Reading Series September kickoff event this Wed, Sept 16, at 7 pm, via Zoom, featuring two amazing writers, Francine Cunningham and Sarah Ens. Here is the Eventbrite link to register: https://www.eventbrite.ca/e/river-volta-reading-series-september-kickoff-tickets-119968108843
Francine Cunningham
Francine Cunningham is an award-winning Indigenous writer, artist and educator. A graduate of the UBC Creative Writing MFA program, Cunningham's work was shortlisted for the 2018 Edna Staebler Personal Essay, won the 2019 Indigenous Voices Award for unpublished prose, and won the 2018 Short Grain Writing Contest.
On/Me is her first book and has been shortlisted for the inaugural BC and Yukon Book Award, Jim Deva Prize for Writing that Provokes and the 2020 Indigenous Voices Award in Poetry. You can find out more about her at www.francinecunningham.ca. Buy a signed copy of Francine's book here: demarcationlines.etsy.com
Sarah Ens
Sarah Ens is a writer and editor based in Treaty 1 territory (Winnipeg, MB). Her poetry has appeared in Prairie Fire, Arc Poetry Magazine, Contemporary Verse 2, Room Magazine, and SAD Mag, and in 2019, she won The New Quarterly's Edna Staebler Personal Essay Contest. She also placed 2nd in CV2's 2019 2-Day Poem Contest and won 1st place in Room Magazine's 2018 Short Forms Contest. Her debut collection of poems, The World Is Mostly Sky, launched in the spring of 2020, and she will graduate with her MFA in Writing from the University of Saskatchewan this November. Buy Sarah's book here: https://www.mcnallyrobinson.com/9780888017055/sarah-ens/world-is-mostly-sky-the